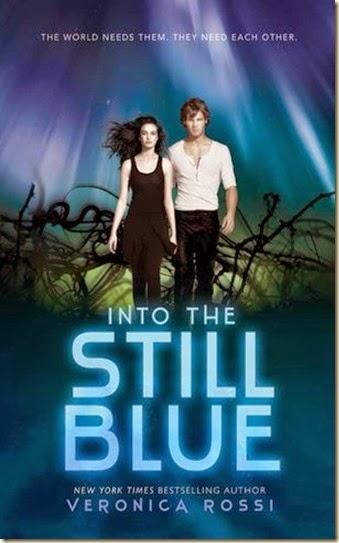 Into the Still Blue (Under the Never Sky #3)


by Veronica Rossi
 Summary: The race to the Still Blue has reached a stalemate. Aria and Perry are determined to find this last safe haven from the Aether storms before Sable and Hess do—and they are just as determined to stay together.
Within the confines of a cave they're using as a makeshift refuge, they struggle to reconcile their people, Dwellers and Outsiders, who are united only in their hatred of their desperate situation. Meanwhile, time is running out to rescue Cinder, who was abducted by Hess and Sable for his unique abilities. Then Roar arrives in a grief-stricken fury, endangering all with his need for revenge.
Out of options, Perry and Aria assemble an unlikely team for an impossible rescue mission. Cinder isn't just the key to unlocking the Still Blue and their only hope for survival--he's also their friend. And in a dying world, the bonds between people are what matter most.
In this final book in her earth-shattering Under the Never Sky trilogy, Veronica Rossi raises the stakes to their absolute limit and brings her epic love story to an unforgettable close.
Source: I purchased a Kindle copy.
Add to Goodreads

Review:

Into the Still Blue was AMAZING! The trilogy got better and better with each book and the finale was definitely the best book. It was full of adventure, conflict, hope, death, and love. I was on the edge of my seat the entire time because there was so much that needed to happen.
 Aria, as part of her quest to save Talon and her shaky alliance with Soren, was able to gather the remaining people left in the crumbling Reverie. But they had to move in with the Tides, which is difficult. The Dwellers and Outsiders did NOT trust each other at all and were pretty vocal about their disgust of Aria and Perry's relationship. Roar was a mess after the events of Through the Ever Night. Perry was stressed more than ever, and Sable definitely had Cinder, who was the secret to unlocked the Aether wall at the the entrance to the Still Blue.
I loved Into the Still Blue because it explored all of the crazy tension between the Dwellers and Outsiders and I knew the characters had to figure out a way to beat Sable, which was difficult because he always seemed to be a step ahead. It had me on the edge of me seat so many times. It was obvious that the author wasn't afraid to kill off characters, so I think a lot of my emotions had to do with not knowing who would perish or if they wouldn't even make it into the Still Blue. I was terrified that they'd die somehow, attack each other due to differences, or Sable would just execute them all.
My only criticism is that I wanted more from the ending. There was still so much that could have happened and I wanted to see the characters who were left figure out how to get along, how to build a civilization, and basically explore the area a bit more. I mean, how did they even know if the Still Blue was safe just because it didn't have the aether storms? I saw so much room for more storylines so I just wish it wasn't just a trilogy. However, so many authors tend to beat a dead horse and have endless series, so I guess part of me is happy I don't have to wait for more books and that I can just sit and let my mind wander and think about the fate of the characters left in the Still Blue.
I highly recommend the trilogy. It was such an unexpected amazing book. I didn't like the covers, didn't think it would be worth my time, and basically just thought it was another forgettable YA dystopian trilogy and I am very happy that I was proven wrong. Not only did Under the Never Sky wow me, but the sequel and finale were so much better and made for a pretty amazing trilogy. Don't let this trilogy collect dust on your shelf. It's totally worth the read.