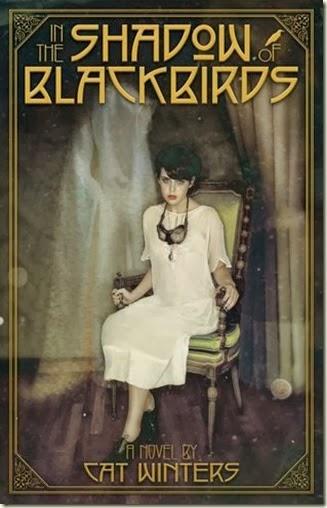 In the Shadow of Blackbirds
  by Cat Winters  
Summary
:
In 1918, the world seems on the verge of apocalypse. Americans roam the streets in gauze masks to ward off the deadly Spanish influenza, and the government ships young men to the front lines of a brutal war, creating an atmosphere of fear and confusion. Sixteen-year-old Mary Shelley Black watches as desperate mourners flock to séances and spirit photographers for comfort, but she herself has never believed in ghosts. During her bleakest moment, however, she's forced to rethink her entire way of looking at life and death, for her first love—a boy who died in battle—returns in spirit form. But what does he want from her?
Featuring haunting archival early-twentieth-century photographs, this is a tense, romantic story set in a past that is eerily like our own time.
Genre:
YA Paranormal Historical Mystery  
Where to Buy:
Amazon
.
Barnes and Noble
 Add to Goodreads  
Source:
I purchased a Kindle copy.  
Review:
 I loved In the Shadow of Blackbirds. The setting was an interesting one: 1918 America during War and the Spanish Flu. Death was hanging on everyone's doorstep in just about every way. The photographs that accompany the novel were perfect and the setting really wrapped itself around me like a haunting and heavy cloak. But what I loved most is how the paranormal plot fit so nicely in the setting. I was afraid that with such a rich setting, the plot would be lost and fizz out, but I was definitely wrong.  Mary Shelley Black was a wonderful character I really respected. She wasn't like your average 16 year old girl. She tinkered with small parts, had a healthy scientific curiosity, and wasn't afraid to be herself. She respected her father, even as he was arrested for his anti war political views during a time where it wasn't okay to anything but unquestioningly patriotic. She was skeptical of the supernatural, too, which I liked.  Stephen, her first love, went off to war right before she moved in nearby with her Aunt. His brother, Julian, was dabbling in spiritual photography, hoping to capture glimpses of the dead, especially dead war heroes. The paranormal plot took off the moment Mary Shelley Black agreed to do a photo and Stephen's image appeared in the photograph. Suddenly, he was everywhere and it was up to Mary Shelley Black to unravel the mystery and figure out what was real, fake, and what really happened. All while trying to avoid the flu and try not to dwell on the death all around her.  I loved every aspect of the story. The mystery was difficult to unravel, the paranormal aspects were creepy without being obvious or cliché, the writing was elegant, the love story was sweet and really affected me, and the characters were well developed. The writing was beautiful. I loved the style and tone. The love letters between Stephen and Mary Shelley Black were so emotional and the photographs added into the text were perfect for the setting. I loved Mary Shelley Black so much as a character. I admired her. She studied everything, completely determined to get to the bottom of everything. She never gave up and I admired her even more when she volunteered her time with healing soldiers at The Red Cross House to help her find out more about what war was like.  I highly recommend
In the Shadow of Blackbirds
. It is a perfect fall read because of the supernatural aspects, but the writing and story is so good, it's really perfect any time of year. It was very well written and setting enveloped me, but I also think it could be too much for some. The time period is quite bleak and the plot doesn't leave much room for happy moments. The beautiful moments are sometimes hard to read because of how tragic they are. It's not a long book, though, so I think if it's followed up by a light and entertaining book, it won't be an issue for most people!  

Quotes:
Autumn had always been my favorite season, with the smells of burning leaves and mulling spices and the arrival of bright orange pumpkins in my father's grocery store.
Surely, though, I must have stolen into the future and landed in an H. G. Wells–style world—a horrific, fantastical society in which people's faces contained only eyes, millions of healthy young adults and children dropped dead from the flu, boys got transported out of the country to be blown to bits, and the government arrested citizens for speaking the wrong words. Such a place couldn't be real. And it couldn't be the United States of America, "the land of the free and the home of the brave." But it was. I was on a train in my own country, in a year the devil designed. 1918.
Why can't a girl be smart without it being explained away as a rare supernatural phenomenon?"
Never let hatred, fear, and ignorance get the best of you. Keep bettering yourself so you can make the world around you better, for nothing can ever improve without the brightest, bravest, kindest, and most imaginative individuals rising above the chaos.
"He said the only real monsters in this world are human beings."