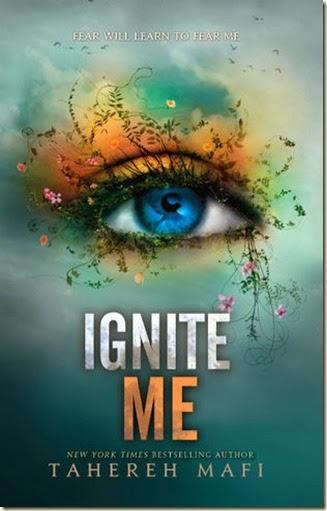 Ignite Me (Shatter Me #3)

 by Tahereh Mafi Summary: The heart-stopping conclusion to the New York Times bestselling Shatter Me series, which Ransom Riggs, bestselling author of Miss Peregrine's Home for Peculiar Children, called "a thrilling, high-stakes saga of self-discovery and forbidden love"
Juliette now knows she may be the only one who can stop the Reestablishment. But to take them down, she'll need the help of the one person she never thought she could trust: Warner. And as they work together, Juliette will discover that everything she thought she knew-about Warner, her abilities, and even Adam-was wrong.
In Shatter Me, Tahereh Mafi created a captivating and original story that combined the best of dystopian and paranormal and was praised by Publishers Weekly as "a gripping read from an author who's not afraid to take risks." The sequel, Unravel Me, blew readers away with heart-racing twists and turns, and New York Times bestselling author Kami Garcia said it was "dangerous, sexy, romantic, and intense." Now this final book brings the series to a shocking and climactic end.

Source: I preordered a hardcover. (and devoured it on release day).
Add to Goodreads
Review:


Oh. My. Gosh.


Are there even words for this?
Ignite Me was 100% perfect. Everything I could have asked for. It was thrilling, intense, amazing, and the character growth was spectacular. And of course, Tahereh Mafi's writing was fantastic.
Ignite Me is the best book in the trilogy. And the Shatter Me series is one of the best series I've ever read. No other series has gripped my emotions the way this one has. It's complex, romantic, fierce, and adventurous.
I laughed, gasped, shouted, and ached for the characters in this installment. My breathing sped up, my heart raced, and there were some moments I had to put it down. Reading this series is almost more intense than riding on a roller coaster the way it gripped me and affected me.
I won't spoil the book. I won't spoil any details, even though 50% of me is so eager to shout everything from the rooftops and scream OMG I KNOW RIGHT about each scene. But I suppose it's a good thing I have so many friends who read. SOMEONE PLEASE FINISH THIS SO WE CAN TALK ABOUT IT OMG.
Brilliant.
And wow. Warner. Was everything I ever thought he could be. *sigh*
Juliette surprised me and I was so proud of her. I never would have imagined she'd be where she was in Ignite Me when I first picked up Shatter Me. I think it's awesome.