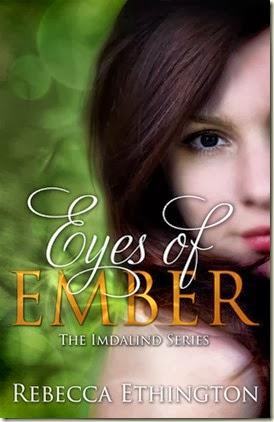 Eyes of Ember (Imdalind #2)

  by Rebecca Ethington   Summary: Joclyn is in hiding, hunted by the man she still desperately loves. Ryland is gone, his mind erased, no memory of Joclyn remains. But, Joclyn's heart desperately begs her to hold out hope. While, in reality the black eyed monster that possesses him, attempts to kill her over and over.
If it wasn't for Ilyan, Joclyn would be dead by now.
Ilyan. The man who once stalked her, is now Joclyn's protector, the only thing she has left. He protects Joclyn from the men who seek to end her life, and while she is haunted by dreams where Ryland begs her to break the bond between them.
Ilyan is there. Always there.
Ilyan trains and prepares her, teaching her everything she needs to know in the hope that one day she can avenge Ryland, if not protect herself from him.
And then there is her father.
The man who has never been there, is suddenly responsible for everything. And who he is has made Joclyn into something she never wanted to be.
The Silnỳ.
Release Date: April 6, 2013
Genre: YA Paranormal Romance/Fantasy
Where to Buy: Amazon
Add to Goodreads
Source: I purchased a copy for Kindle

Review:


Note: There may be spoilers from the first book in my review. Please use caution.


(and just read book 1 because it's amazing and super cheap on Amazon, anyway!)
I am so in love with this series! I never know what will happen next because the elements of magic are entirely new to me. I love the mystery of it all. I couldn't put Eyes of Ember down at all and I'm kind of mad at myself for flying through it so quickly when I have months before the 4th book comes out. I'm not timing this very well at all!   Eyes of Ember was an emotional journey for me and for Joclyn. If book one was about her being aware of the magic around her life, book two was about coping with it and the consequences of being a part of it all. My heart ached for her as she dealt with being erased in Ryland's mind. My heart ached as she struggled with her strange relationship with Ilyan. I was so worried about this series becoming enveloped in love triangle crap, but I'm pleased with the direction of the story.   This book was much more action packed and emotionally jarring than the first book. The stakes were higher, Joclyn was getting stronger, and her emotions were being manipulated by her enemies in the worst way. Even in the moments that lulled, Joclyns dreams and the changes in the Touha were action packed and horrifying. Despite most of the book taking place with Joclyn and Ilyan in hiding, because of the dreams, the Touha, and the stress of what was going on in other places made the entire book seemed much more action packed than Kiss of Fire.   I loved the characters in Eyes of Ember because I feel like I got to know a little bit more about the dynamics between everyone involved. I really got to understand Ilyan. I didn't care much for him in the first book, but I ended up caring a lot about him by the end of book two. Meeting Thom and Dramin was amaizng and I also enjoyed watching Joclyn grow into her powers a little bit more. Even Cail was awesome, though in a sick, twisted, and horrifying sort of way.   I can't wait to start the next book. I'm so invested in the story, the characters, and the outcome of it all. The last parts of Eyes of Ember had me aching and gasping in disbelief! I need more! I highly recommend this series! It is so addicting.