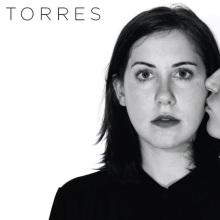 Torres Torres Torres
By Matt
Meet Mackenzie Scott. Mackenzie is is 22 yrs old. She performs as "Torres" and sings things like: "Do you ever make it halfway down and think, 'I never meant to jump at all'?" She might be younger than Eric and I, but she's brought my feels to their breaking point this week with the gravitas of her eponymous record. If you're looking for a moody, minimalistic masterpiece, brother, are you ever in the right place.
Few singers possess the raw conviction of Scott; when she sings, you listen - perching expectantly on the gap between her words in simultaneous fear and anticipation of the weight of her next lyric. Torres is an attention grabbing debut that exploits this strength successfully and completely, and while it's easy to tell there's something big under the surface of a first listen, the buried treasure is more than worth the service of your aural excavation.
Although Torres is unanimous saturated melancholia, different flavors of the stuff seep from each of its ten tracks. Scott paints opener "Mother Earth, Father God" with hues drawn from Anais Mitchell's Young Man in America canvas, and "Jealousy and I" haunts like the Ghost of Natalie Merchant Past come to soak us in long-term ennui.
Just when you think you're ready to wrap your emotions around a potent but manageable album, "November Baby" snaps you in half across its knee. It sounds like if someone stripped the auto-tune, harmonies, and gimmicks away from Imogen Heap's "Hide and Seek," and all that was left was naked vulnerability. It's the "Skinny Love" of the album, both in terms of theme and poignancy.
"When Winter's Over," a fuzzy bit of shoegaze (think Mazzy Star and Pixies have a lovechild), is easily the most fun to be had on the album, but it soon gives way to the terrifyingly brooding "Chains," which plays like someone turning your hopes and dreams inside out and stepping on them with steel toe boots.
After all, with only ten tracks to make a first impression, Scott hardly has room to mince words – or emotions, for that matter: "I don't feel the need today for my usual masquerade," she croons softly in "Don't Run Away, Emilie". And, um, you haven't heard a breakup song until you've heard "Come to Terms". The Adele / Taylor Swift brain trust couldn't come up with something half this raw and affecting.
With the minimalist instrumentation/production on Torres, Scott puts the emphasis on her own vocals, and she's absolutely up to the challenge. No slick effects or production could improve the natural beauty of her voice, and none is rendered. The lyrics and achingly pretty inflections do most of the heavy lifting, set to guitar parts that are subtle enough to not distract but present enough to entrance. Holistically, we're left with a record that accomplishes just what it set out to do, rendering the listener weak in both the knees and the heart.
Matt's picks:
Set the weather to "Seattle," grab your feelings, and do business with every song. Over and over again.