Quiz time. When is an album not an album?
(A) When it's really a "mixtape".
(B) When it's a random bunch of B-sides, covers, and demos not included on "actual albums".
(C) When it's a "collection" of previously unreleased tracks being sold 40+ years after the artist's death by some people to make some money.
(D) All of the above.
If you answered (D), give yourself some applause - you're correct! And if you've been stalking my Spotify feed over the last month, you've seen an (A), a (B), and a (C) getting some heavy "rotation" (do the kids even call it that anymore?). It's okay that they're not reeeeeeeaaaaallllllllllllyyyyyyy albums, because I love them all the same. All three are more than worthy of your ears. Here they be: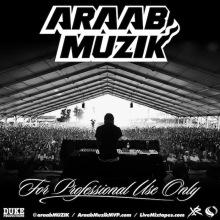 araabMUZIK – For Professional Use Only
You are now reading about araabMUZIK. Although technically, latest release For Professional Use Only isn't an official album. It's a mixtape.
So, technically, this isn't an official review. It's a critical assessment of some music.
While I wait for Abraham Orellana's official follow-up to 2011′s trancy Electronic Dream, this unofficial 20-track thing is working pretty well in the meantime. Finding the midpoint between EDM and hip-hop might seem like a dubious quest, but Orellana has mastered the art under the araabMUZIK name.
Honestly, FPUO is a good deal more diverse than Electronic Dream, and in many cases has stronger hooks. It's a bit of a throw-a-lot-of-things-against-the-wall sampler of sorts, but the sheer amount/density of high-volume ear candy is well worth the time it takes to plow through all 20 tracks.
Seriously, FPUO has a little bit of everything. Are you looking for a track that can only be described as "Skrillex with manners"? Look no further than "This Is for the Ones Who Care". Want a warmup track for violent sport that sounds like a musical interpretation of the word TRILL? Check out "Getting 2 the Point". Want some R&B-influenced trance flair that makes you want to dance and cry at the same time? Well, maybe not, but if so, "Never Have to Worry" is your jam.
If you've never listened to araabMUZIK, FPUO is a delightful introduction. Throw in some Electronic Dream on repeat, and you'll be fluent in Orellanan by the time the REAL album drops.
Essentials: (1) This Is for the Ones Who Care; (2) The Prince Is Coming; (3) Getting 2 the Point; (4) Never Have to Worry; (8) I Can Show U; (19) Astro Dust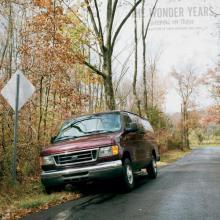 The Wonder Years – Sleeping on Trash: A Collection of Songs Recorded 2005-2010
If you like pop-punk-meets-melodic-hardcore, you love The Wonder Years. No questions asked. Sleeping on Trash is a career-spanning B-sides compilation that doesn't sacrifice any of the energy or hookiness of its three LPs (fourth due in May this year).
18 songs is a lot, but the energy level is kept high throughout (well, for about 16 of em). There's not much that separates these tracks from ones that did make Wonder Years albums; the four-chord reminiscings of adolescent glory days ring as true as ever on Sleeping on Trash. There's even a delightful little cover of Fountains of Wayne's "Hey Julie" amid the odes to losing sleep and Jimmy Eat World's Clarity.
Need to get some teen angst out? No shame in having The Wonder Years as your soundtrack.
Essentials: (2) Solo & Chewie: Holdin' it Down; (3) Won't Be Pathetic Forever, (4) You're Not Salinger. Get Over it. (8) Leavenhouse. 11:30. (16) Buzz Aldrin: The Poster Boy for Second Place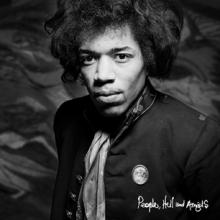 Jimi Hendrix: People, Hell & Angels
Jimi Hendrix hasn't exactly been "alive," per se, since 1970, but he "has" a "new" "album" out. People, Hell & Angels contains 12 previously unreleased tracks that were being worked on as a follow up to the last Experience album, 1968′s Electric Ladyland. And we thought Fiona Apple took a long time between albums!
From the Little Wing-like riffs of "Somewhere" to the Little Richard-like sax-accented stylings of "Let Me Move You" (Lonnie Youngblood contributes the vocals and sax on this one), PH&A reconciles the classic Hendrix signature sound we all know and love with some more progressive elements. It's an exciting if tantalizing glimpse at what could have been and an essential addition to any longtime fan's collection.
Essentials: (1) Earth Blues; (2) Somewhere; (3) Hear My Train A Comin'; (5) Let Me Move You; (9) Inside Out
-Matt