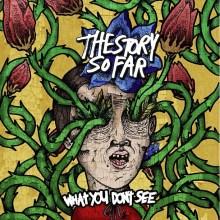 Hard Core Parkour!
By Matt
There's been a swell in productive output from the "pop-punk-meets-melodic-hardcore" genre in recent years. Bands range from the more pop-punk (Fireworks, Transit) to the more hardcore (Set Your Goals, Title Fight, Such Gold). 2013 is shaping up to be a huge year for the genre, with Transit, Man Overboard, The Wonder Years, and The Story So Far all having put out an album or due to put one out. The last of these have one of my favorite pop-punk albums in quite some time with their sophomore LP, What You Don't See.
Measuring up to the expectations set by their excellent debut, Under Soil and Dirt, was certainly a weighty task to manage. Just in the last year, they've toured in support of New Found Glory and graced the cover of Alternative Press for a "100 Bands You Need to Know" feature story. People are expecting big things from Parker Cannon and company.
What You Don't See is solid proof that The Story So Far can hang with anyone in the genre. It's an efficient (under 30 minutes) forcible beast of an album that splits the PP/HxC divide precisely down the middle. Cannon's chops as lead singer are solidified here; there's hardly a break where he's not singing at the top of his lungs, as if leaving more than a few seconds of space unfilled by vocals would cause the whole album to implode. He balances volume, melody, and enunciation perfectly, the effect of which is a weightiness of lyrics that you don't get from your run of the mill pop-punk band.
The lyrical soundbites were probably more punchy and evocative on Under Soil and Dirt, but they're certainly not absent this time around. Cannon always manages to say a lot with very few words; "there's better faces/to fill all the spaces/left by the masks you wore," he shouts on "Bad Luck" – and in fact, much of the album is centered around the idea of space: physical and emotional, filled and empty. There are plenty of vengeful romps, which seems to be what TSSF does best, although nothing catches lightning in a bottle quite like Under Soil and Dirt's "Roam," "Quicksand," or "Mt. Diablo" did. Tracing comparisons here is a bit unfair, though, because Under Soil and Dirt was a near perfect pop-punk album. In light of the expectations and precedent set, What You Don't See is a damn good album that is playing in a different league than most bands in the genre. Hardly a disappointing follow-up.

Matt's picks:
(1) Things I Can't Change
(3) Small Talk
(6) Empty Space