Too little time, too many albums. With Matt touting three albums-that-aren't-albums this week, I'm jumping on the triplet capsule review bandwagon. A difference: These are all full-length, brand new, delightful LPs. I just got behind on the blog train. LISTEN. Do you want the new music or not?
Jackals.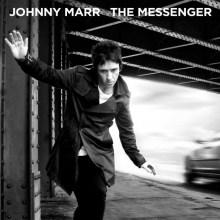 1) Johnny Marr — The Messenger
Do you like The Smiths, but find it emotionally exhausting to follow Morrissey's solo career? Good news, girlfriend-in-a-coma! The other founding half of Manchester's favorite post-punk darlings has your back. Johnny Marr's The Messenger sounds like it just arrived in a DeLorean from the mid-80s. It's perfectly solid guitar rock sealed in a time capsule. "I Want the Heartbeat" and "The Right Thing Right" are likely to tickle the fancy of any Smiths fan, and "Generate, Generate" gets away with a slightly more modern rock sound. By modern, I mean mid-'90s alt-rock. There's a little Joy Division and David Bowie skulking around the corners of the album, too. But those are easy comparisons and we'll pretend I didn't make them. If you get high off the fumes of modern Britpop classics, The Messenger won't floor you, but it will make you smile a sad Manchester smile.
Eric's Picks: (1) "The Right Thing Right," (2) "I Want The Heartbeat," (7) "Generate! Generate!," (10) "The Crack Up"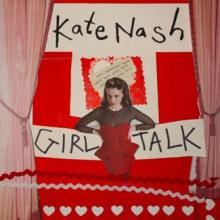 2) Kate Nash — Girl Talk
In all my 1.5 years of reviewing albums on the homemade WordPress blog my best friend and I started, I have never been as surprised by an album as Kate Nash's Girl Talk. Whereas Ms. Nash has previously lived in the musical realm of your Charlotte Sometimeses and A Fine Frenzys, Girl Talk is … a punk album? And only a negligibly contrived one at that? Someone's been digging through the Elastica bin at the record store. This is not from 2013; this is a riot grrrl deep cut that accidentally got released as a brand new album.
Coated with the unpretentious grime of the best low-rent garage bands but juuuust polished enough, Girl Talk unleashes the full Cockney fury of Nash's perpetually annoyed lilt. Sometimes she's Karen O ("Labyrinth"), sometimes she's Kimya Dawson ("You're So Cool, I'm So Freaky"), sometimes she's The Waitresses ("Rap for Rejection"). Most of the time, she's the pissed off, self-loathing daughter of Sleater-Kinney. But really, if this is Kate Nash now, I'm on board. We needed a perky punk rock Eliza Doolittle.
Eric's Picks: (2) "Fri-End," (3) "Death Proof," (5) "Sister," (10) "3AM," (11) "Rap for Rejection," (15) "Lullaby For an Insomniac"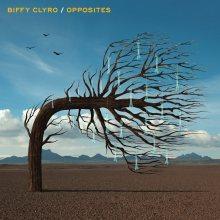 3) Biffy Clyro — Opposites
I have yet to encounter a Scottish band that I do not like. So it was with Twin Atlantic, so it is with We Were Promised Jetpacks, so it will be with Biffy Clyro. Fully prepared to admit it might be brogue bias, Opposites reads every now and then like the UK's Foo Fighters. With the cheese factor of a Loch Ness Monster documentary, Biffy Clyro's latest is recklessly inconsistent. When it hits, though, it's giddy fun. By the by: There are some bagpipes.
Eric's Picks: (2) "Black Chandelier," (5) "The Joke's On Us," (8) "Biblical," (14) "Picture A Knife Fight"