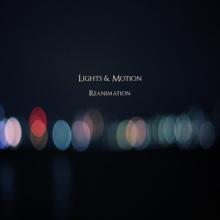 This Will Destroy You, Too
By Eric Webb
"Friday Night Lights" is off the air. Post-rock is dead. Long live post-rock.
Can an entire genre be strip-mined in just more than a decade? Disco says yes. Once you listen to the Explosions in the Sky discography, you've got a pretty good handle on an entire style of music. Think about that. Sure, like the distinctions between each "Law and Order" iteration, variations exist. Sigur Rós is more ethereal, Flashlight Fiction is more synthesized, Balmorhea is more orchestral. At the end of the episode, though, every "Law and Order" is created by Dick Wolf, and every post-rock outfit is building on the same structure of big builds, simmering moments and huge, textured crescendos. It's a good trick, that one trick.
In the SAT analogy of post-rock and blonde actresses, Lights & Motion:Explosions in the Sky::Kate Hudson:Goldie Hawn. A Swedish band powered by Christoffer Franzén, Lights and Motion is so inspired by the Texas titan of texture and timbre that is Explosions that the younger band's very name is almost a synonym. Yet, for as mirrored as Franzén's debut Reanimation seems, it is magical lightning in a bottle. Who's to say if it's derivative? How could you even tell? It sounds spectacular and it gives you goosebumps. That's the whole point of making big, loud guitar music without words.
So, in lieu of trying to offer any original commentary on an album devoid of narrative, I present the scenarios that each track made me think of while listening to Reanimation.
Your results may vary.
1) "Requiem": I am the main character in an epic fantasy movie, but I die in the second act, only to brought back to life by magic or time travel or the power of sadness.
2) "Home": I am on a quest to save the family of orca whales that raised me from birth from the merciless harpoons of evil whalehunters lusting after some choice ambergris.
3) "Aerials": I am Rob Bell and this is a Nooma video. Someone is watching this in youth group. Right now.
4) "Drift": I awakened from a deep slumber. I am drooling. Wait, I don't remember buying tickets to a Trans-Siberia Orchestra concert HOW DID I GET HERE WHERE IS MY WIFE.
5) "The March": I am John Philip Sousa's tattooed great-grandnephew.
6) "Victory Rose": I am wearing an American flag pin on my lapel. It is majestic.
7) "Epilogue": I am a song named "Epilogue" that is in the middle of the album. I am an oxymoron, like "jumbo shrimp."
8) "Fractured": I am a new medical drama coming this fall on NBC.
9) "Texas": I have clear eyes, a full heart, and I cannot lose.
10) "Faded Fluorescence": I am running to meet my lover in the rain but will. I. Get. There. On. Time?!
11) "Departure": I am an elephant running a 10K.
12) "Reanimation": I sound like an AOL modem that went through puberty and learned to play the violin.
13) "Dream Away": I am– Oh hey, this song has words.
Eric's Picks
(1-13) The album.