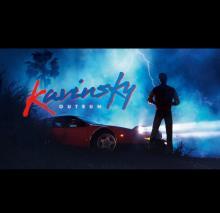 On Your Marks, Get Set, Die
By Eric Webb
"Drive" is a 2011 neo-noir film whose all-star cast included Ryan Gosling, a sweet scorpion jacket, the typeface Mistral, and the hammer Ryan Gosling uses to smash in a dude's face (which won the hammer Best Supporting Actor at that year's Oscars). Also, Christina Hendricks was there. If you've seen "Drive," though, you know that the soundtrack was just as valuable as any Gosling. Two tracks stand out: the one you're thinking of, "A Real Hero" by College featuring Electric Youth, and the one that best fits the film's neon wasteland vibe, Kavinsky's "Nightcall."
Luckily for fans of neon wasteland vibes, OutRun is full of "Nightcalls." Kavinksy, aka France's Vincent Belorgey, has said that his tunes are inspired by the best parts of all the movie soundtracks he heard growing up. Belorgey has a whole premise cooked up for the Kavinsky character: a Ferrari-driving speed demon dies in a car crash, only to return as a lovelorn zombie who produces electronic house music. It's simple, really. Now, there's wearing your influences on your sleeve, and there's wearing an entire shirt made out of your influences. As it turns out, the themes from "Beverly Hills Cop," "Miami Vice" and Super Metroid make for a snazzy garment.
The aforementioned "Nightcall" needs no explanation; it sounds like a mechanic-slash-getaway-driver wooing Carey Mulligan in gangland Los Angeles. The best gateways into Kavinsky's world after that are "Testarossa Autodrive" and "Deadcruiser." The former is a kinetic video game thrill ride, crackling with adrenaline; the latter is as slinky and dangerous as Crockett and Tubbs would demand.
Everything else in between is delightful, evoking Daft Punk or John Carpenter to varying degrees. "ProtoVision," is gleefully self-aware, going full-tilt cheeseball with some squealing guitars. It's like a Chromeo you don't have to apologize for. When Kavinsky says he's producing an album that sounds like an '80s drag race for zombies, he gets full marks for accuracy.
Don't skip the opening and closing, "Prelude" and "Endless." With the aid of some suspiciously David Carradine-like narration, the bookends provide a dash of narrative context to an album that tells a surprisingly cohesive story, even without words. Don't understand what all the devilish synths mean? It will all make sense after you realize one thing: "What you don't know is there's a gap between living and dying."
Eric's Picks
(1) "Prelude"
(3) "ProtoVision"
(7) "Testarossa Autodrive"(8) "Nightcall"
(9) "Dead Cruiser"
(13) "Endless"