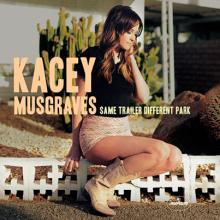 Take This to Your Musgraves
By Matt
With much of the nation's collective attention last week focused on a member of the popular boy band *NSYNC*, who apparently also has a solo "career**," a darling lil country girl's darling lil debut album slid right under our collective noses.
I've always said that if you don't stand for something, you'll fall for idioms. If that's true, then consider me felled, because I'm head over heels for Kacey Musgraves. Musgraves must be trying to set a record for cutesy wordplay density on Same Trailer Different Park - hell, she invents idioms when she runs out of real ones to use - but I'm not going to throw her under the bus, because a bird in the hand is worth two in the bush and oh my goodness it's actually a lot harder to write this way than you would think.
Take the infectious first track, "Silver Lining." Here is the first verse and the chorus: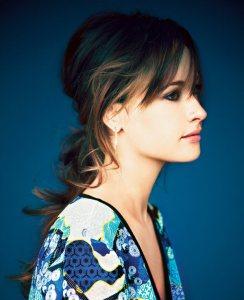 Woke up on the wrong side of rock bottom
Throw a lot of pennies in a well
That done run dry
Light up and smoke 'em if you have 'em
But you just ain't got 'em
Yeah ain't we always looking
For a bluer sky
If you're ever gonna find a silver lining
It's gotta be a cloudy day
It's gotta be a cloudy day
If you wanna fill your bottle up with lightning You're gonna have to stand in the rain
I'm not even mad! That's amazing!
So despite the fact that most of her songs read like Bobby Bare's "Drop Kick Me, Jesus" on estrogen pills, Musgraves has an endearing talent for making instantly accessible ear-candy. And you can't help but love her Zac Brown impression on "My House," a pre-wrapped toe-tapping ode to mobile homes that includes the line "Any KOA is A-OK as long as I'm with you".
The wordplay acrobatics that work so well on an innocuous song like "My House" have a slightly different effect on the album's lead single, "Merry Go Round"; Because the former has exactly zero cosmic significance and the latter is about making bad decisions and settling for "good enough" for the rest of your life, lines like "Jack and Jill went up the hill / Jack burned out on booze and pills" make you laugh, then cringe, then feel bad for laughing, then lie down and think about things. Next thing you know you've listened to it forty times in a row and you're sheepishly admitting that you love it.
All that said, I think Musgraves' songwriting strengths lie more securely in playful coyness than in sober weightiness. The proof is in "Follow Your Arrow," perhaps the best song on the album – an endearing but cutting dig at small-town hypocrisy that should be her next single.
Same Trailer Different Park thrives with so much personality that the occasional obvious influence shining through is completely forgivable. For instance, you can't tell me "Blowin' Smoke" isn't just Carly Rae Jepsen singing a Miranda Lambert song. Most of that sentence sounds like an insult but if you've been reading the blog for a while you know it's not. You also can't tell me "Step Off" isn't just a sequel to Taylor Swift's "Mean" (also not an insult).
If I've learned anything from this album, I've learned that Lil Kacey Musgraves gets a kick out of ruffling feathers, but you can't judge a book by its cover when pigs fly so keep an ear to the ground to kill two birds with one stone straight from the horse's mouth penny for your thoughts.
In other words, it's the best new country album I've heard in a long time.
Matt's picks:
(1) Silver Lining
(3) Merry Go Round
(7) Step Off
(11) Follow Your Arrow
*I'd really like to see KaceGraves take a page out of the Add An Actual Star To Your Name book, a la *NSYNC and A*Teens
**I love The 20/20 Experience plz don't hate