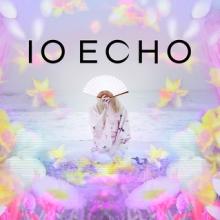 Freshman Orientation
By Matt
IO Echo's debut album, Ministry of Love, is good. But it's not very good. It's a frustrating listen, because it reaches some exhilarating highs but draws up a sort of middling compromise between shoegaze and dark alt-pop in between. Unfortunately, it's a compromise that renders the album wispy and unsubstantial as a whole instead of channeling the strengths of those elements.
In a sense, IO Echo is perhaps riding the Lana Del Rey train a little too hard; they come pre-packaged from LA with a methodically crafted image that evokes more skepticism than inspiration. It's "oriental," but to what end? Despite some of the cool instrumentation and imagery borrowed from China and Japan, there's a pervasive feel that the imagery is more a point of emphasis than the music itself. Gimmicks aside, Ministry of Love isn't a trainwreck or anything, and it might be a very serviceable springboard for things to come. If every song had the saturated atmosphere of "Shanghai Girls" and/or the spunky hooks of "Ecstasy Ghost," it would be a runaway success; as it is, it's just "good".

Matt's picks:
(1) Shanghai Girls
(7) Ecstasy Ghost