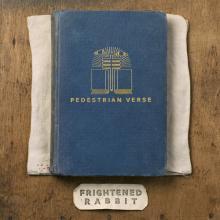 Pedestrian Review
By Matt
"There goes a love song drifting out to sea… I'd sing along if I could hear over the dark words pissing from my throat," sings Scott Hutchison on Frightened Rabbit's fourth album, Pedestrian Verse. It's a line that summarily covers the pessimism running through the veins of the album; and while it's admittedly not uncommon to encounter sad sack doldrum addicts in the music business these days, it's rare to find one as self aware as Hutchison.
Fortunately for us listeners, the music biz is one of the few in which meta depression is the inspiration for a lot of great work. And if you can filter your pessimism through a hyperliterate Scottish accent, all the better! Eeyore + Haggis = Profit: it's the First Corollary to the Law of Morrissey.
Much like The Smiths' sultan of sulk, Hutchison is uncompromising in his lyrical focus; adamant in his refusal to "shovel the same old [crap]" as He-Who-Must-Not-Be-Named-And-His-Sons. So it should come as no surprise that Pedestrian Verse, so named after the self-addressed challenge gracing the cover of Hutchison's songwriting journal, sets the songwriting bar high from the very beginning. The devastating "Acts of Man" sets up the rest of the album with a plucky indie folk aesthetic that juxtaposes jarringly with lines like "Let's promise every girl we marry / We'll always love them when we probably won't."
Where "Acts of Man" succeeds on the strength of its verbal gut punches, "Holy" is infectious at an Arcade Fire meets Snow Patrol meets sharp one-liners level. If you don't like it, Corollary Two states that you are a bad person and should feel bad.
"The Woodpile" is perhaps the most radio-friendly track on Pedestrian Verse, and it comes with a slick video to boot. Watch it all the way through and you'll be rewarded with a modest twist ending payoff, just like ROSEBUD'S BEEN DEAD THE WHOLE TIME or BRUCE WILLIS IS A SLED.
Thematically, Frightened Rabbit are hardly afraid to shy away from difficult material, and Pedestrian Verse's motifs of death, loneliness, religion, and just plain rotten people go down like a bitter Scottish Ale. Musically, it's a rare album that nails the Consistent Sound But Also Good Range qualifier as well as Pedestrian Verse is able to. And no song better stretches the boundaries of the band's range while simultaneously hitting on central album themes than the Minus the Bear-like  "Dead Now":
"Oil Slick," a song about songs, is perhaps the best possible way to end this Pessimists Club soundtrack. It's endearing and cathartic, especially following the slew of downer topics covered in the previous 11 songs.
Guys, Pedestrian Verse is a superbly crafted record. If 2013 ended today, it would be my album of the year. If 2013 instead ends in late December, as projected, it will probably still be right up there.
Matt's picks:
(1) Acts of Man
(3) Holy
(4) The Woodpile
(8) Dead Now