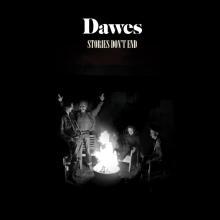 This Is an Album by the Band Dawes
There's an episode of This American Life that investigates the idea of "imitation calamari," a less-than-savory alternative that's purportedly being passed off as the real thing in restaurants across America (warning: gross). Of course, Eric told me about this rumored phenomenon right after we had finished a big ol' plate of calamari (my first experience with the stuff) at Olive Garden.
When listening to Dawes, I'm confronted with similar suspicions: This sounds kinda like The Eagles, but something's off. Perhaps it's an implicit insistence on maintaining the "Laurel Canyon" aesthetic that binds them to this sound, but it comes without the strong nostalgia or well-crafted songwriting of the niche's progenitors. Which is not to say these songs aren't catchy; "From a Window Seat" will get stuck the hell in your head, but only in the way that makes you want to hit your head on things. In the case of the tiresome "Just My Luck," Dawes frankensteins imitation Rooney meat and imitation Jet meat together with the imitation Eagles meat in hopes of fooling you into embracing a familiar sound, but it's more repetitive and trite than anything.
I know the A.V. Club already crowned Dawes the Best Band Everrr in one of my favorite reviews of anything, which basically reads as "Dawes is great! Yeah, Dawes! We like it Dawes!!1!" And I heard nothing but good things about Dawes during SXSW; I even caught one of their shows in near entirety and a guest appearance during John Fogerty's set. Listen – I know I'm supposed to like Dawes, just like I'm supposed to believe this calamari is legit. Sorry, but I'm not buying it; there are too many similar sounding bands out there that evoke emotions stronger than boredom.