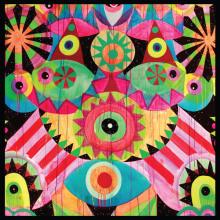 BLEEEEEEEEEEEEEEEEEEEEEEEEEEP
By Matt
Remember that scene in Back to the Future where Marty blasts Van Halen into George's ears to wake him up and terrify him into submission?
It's fun to appropriate Dan Friel's Total Folklore as our generation's version of that. Loud, spastic, and insane, Friel's shtick can best be described as "Dan Deacon's annoying little brother with something to prove," and Total Folklore plays pretty similarly to Deacon's 2009 album Bromst if you were to jump into every song at the 2:30 mark. In other words, there's not a lot of slow builds here; every song is an adventure that the listener joins in media res. And it's super loud and confusing. At least probably to our parents.
I imagine that a modern Back to the Future redux would actually opt to ruin everything by using Skrillex or some other form of wacked out bro-step as the freak-your-elders-out music of choice, but Friel's synths'n'distortion approach would fit the bill just as well. And, added bonus, it doesn't make you cringe!
On Total Folklore, Friel tests your sensibilities right away with the shrill drone that introduces "Ulysses," the 12-minute electro-crusher of a first track. At first, it sounds like an oblivious giant stomping through a forest while playing bagpipes, but then it morphs into Family Force 5 destroying an old arcade game. Either way, you win.
From here, it's all ridiculous fun. Here's a track-by-track breakdown of everything over 2 minutes.
"Valedictorian": Hellogoodbye is the live band at your senior prom, but they traded their guitars and voices for dial-up modems.
"Velocipede": A Bollywood dance with robots.
"Scavengers": We're back at prom, and somebody definitely spiked the punch.
"Thumper": Your favorite Disney rabbit, armed with a machine gun that sprays bullets of friendship and kindness.
"Landslide": Definitely not a Fleetwood Mac cover. OR IS IT?
"Swarm": Your prom has turned into a bloody, violent dark comedy. Just go with it.
"Badlands": Game over. Play again?
Total Folklore is a sonic reminder to lighten up and have fun. It's welcome comic relief in a music industry that makes you listen to Swans sometimes.
Matt's picks:
Might as well enjoy the whole thing.