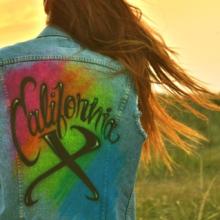 RAGE RAGE RAGE
By Matt
Imagine dragons.
Not AWOLNATION's stupid younger brother band Imagine Dragons, you tool. I mean it as an imperative: imagine dragons. Please! Now, imagine them rocking out with loud guitars and headbanging back and forth. Sparks fly as they trade face-melt-a-licious riffs. Dinosaur Jr. watches with fatherly approval. THAT'S CALIFORNIA X! Are you in? OF COURSE YOU ARE.
YEEEEARRRRRRRGH LET'S GO.
With its self-titled debut, Amherstian band California X joins the ranks of deceptively melodic loud garagey rock bands like Cloud Nothings and Japandroids. The Dinosaur Jr. comparisons flow freely as well, and for good reason – the Wall of Mascis alt-rock pioneers were from the very same Amherst, MA after all.
It's clear that Dinosaur Jr. is one of the bands from whom California X takes its sonic cues, but there's something even more raw – if that's possible – and punkish that sets California X apart as its own delightful beast of a band. They have the noise and searing riffs of DJr, to be sure, but also the reckless punk abandon of The Wonder Years and the shouty vocals of Japandroids' Brian King. All this blends together nicely to make for some very nice A-plus rocking out.
Here's the video for one of the harder tracks on the album, "Spider X," that features some great home-video style editing, motorcycles, arachnids, and a Voltaire quote:
While opener "Sucker" has the best riffs and shout-a-longs on the album, the Everlong-like "Lemmy's World" is my current favorite. It's not much for lyrics but it's an impassioned rawkalong with all the right drum fills and guitar fuzz to make me happy.
If you're gonna drop D, you better drop it hard, and California X does just that on its debut. Rawk on.
Matt's picks:
(1) Sucker
(2) Curse of the Nightmare
(6) Lemmy's World