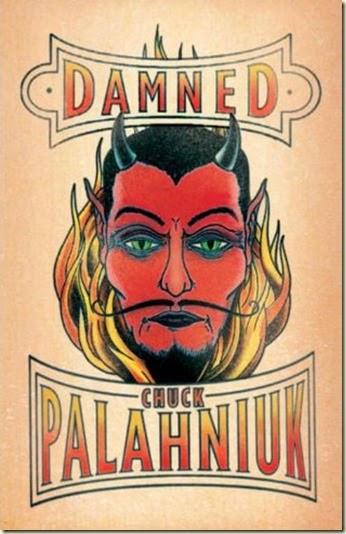 Damned

 by Chuck Palahniuk Summary: The newest Palahniuk novel concerns Madison, a thirteen year old girl who finds herself in Hell, unsure of why she will be there for all eternity, but tries to make the best of it.
The author described the novel as "if The Shawshank Redemption had a baby by The Lovely Bones and it was raised by Judy Blume." And "it's kind of like The Breakfast Club set in Hell."

Add to Goodreads
Source: I purchased a paperback.
Review:


Damned was entertaining, funny, and very clever. I am a fan of Chuck Palahniuk. I like the way he writes and I like what he writes about: society. He takes on major issues in clever ways. Damned was my least favorite so far of Palahniuk's books, but I still enjoyed reading it. At times, it seemed ridiculous and over the top with the teenage narrator and layout of hell, but I'm not really sure that I disliked those things. I loved the points Damned made. I love the portrayal of Hollywood and excess and all of that. I loved Madison's story and the way she sort of found herself within Hell.
This is one of those books that, while reading, I wasn't sure I liked. Fortunately, it wasn't a very long book, so I was able to finish it quickly and then reflect. It certainly was clever and all the thinks Palahniuk in many ways. And it made me reflect on so many issues in society and the way he featured them in the book. That's part of the appeal of Palahniuk to me, so I suppose this novel did what it was supposed to do.
I just wish it wasn't so… ridiculous. Madison's narrative was so over the top, trying too hard to be teenager. I bounced between feeling like he had no idea that teenagers could be introspective without being ridiculous and obvious and then feeling like maybe a thirteen year old WOULD sound like this and it drove me crazy. Either way, it wasn't convincing, whether because it was too truthful or too exaggerated. I'm not sure.
I also felt like everything was rushed. Okay, I like Hell as a setting. I love Dante's Inferno, so I felt like Madison was just skipping through it all and I was getting whiplash. I felt like asking, Can we talk about this for a second? Chuck, are you going to expand into more detail? Why is hell like this? I mean, sure, I think it's clever, but can we just spend some time exploring the whys of everything?
I would recommend this book and I'll probably read it again sometime and see if it resonates a little more with me. I just don't know how I feel about it. I both love and feel unsure about it and I have no idea why I can feel that way at once.