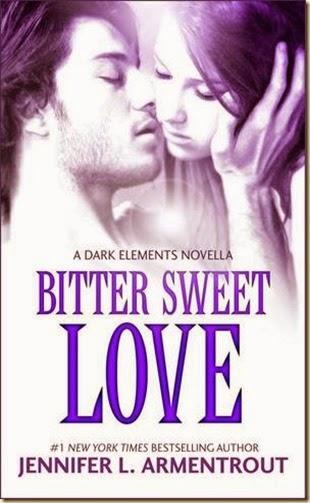 Bitter Sweet Love (The Dark Elements #0.5)

 by Jennifer L. Armentrout Summary: In a sizzling prequel novella to her new series THE DARK ELEMENTS, #1 New York Times bestselling author Jennifer L. Armentrout draws readers into the extraordinary, irresistible world of Wardens and demons.
Dez wasn't just Jasmine's crush. A gargoyle Warden like Jas, he helped her come to terms with her destiny—fending off demons and maintaining balance between good and evil. He was her everything...right until the moment he disappeared without a trace. It didn't help that Jas's father had just announced that she and Dez would one day be mated. Hard not to take that personally. And now he's back, three years older, ten times hotter, ready to pick up exactly where they left off. But Jas isn't taking that risk again. Dez has seven days to meet all her conditions and earn back her trust. Seven days filled with terrifying danger and sweet temptation. Seven days to win her heart—or shatter it all over again...  Source: I purchased a copy for Kindle.
Add to Goodreads
Review:
I almost started White Hot Kiss before I realized there was a prequel novella on my Kindle. I couldn't wait to get immersed in this unique world.
The world in Bitter Sweet Love was incredibly interesting. Gargoyles? Demons? What?! I'm in! I really liked Jasmine and I felt like she was a character I could relate to and understand. I understood her reservations about Dez, too.
Their adventure was short, but I loved it. It was full of awesome romance, adventure, and I learned a lot about the world and the way things were set up for the gargoyle race. I also enjoyed meeting Layla briefly, as I felt like that whole scene was a precursor to White Hot Kiss, where Layla is the main character.
I think I'm really going to like this series!