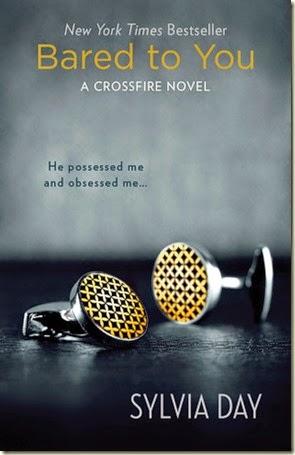 Bared to You (Crossfire #1)


 by Sylvia Day
 Summary: Gideon Cross came into my life like lightning in the darkness… He was beautiful and brilliant, jagged and white-hot. I was drawn to him as I'd never been to anything or anyone in my life. I craved his touch like a drug, even knowing it would weaken me. I was flawed and damaged, and he opened those cracks in me so easily…
Gideon knew. He had demons of his own. And we would become the mirrors that reflected each other's most private wounds…and desires.The bonds of his love transformed me, even as i prayed that the torment of our pasts didn't tear us apart...
Add to Goodreads
Source: I purchased a Kindle copy
Review:

Bared to You is very much like 50 Shades in all of the ways that people will like (if you're into that sort of thing) without so many of the things that make 50 Shades the worst book on the history of the planet. Bared to You is another billionaire suit-and-tie romance with dark edges and a ton of sex, but without the lip biting idiocy of Anastasia Steele and terribly writing. For what it is, Bared to You wasn't badly written at all. Yes, there are moments where the plot makes no sense, but I find that with ANY rich guy and plain girl romance these days and I don't think people read these in order to have their brains exposed to rich storytelling. I think most people lean towards historical and paranormal romance for that.
I actually liked Eva for much of the book because she actually said no, had no problems walking away from Gideon multiple times, and wasn't afraid to tell him that she wasn't a tool to be used. At the beginning, Eva shocked me by being so adamant about not sleeping with someone she was so incredibly attracted to. I'm used to my heroines in these books turning into puddles that still somehow bite their lips.
I liked Gideon, too. Sure, he was all polished and perfect, but as soon as Eva walked out on him, he wasn't afraid to be sensitive and emotional and beg her for another chance and apologize for fucking up. I'm used to the billionaires being gigantic assholes nearly all of the novel, so that was a nice change of pace.
Honestly, despite the fast paced, jumping-into-bed, lust = love kind of plot, Bared to You was kind of refreshing at first. But then the constant issues started. Jealousy, sexual abuse, miscommunication, unnecessary drama, other women, etc.. it was so much in a very short amount of time. Towards the end, I started to feel like they needed to just get over themselves. Eva once impressed me by walking away, but then that became her thing and then Gideon kept getting all upset about how he fucked up again and they both just got on my nerves.
I think if you read these books often and like them, Bared to You is one of the better ones. But as good as it was, it wasn't good enough to redeem the genre.


 --------------------------------------- If I were to compare this to Fifty Shades, it would have 5 stars. These types of books aren't good, but at least these are fairly well written and not annoying. I maintain that Fifty Shades is the worst. I have no idea why similar books keep popping up left and right, and while that's aggravating, I am also glad because all of them are a million times better than Fifty Shades. If people are reading smut, they deserve for it to be written better.