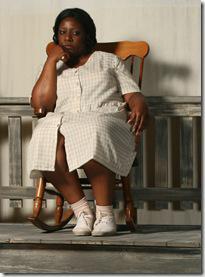 Yellowman
Written by Dael Orlandersmith
Directed by Jonathan Wilson
at Stage 773, 1225 W. Belmont (map)
thru Oct 9  | tickets: $25  |  more info
Check for half-price tickets
   Read entire review
---
Issues of race are not just black and white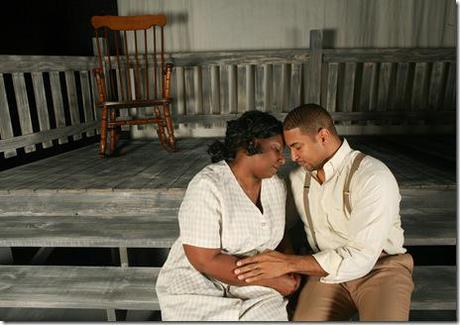 Greenetree Productions presents
Yellowman
Review by Keith Ecker 
Oftentimes in art, works devoted to deconstructing the complexities of racial relations opt to delve into the white-black conflict. There is nothing wrong with these works. Many of them are excellently produced and have helped bring attention to real-world inequalities. But when so much attention is devoted to the sweeping black-white conflict that pervades our society, it is easy to forget that there are more nuanced prejudices within these communities.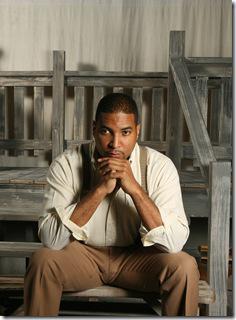 Dael Orlandersmith's
Yellowman
—which garnered her a much deserved nomination for the Pulitzer Prize for drama in 2002—holds a magnifying glass over black culture and brings to light the self-imposed hierarchy that has developed placing darker African Americans below lighter skinned blacks, a class that has historically been referred to as "high yellow." Weaving illustrative poetics into the language of the play while also crafting an extraordinarily compelling story, Orlandersmith's
Yellowman
is a rock-solid script.
Greenetree Productions
capitalizes on the adept writing, as well as the strengths of its lead actress (
Deanna K. Reed
) and produces an almost flawless piece.
The two-person play is minimalist in nature. There are few costume changes, and the set is primarily composed of a deck of wooden planks. But such starkness serves to spotlight the characters, of which there are many, though we only see them through the eyes (and bodies) of our two protagonists.
Reed plays Alma, a plump darker skinned South Carolina girl. Her mother is a lower class Gullah-talking lush who projects her own feelings of shame and inadequacy onto her daughter. She reminds young Alma that her dark complexion and hefty size make her less attractive and less of a person.
Eugene Robert Gaines (J. Israel Greene) is a young light-skinned classmate of Alma. He is the son of a hard working, dark-skinned man and a well-to-do light-skinned woman. His overbearing father berates him constantly, guilting him for his lighter complexion. Yet Eugene holds no prejudices against his darker classmates, including Alma, for whom he quickly develops a fondness.
The pair begins courting one another in childhood, and we see their relationship develop throughout their teenage years and into their young adulthood. All the while, we see glimpses of their families' reactions. Fearful that her daughter will inherit her misfortune, Alma's mother sees the light-skinned Eugene as a golden ticket for Alma, an opportunity to escape the poverty of dark-skinned life. Meanwhile, Eugene's mother is quietly disapproving of the blossoming love, while his father uses Alma as an object to emasculate his son. These relationships become increasingly heated, resulting in the play's dramatic climax.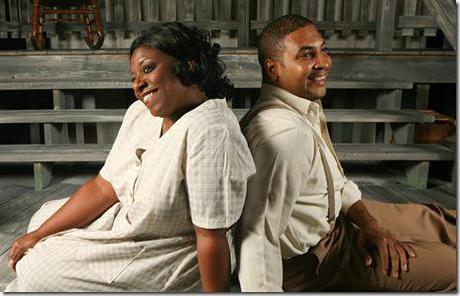 Reed proves herself to be a master of the craft, embodying a variety of characters, most notably Alma and her mother. The childlike naiveté she brings to Alma as a little girl is played just as honestly and believably as the learned and hardened Alma we see at the end of the play. In addition, her ability to alter her physicality and language when morphing from Alma to her mother is uncanny. I can't imagine a stronger performance.
Greene, who is Greenetree's artistic director, brings to Eugene a level head and even temper that serves as the audience's entry point into the world of the play. He is a strong actor, whose strengths are most prominently displayed when he morphs between gentle Eugene and his hotheaded father.
Jonathan Wilson's direction creates an entire world out of two actors on a simple stage. Playing with levels and staging helps transform the rather plain environment into a number of settings, from a schoolyard to the streets of New York. Meanwhile, the pantomiming of the actors, their physicality and their vocal inflections are all essential to populating the world of the play, and Wilson's direction helps ensure these attributes effectively translate to the audience.
My one major critique is the pacing of the work. The first act runs for well over an hour, while the second act ended within 30 minutes. It felt lopsided, especially when there are several other opportunities to break in the first half.
Yellowman is an outstanding cultural and artistic accomplishment. Building off a strong script, Greenetree's talented actors and production crew give the work the treatment it deserves. It is a great example of that wonderful blend of entertainment and social commentary.
Rating: ★★★½
Greenetree Productions' Yellowman continues through October 9th at Stage 773, 1225 W. Belmont (map), with performances Thursday-Saturday at 8pm and Sundays at 2pm. Tickets are $25, and can be purchased by phone (773-327-5252) or online here.  More information at GreenetreeProductions.com.
All photos by Anthony Robert La Penna 
---
artists
cast
Deanna K. Reed (Alma), J. Israel Greene (Eugene Robert Gaines)