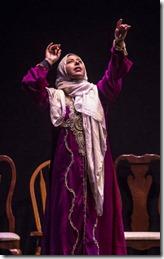 Quiet, compelling and ultimately unforgettable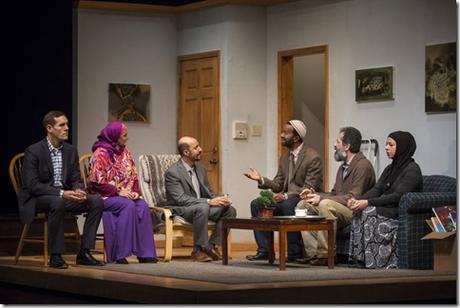 Review by Lauren Whalen
Playwright Rohina Malik, a Montessori teacher and Skokie resident, has flourished under Goodman Theatre's guidance and her own persistence. Determined to write stories of Muslims that defy damaging stereotypes, she now sees her plays premiering in two major cities. opened at Manhattan's Voyage Theatre Company on October 20, the same day as Yasmina's Necklace at the Goodman. Yasmina's Necklace is very Muslim in its theme, but also very American - unique yet universal. Thoughtfully directed by , and featuring a gifted ensemble, the Chicago premiere of Malik's romantic drama is deep, rich and emotionally rewarding.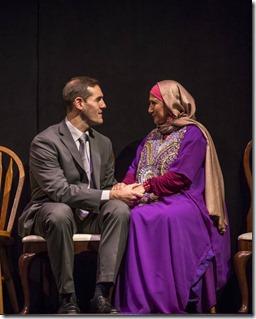 Yasmina's Necklace follows two Muslim families living in Chicago. They're very different, but have one common problem: their romantically-challenged adult offspring. Sam (Michael Perez) is a financial analyst, part Arab and part Latino, who's shucked his given name to get ahead in the corporate world, and whose divorce from an American woman is a thorn in his parents' side. Yasmina (Susaan Jamshidi) escaped the atrocities in Iraq with her father Musa (Rom Barkhordar), and still harbors a deep love for her country. To cope with her awful memories, Yasmina dives into painting and hopes to start a nonprofit to assist refugees in the city. When Imam Kareem (Allen Gilmore) arranges a meeting of the two families in the hopes of a match, parties on both sides resist - but the challenges really start when Yasmina and Sam begin to fall in love.
Malik's script is both simple and lovely, yet relishes its complexities. Each character has dealt with prejudice both out of the community and inside it: regarding the latter, Imam Kareem has faced challenges of leading a mosque as a black man, and Sam's mother Sara (Laura Crotte) balks at the idea of her son marrying a refugee. Malik beautifully explores the various inner and outer conflicts each of the characters face: as Muslims, as American citizens and refugees, and as human beings who just want to be happy. At the heart of Yasmina's Necklace is a love story, the most universal of all, with two reluctant protagonists who nonetheless are drawn to one another. The characters are relatable to every audience member, even when their struggles are unimaginable to most of us.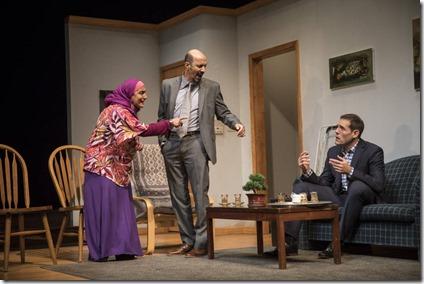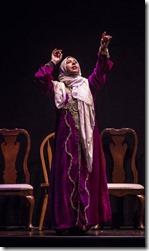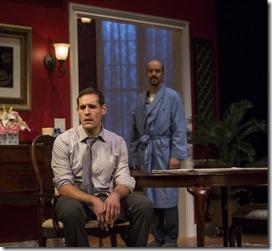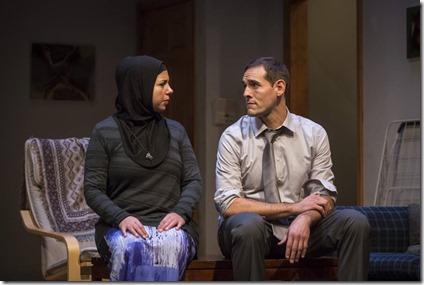 Yasmina's Necklace premiered last year at Berwyn's 16th Street Theater, and several cast members remain the same, most notably Jamshidi and Perez, who reprise their lead roles. Though they barely touch and never kiss, their chemistry is palpable, their characters' friendship and mutual respect organic and true. Barkhordar shines as Yasmina's overbearing dad, and Martin Hanna is a standout as Amir, a man from Yasmina's past in Iraq. Crotte's Sara brings both comic relief and dramatic weight, fussing over her son and revealing her own spiritual journey and her insistence on keeping her Puerto Rican roots alive.
Director Filmer (who, like Malik, is an alum of Goodman Theatre's programs for up-and-coming playwrights and directors) knows just when to inject humor, when to keep the action moving and when to slow down and let the audience savor a moment. As a result of Fisher's attention to detail, Malik's beautiful writing and a stellar cast, Yasmina's Necklace is quiet but compelling, and ultimately unforgettable.
Yasmina's Necklace continues through November 19th at Goodman Theatre, 170 N. Dearborn (map), with performances Wednesdays & Thursdays 7:30pm, Fridays 8pm, Saturdays 2pm & 8pm, Sundays 2pm. Tickets are $10-$40, and are available by phone (312-443-3800) or through their website (check for availability of ). More info at GoodmanTheatre.org. (Running time: 2 hours, includes an intermission)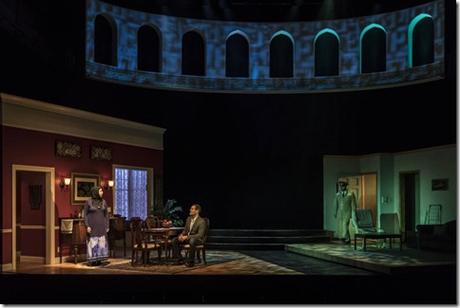 Understudies: Salar Ardebili (Amir), Joe Fernandez (Sam), (Yasmina), Kenneth D. Johnson (Imam Kareem), Isabel Quintero (Sara), Amro Salama (Man, Officer), Frank Sawa (Ali, Musa)
behind the scenes
(director), Joe Schermoly (set design), Rachel M. Sypniewski (costume design), (lighting design), Barry Bennett (original music, sound design), Adam Belcuore, Erica Sartini-Combs (casting), Dana Lynn Formby (dramaturg), Donald E. Claxon (production stage manager), Malcolm Callan (assistant director), Ahmad Abdulrazzaq (paintings and calligraphy), Rachel Lake (assistant lighting designer), Eva Breneman (dialect coach), Kathy Logelin (assistant dialect coach), (photos)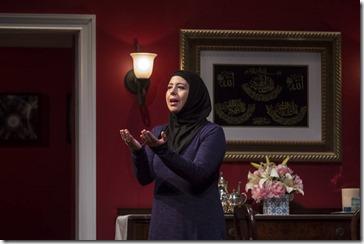 Tags: 16th Street Theater, 17-1058, Adam Belcuore, Ahmad Abdulrazzaq, Allen Gilmore, Amro Salama, Ann Filmer, Arti Ishak, Barry Bennett, Cat Wilson, Chicago Theater, Dana Lynn Formby, Donald E. Claxon, Erica Sartini-Combs, Eva Breneman, Frank Sawa, Goodman Theatre, Isabel Quintero, Joe Fernandez, Joe Schermoly, Kathy Logelin, Kenneth D. Johnson, Laura Crotte, Lauren Whalen, Liz Lauren, Malcolm Callan, Martin Hanna, Michael Perez, post, Rachel Lake, Rachel M. Sypniewski, Rohina Malik, Rom Barkhordar, Salar Ardebili, Susaan Jamshidi, Voyage Theatre Company
Category: 2017 Reviews, Goodman Theatre, Lauren Whalen