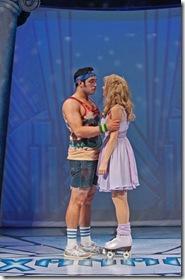 Xanadu 
Book by Douglas Carter Beane
Book/Lyrics by Jeff Lynne and John Farrar 
Directed/Choreographed by Rachel Rockwell 
Drury Lane Theatre, Oak Brook Terrace (map)
thru Oct 28  |  tickets: $35-$46   |  more info
  
Check for half-price tickets 
  
  
   Read entire review
  
---
Totally 80's-rific!!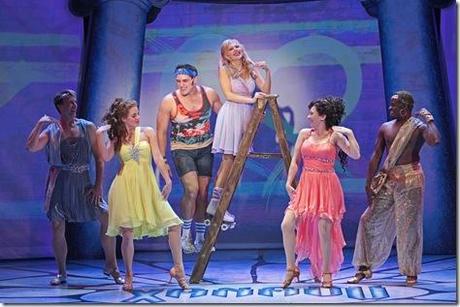 Drury Lane Theatre presents
Xanadu
Review by Lauren Whalen
A few years ago I baby-sat my coworkers' four-year-old daughter, who requested we watch her favorite movie. "Sure," I said, expecting "The Little Mermaid" or "Toy Story". The little girl beamed and scampered off, returning with a DVD of…"Xanadu". Over two viewings, one after the other, I was introduced to what is widely considered one of the biggest, most glittery disasters in cinematic history – and found the Olivia Newton-John/Gene Kelly/Electric Light Orchestra homage to roller disco and Greek goddesses oddly endearing. Evidently, I'm not alone. A 2008 stage adaptation was well-received on Broadway, wisely camping up every aspect the film played straight.  Director Rachel Rockwell's winning production at Drury Lane follows suit: her Xanadu is a neon confection that pokes fun at the film's over-the-top 80's fashion and ridiculous premise with a genuine sweetness.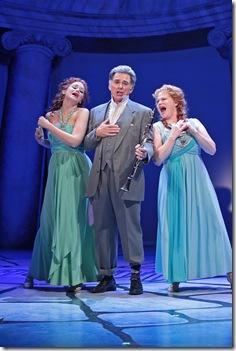 It's 1980 in Venice, California and dopey but good-natured artist Sonny Malone (
Chris Critelli
) has fashioned a chalk mural of Greek muses. When the mural comes to life, pretty muse Clio (
Gina Milo
) – disguised as a roller-skating Australian named Kira – goes on a mission to inspire Sonny.  Sonny is delighted when Kira promises to help him open a roller disco in an abandoned theater owned by grumpy musician-turned-magnate Danny (
Gene Weygandt
). But when Kira's two most jealous sisters set a curse in motion, complications – and hilarity – ensue.
Xanadu brings back the early 80's in all its garish glory, thanks to the production's crack team of designers. Kevin Depinet's set conjures a Venice boardwalk, a staid office and a decrepit theatre, with a floor smooth for skating and a perfect disco ball. Costumes rented from the Maine State Music Theatre and coordinated by Erika Senase, delightfully represent the 80's with every cutoff jean short, headband, pastel frock and magical leg warmer. Music director Roberta Duchak's sure hand guides a fine group of voices, and a four-piece band led by Ben Johnson (who gleefully dons a sparkly headband before the show) glides through ELO's greatest hits.
Chicago and New York's finest musical theatre performers make up Xanadu's cast, and flawlessly blend broad comedy with skillful singing and dancing. As the bitter but wistful Danny, Weygandt (a local favorite and Broadway character actor) pays homage to Gene Kelly's infinite humor and physical grace. Christine Sherrill and Nancy Voigts hiss, cackle and (literally) chew scenery as Clio's evil sisters, and Tammy Mader has some lovely standout moments as seductive sister Erato. But this Xanadu belongs to its two leads. Critelli's Sonny is all wide eyes and goofy charm, tickling the audience's collective funny bone before his gorgeous voice. And Milo, who's made a career of playing second banana, makes a beautiful and quirky Clio/Kira with an effortless soprano and expressive face. Olivia Newton-John would be proud.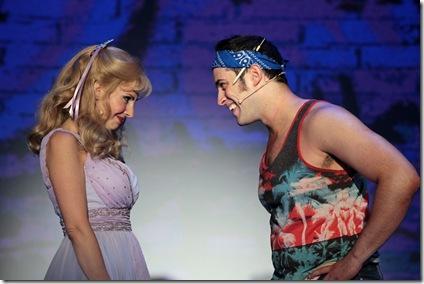 The line between fun parody and eye-rolling indulgence is as fine as a strand of permed hair, but director/choreographer Rockwell walks it with aplomb. She never misses an opportunity for a sight gag or an exaggerated wink, adding a layer of silliness to an already self-aware script. Every actor is having every bit of fun at every moment, but their joy is relaxed rather than frenetic and their energy contagious. This delicate balance requires the utmost care and attention to detail. With a lesser director, Xanadu would fall into bad-sketch-comedy category. With Rockwell at the helm, it's elevated to pop art.
Rating: ★★★½
Xanadu continues through October 28th at Drury Lane Theatre, 100 Drury Lane, Oakbrook (map), with performances Wednesdays at 1:30pm, Thursdays at 1:30 and 8pm, Fridays at 8:30pm, Saturdays 5 and 8:30pm, Sundays 3pm.  Tickets are $35-$46, and are available by phone (800.745.3000) or online through their website (check for half-price tickets at Goldstar.com). More information at DruryLaneOakbrook.com.  (Running time: 2 hours, includes an intermission)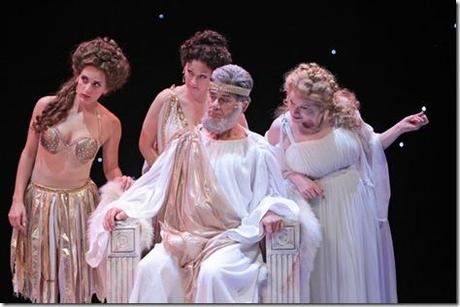 Photos by Brett Beiner 
---
artists
cast
Chris Critelli (Sonny Malone), Stephanie Binetti (Euterpe, Thetis), Sean Blake (Terpsichore, Eros, Hermes, Centaur), Gary Carlson (Thalia, Young Danny, Cyclops), Tammy Mader (Erato, Hera), Gina Milo (Clio/Kira), Christine Sherrill (Melpomene, Medusa), Nancy Voigts (Calliope, Aphrodite), Gene Weygandt (Danny, Zeus), Robin Childress, Jake Klinkhammer, Holly Stauder (Understudies and Pit Singers)
orchestra
Ben Johnson (keyboard, conductor); Evan Rea (keyboard 2, asst. conductor); Tom Logan (guitars); Rich Trelease (percussion)
behind the scenes
Rachel Rockwell (director, choreography); Roberta Duchak (music director); Kevin Depinet (set); Jesse Klug (lighting); Garth Helm (sound design); Ray Nardelli (asst. sound design); Erika Senase (costume coordinator); Mike Tutaj (projections); Nick Heggestad (props); Rick Jarvie (wigs); Amber Mak (asst director, choreographer); Juli Walker (production manager); Kristi J. Martens (Equity stage manager); Jeremy Drechny (tech director); Laura Stanczyk Casting (casting); Brett Beiner (photos)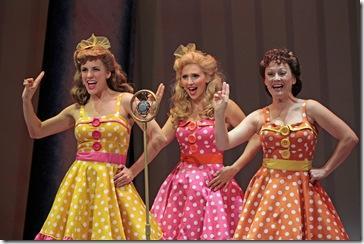 12-0930