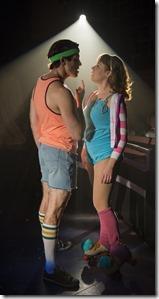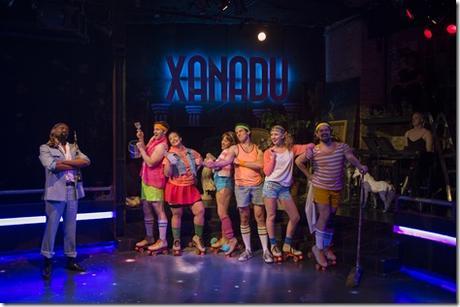 According to ATC's press release, the late American Theater Company Artistic Director PJ Paparelli was a "not-so-secret fan of the camp classic." Initially a spectacular box-office flop, the 1980 film gained cult popularity, especially among gay audiences - so much so that a 2007 Broadway musical version enjoyed a year-plus run and two Tony nominations. For those who love 1980's nostalgia, roller skates and Electric Light Orchestra - and a healthy dose of sarcasm - Xanadu is a one-act delight that closes with the ever-catchy earworm of a theme song. American Theater Company presents a fitting tribute to Paparelli, with almost all elements hitting just the right notes.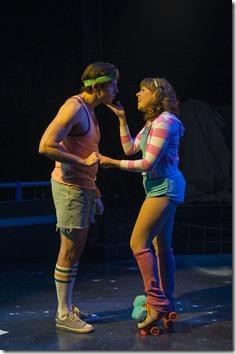 It's 1980 in Venice, California and Sonny Malone (
Jim DeSelm
), an enthusiast of drawing and wearing very tiny shorts, is discouraged with his chalk drawing of the Greek Muses. Enter Cleo (
Landree Fleming
), the Muse front and center of the drawing, who persuades her sisters to come to life and inspire young Sonny to follow his creative passions. Forbidden from creating anything herself, Cleo disguises her body with leg warmers and roller skates, and her voice with an abominable Australian accent. After "accidentally" bumping into Sonny and introducing herself as Kira, the Muse helps him set up a roller disco in a building owned by Danny Maguire (
Aaron Holland
), a stingy artist-turned-entrepreneur who is no stranger to beautiful, inspiring women. However, Muse sisters Melpmene (
Karla L. Beard
) and Calliope (
Missy Aguilar
) decide to make trouble by causing Kira to fall in love with Sonny - which, along with creating, is also forbidden among Muses. Will Kira/Cleo face eternal damnation? Will Sonny open his roller disco? And will true love and chalk art conquer all?
What's genius about the stage musical is that it pokes fun at itself in the exact places the original film was so serious. "Xanadu" the movie went nearly $10 million over budget, was written as it was filmed, and was heavily promoted only to die a painful box-office death.The musical version finds joy in the movie's outright silliness, winking at the audience just the right amount. It's the perfect blend of parody and camp, the cast enjoying themselves as much as the audience. Director Lili-Anne Brownnever misses an opportunity for a bit, physical or verbal, but on the other side of the coin, doesn't shame the audience for having fun. It's a delicate balance, and one she achieves. Set designer Arnel Sanciano ably transforms the intimate ATC space into a cosmic roller rink, with plenty of room for play, which is aptly aided by the dynamic, ball-of-energy choreography of Brigitte Ditmars. Vocal director Aaron Benhamhandles ELO with the greatest of ease, the cast milking the 80's tones for all they're worth.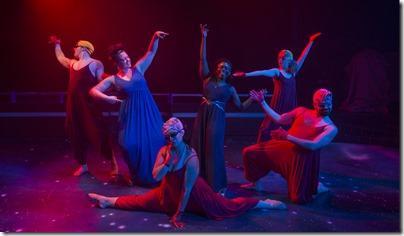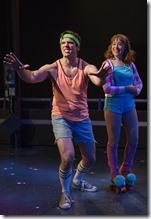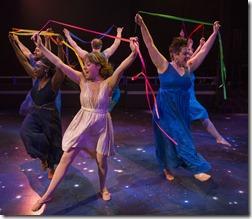 This 's strongest suit is its ensemble, who sing, dance and deliver sassy one-liners and physical bits with aplomb. DeSelm is a pitch-perfect Sonny, clean-cut good looks and a perpetually dazed expression combined with beautiful vocals. Muse standouts include the deliciously evil Aguilar and Brown, James Nedrudas the dancer Terpsichore and Jeff-nominated choreographer Daniel Spagnuolo, who performs a breathtaking and touching tap number. Holland shines bright in the dual role of grouchy would-be artist Danny (Gene Kelly's final film role) and ladies' man Zeus. The only weak link is Fleming as Kira. The actress has shone in child/adolescent roles in and The 25th Annual Putnam County Spelling Bee - which makes her unfortunately miscast in this role. Though she has a strong voice, Fleming looks uncomfortably young next to DeSelm (as silly as is, the leads should still have chemistry).
Miscast lead aside, this is 100 minutes of pure sparkling fun - a love letter to a time that's since taken on a soft focus in American pop culture. No one will forget how terribly received the movie was, and the musical is all too self-aware, without letting go of its campy spirit. Though, fair warning: you won't be able to get the theme song out of your head.
continues through July 17th at American Theater Company, 1909 W. Byron , with performances Tuesdays-Fridays at 8pm, Saturdays 2pm & 8pm, Sundays 2pm. Tickets are $45-$58 (students with ID: $15), and are available by phone (773-409-4125) or online through their website (check for half-price tickets at Goldstar.com ). More information at ATCweb.org. (Running time: 100 minutes, no intermission)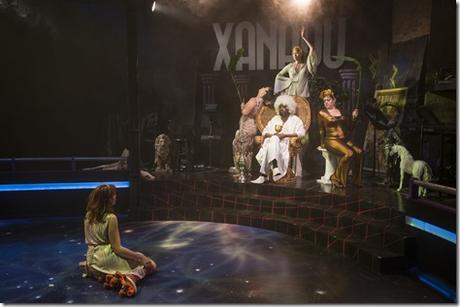 Photos by Michael Brosilow
Missy Aguilar (Calliope), Kasey Alfonso (Erato), Karla L. Beard (Melpomene), (Sonny Malone), Landree Fleming (Cleo/Kira), Aaron Holland (Danny Maguire, Zeus), Michelle Lauto (Kira understudy, Swing), Hanah Rose Nardone (Euterpe), James Nedrud (Terpsichore, Sonny cover), Daniel Spagnuolo (Thalia, Danny cover), Cameron Turner (Swing)
Aaron Benham (music director), Tony Scandora (drums), Cesar Romero (guitar),
behind the scenes
Lili-Anne Brown (director), Brigitte Ditmars (choreographer), Aaron Benham (musical director), Miles Polaski (sound design), Samantha C. Jones (costume design), Michael Stanfill (lighting design), Arnel Sanciano (set design), Jeremiah Barr (props master), Katie Klemme (production stage manager), Zach Johnson (co-technical director), Jon Martinez (assistant director, assistant choreographer), CoCo Ree Lemery (charge scenic artist), Jackie Valdez (assistant scenic artist), Alexander Ridgers (associate lighting design), Kristen Jamerson (stage management PA), Garth Moritz, Abigail Mendrano (assistant stage manager), John Cockerill (associate music director), Ralph Loza (sound engineer), Cecelia Pappalardo (sound mixer), Michael Brosilow (photos)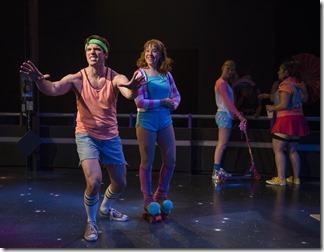 Tags: 16-0615, Aaron Benham, Aaron Holland, Abigail Mendrano, Alexander Ridgers, American Theater Company, Arnel Sanciano, Brigitte Ditmars, Cameron Turner, Cecelia Pappalardo, Cesar Romero, Chicago musical theater, Chicago Theater, Coco Ree Lemery, Daniel Spagnuolo, Douglas Carter Beane, Garth Moritz, Gene Kelly, Hanah Rose Nardone, Jackie Valdez, James Nedrud, Jeff Lynne, Jeremiah Barr, Jim DeSelm, John Cockerill, John Farrar, Jon Martinez, Karla L. Beard, Kasey Alfonso, Katie Klemme, Kristen Jamerson, Landree Fleming, Lauren Whalen, Lili-Anne Brown, Michael Brosilow, Michael Stanfill, Michelle Lauto, Miles Polaski, Missy Aguilar, PJ Paparelli, post, Ralph Loza, Samantha C. Jones, Tony Scandora, Xanadu, Zach Johnson
Category: 2016 Reviews, American Theatre Company, Lauren Whalen, Musical