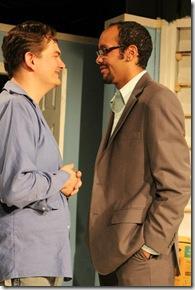 WTC View 
Written by Brian Sloan
Directed by Michael Rashid  
at CI Theater, 1422 W. Irving Pk (map)
thru Aug 12   |  tickets: $20   |  more info
  
Check for half-price tickets 
  
  
   Read entire review
  
---
A balanced view of Manhattan life post-9/11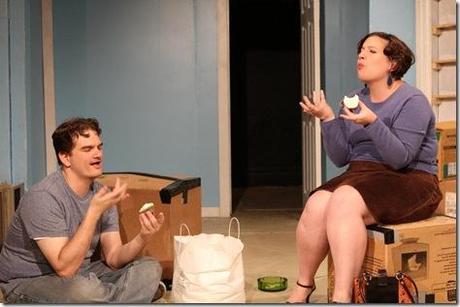 Project 891 Theatre presents
WTC View
Review by Keith Glab
WTC View makes its Chicago premiere nearly 11 years after the terrorist attacks of September 11th, 2001. It doesn't feel as though it has been that long, does it? In Brian Sloan's script, Eric (Ron Popp) shows his Manhattan apartment, located six blocks from ground zero, to prospective roommate candidates two weeks after the tragedy.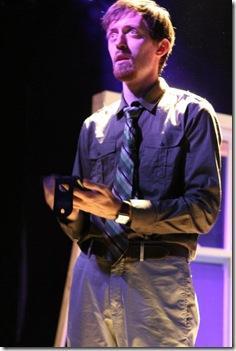 Before the play even begins, a sense of the time frame is conveyed through the 4:3 television set, CD player, and energy-inefficient air conditioner strewn about the set, although it's odd that none of the pre-show music evokes a feeling of 2001. The action begins with several characters coming out onstage to face the audience and leave answering machine messages for Eric. This device is used throughout the play, and would work better were the actors not backlit during these monologues.
The actors who perform multiple roles do so with great success. Jake Szczepaniak portrays something of a casual hippy dude for a lengthy scene at the beginning of the performance, then gives a brief answering machine monologue as an intense and flamboyantly gay roommate candidate. Michael Woods is both a straight-shooting campaign manager and the Latino landlord pushing Eric for his rent. Jason Nykiel seamlessly shifts from a British to an Eastern European accent as potential roommates. (As talented as the cast is with dialects, it's surprising that we don't hear a single New York accent, even from the characters who had been living there for a decade.)
The first act runs a little long, with the roommate candidates failing to work out for various reasons.  Nothing in the narrative actually advances, just frustration building in Eric. The roommate candidates all wind up talking about the September 11th attacks far more than anything else, basically serving as a device to get multiple perspectives on the tragedy. Just before intermission, Alex (Michael Mejia) makes a late night appointment to see the apartment. He reveals that he was in Tower 1 during the attack, but miraculously survived. At this point, Eric makes a revelation of his own regarding his ex-roommate and has a breakdown that culminates in his sleeping with Alex.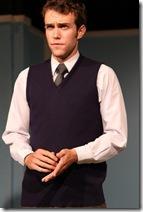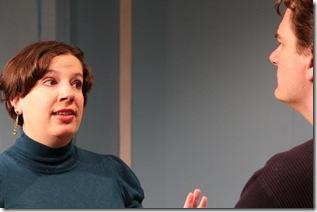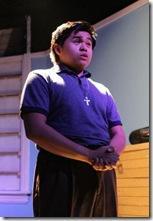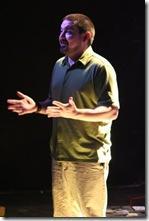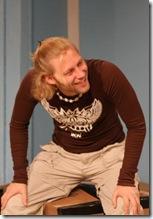 Eric's ex-boyfriend, Will (Rocco Renda), is ostensibly a major part of both the story and Eric's mindset. It is therefore a shame that his stage time is limited to a series of bland answering machine messages and a 30-second interaction with Eric at the end; the audience gets to see very little of Will's character and personality. Instead, we learn more about him through interactions between Eric and his BFF Josie (Liz Hoffman). Josie is having marital problems of her own, and the interplay between her and Eric is one of the production's greatest strengths, as the two actors exhibit fantastic chemistry onstage. (It would be nice, however, if it was explained why the two of them choose to hang out exclusively in the mostly-empty room that Eric is showing rather than another spot in the apartment.)
There are many abrupt tonal changes throughout the play, from serious to flippant to dark to uplifting. This is appropriate, with the characters struggling to move on with their lives after the tragedy, masking their feelings of fear and survivor's guilt. There is a real danger for a play on this subject to degrade into cheap melodrama, but WTC View never does. It offers a balanced perspective on serious emotional issues and even some good laughs, making this Project 891 production definitely worth a view.
Rating: ★★★
WTC View continues through August 12th at Chemically Imbalanced Theater, 1422 W. Irving Park (map), with performances Fridays and Saturdays at 7:30pm, Sundays 2pm.  Tickets are $20, and are available by phone (773-853-3210) or online through BrownPaperTickets.com (check for half-price tickets at Goldstar.com). More information at Project891Theatre.com.  (Running time: 2 hours, includes an intermission)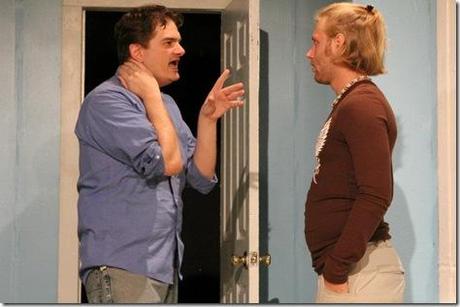 Photos by Kat Dennis
---
artists
cast
Ron Popp (Eric), Liz Hoffman (Josie), Michael Mejia (Alex), Jason Nykiel (Jeremy, Lorenzo), Rocco Renda (Will), RJ Silva (Max, Victor), Jake Szczepaniak (Kevin, Joey), Michael Woods (Jeff, Carlos)
behind the scenes
Michael Rashid (director, sound design); Kiri Palm (stage manager); Joshua Dlouhy (set design); Liz Hoffman (costumes); Richard Fields (lighting); Connor Murray (asst. lighting); Melvin Foster (graphics); Kat Dennis (photos)
12-0746