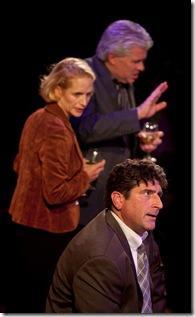 Wrong Mountain 
Written by David Hirson
Directed by Ian Streicher
at Second Stage, 3408 N. Sheffield (map)
thru Oct 14  |  tickets: $18-$28   |  more info
  
Check for half-price tickets 
  
  
   Read entire review
  
---
A brain-teasing, cerebral-tickling, mind-shift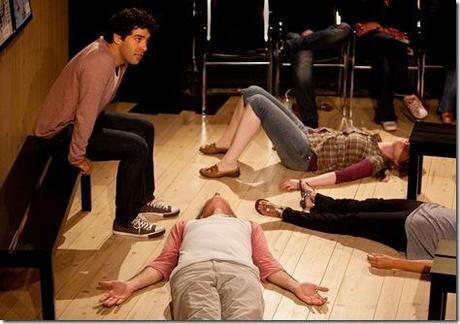 Rare Terra Theatre presents
Wrong Mountain
Review by Katy Walsh 
When reporters get together, they make fun of bloggers.  They view bloggers as the deformed stepchild of the writers' family.  They don't believe an online presence gives bloggers the credentials to have an opinion.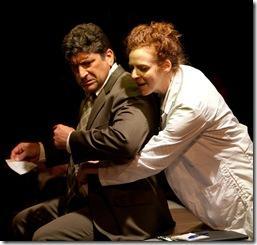 Rare Terra Theatre presents the Chicago premiere of
Wrong Mountain. 
Something is eating at Henry Dennett.  Literally – there is a 40 lbs worm nesting inside him.   But that's not as bad as the worm dating his ex-wife.  Dennett's ex is living with a successful Broadway playwright.  As a published and arrogant poet, Dennett believes theatre is a mediocre form of art established for the pedestrian middle class. After all, plays are crap. So, Dennett bets the boyfriend that he can and will write a play that is produced within a year.  The poet vs playwright smackdown for $100K is on.  But on the way to showmanship, Dennett drinks the water.
Wrong Mountain
is the play within the play written by the playwright within the poet within the play.  It's a brain-teasing, cerebral-tickling, mind-shifter.  
Playwright David Hirson has fun with this play.  He makes his own profession the butt of the joke.  With intellectual wit and superiority, Hirson attacks the theatre and theatre goers as inferior.  Hirson's main character Henry, played by Richard Sandoval, is a pompous asshole.  Henry is an offensive and despicable character.  Sandoval plays it with booming authenticity.  Even in moments of seemingly personal growth, Sandoval deliciously lets go of the moment with a prickly-prick comment.  Sandoval is the amalgamation of *that* guy that you love and hate equally.  To counter all that negativity,  Douglas Vickers (Maurice) charms as the bumbling, gregarious festival director.  Vickers delivers his lines with a fake British accent and killer comedic timing.  Vickers is hilarious!  The best scenes are Sandoval and Vickers driven.  Their contrasting personas make for absurdity gold.  The Sandoval-and-Vickers' machine is so stage consuming, it's easy to miss the subtle humor of the other 13-cast members. But it's there on the farcical sidelines.  
Under the direction of Ian Streicher, this cast pulls you into their rehearsals for a play and their conversations for a life.  It fascinates even when it pontificates.  Some of the soliloquies are too long and often redundant.  Although I appreciate the symmetry of opening and closing the play, the last few scenes unnecessarily drag out the conclusion.  
Still, Wrong Mountain provides a poignant view of a life's work from a different vantage point.  This show would be an especially powerful experience for theatre industry folk.  
Rating: ★★★
Wrong Mountain continues through October 14th at Second Stage, 3408 N. Sheffield (map), with performances Thursdays-Saturdays at 8pm, Sundays 7pm.  Tickets are $18-$28, available by phone (773-305-5643) or online at BrownPaperTickets.com (check for half-price tickets at Goldstar.com). More information at RareTerraTheatre.com.  (Running time: 2 hours 40 minutes, includes an intermission)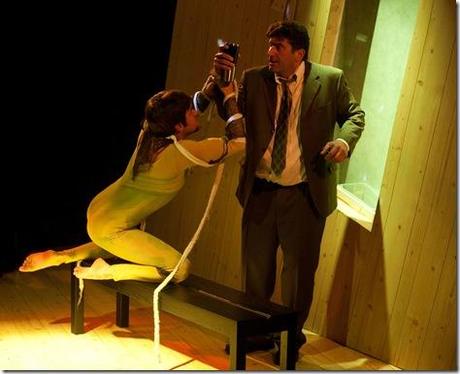 Photos by Anthony Robert La Penna 
---
artists
cast
Richard Sandoval, Douglas Vickers, Michael Dickson, Meg Elliott, Matthew Gall, Elizabeth Kenzie, Tessa Kruczek, Julie Partyka, Thom Pasculli, Caroline Phillips, Levenix Riddle, Abigail Vega, Evan Voboril
behind the scenes
Ian Streicher (director); Roger Wykes (set); Frank Rose (lighting); Emma Weber (costumes); Laura Wiley (projections); Daniel Ryan Johnston (props); Edward Davis, Jeffrey Levin (original music); Michael Peters, Megan Young (stage managers); Anthony Robert La Penna (photos)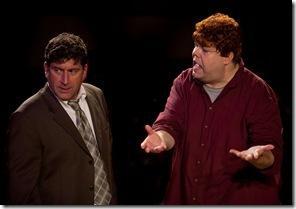 12-0928