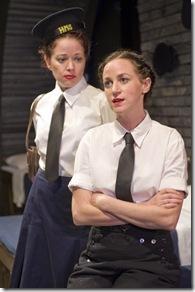 WRENS 
Written by Anne McGravie  
Directed by Karen Kessler
at Rivendell Theatre, 5779 N. Ridge (map)
thru Oct 13  |  tickets: $30   |  more info
  
Check for half-price tickets 
  
  
   Read entire review
  
---
'WRENS' soars as a heartwarming charmer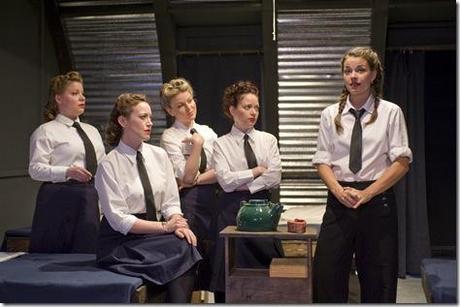 Rivendell Theatre presents
WRENS
Review by Katy Walsh 
When I applied to college, we had to fill out an extensive questionnaire to be used for our dorm assignment.  It was a personality analysis.  It asked specific questions about life philosophies and sleeping habits.  The screening was thoroughly intimate.  When we arrived at school, we realized the matching was a little less scientific:  Julie and Julie, Michelle and Michelle, etc.  After the first semester, everyone ended up changing roommates.  
Rivendell Theatre presents the revival of WRENS.  During WWII, 74,000 women served in the Women's Royal Naval Service, performing over 200 jobs. Their enlistment changed the norms of society.  Women were needed in the workforce.  Their efforts became crucial to winning the war.  They became proficient in occupational skills.  And they learned how to live with a diverse group of women.  Gwyneth, Jenny, Doris, Cynthia, Dawn, Meg and Chelsea are sharing a room, a teapot and a secret.  All coming from different backgrounds, these seven women are forced to live together.  Alliances form. Protocols emerge.  Hairs curl.  After all, these women are at war.  WRENS soars as a heartwarming charmer.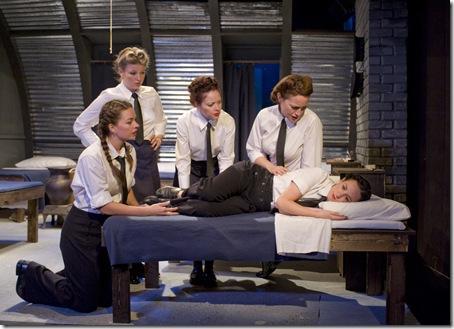 Playwright Anne McGravie penned this semi-autobiographical salute to her two year stint in the WRENS.  McGravie plops us into a bunker.  We are left to sort through the stockings and tea leaves to determine who-is-who.  McGravie captivates with the gals' mixed response to the war's end.  The perspectives are fascinating.  And McGravie comprehensively explores them all with humor and humanity.  The relationships are real.  The dialogue is smart.  And under the masterful direction of Karen Kessler, these ladies are superb!  
These seven women become very distinct characters and all with a slightly different accent.  Each draws us into her conflicting world of self-preservation and newfound-independence.  It's just splendid!  Within the hugely talented ensemble, a few stand out for their engrossing delivery.  Rebecca Spence (Jenny) is the epitome of steel magnolia.  Spence gives off this dreamy, gentle anachronism, but she's also the unspoken leader.  Spence commands the dorm with a quiet brawn.  Brilliantly contrasting Spence, Mary Cross (Gwyneth) is a lively sparkplug.  A chattering Cross snipes and sparkles with exuberance.  A polished Jodi Kingsley (Cynthia) is both regally civilized and subtly renegade.  A by-the-book Kingsley shows a softer side for rodents.  And Amanda Powell (Meg) is the newbie to the barracks.  With terrific comedic-timing, Powell endears and delights as the tough-talking orphan in search of a chum. Wow!
At one point, Powell suggests they all get back together for a reunion.  I agree! This is a story that begs for a sequel or even an epilogue.  I want to know what happened to these gals the next day, the next year, the next decade.  I just loved this show! There is a reason WRENS is in a revival.  Go see for yourself!
Rating: ★★★★
WRENS continues through October 13th at Rivendell Theatre, 5779 N. Ridge (map), with performances Thursdays and Fridays at 8pm, Saturdays 3pm and 8pm.  Tickets are $30, and are available online through Rivendell's website (check for half-price tickets at Goldstar.com). More information at RivendellTheatre.org.  (Running time: 2 hours 10 minutes, includes an intermission)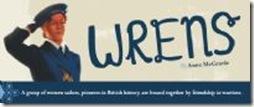 Photos by Michael Brosilow 
---
artists
cast
Ashley Neal (Dawn); Rebecca Spence (Jenny); Mary Cross (Gwyneth); Meg Warner (Doris); Jodi Kingsley (Cynthia); Amanda Powell (Meg); Katrina Kuntz (Chelsea)
behind the scenes
Karen Kessler (director); Thomas Murray (asst. director); Stephanie Hurovitz (production stage manager); Jason Pikscher (tech director); Jen Seleznow (production manager); Christine Pascual (costumes); Diane Fairchild (lighting); Nick Belley (asst. lighting); Joanna Iwanicka (scenic, props); Katie Hopgood (sound design); Kathy Logelin (dialect coach); Paige Bourne (dramaturg); Michael Brosilow (photos)
12-0923