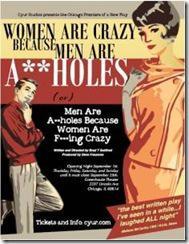 Women are Crazy Because
   Men Are A**holes 
Written by Brad Gottfred
Directed by Dave Fraunces
Greenhouse Theater, 2257 N. Lincoln (map)
thru Sept 25  | tickets: $29-$39  | more info
Check for half-price tickets
   Read entire review
---
Low laughs, sly raunchiness make for gut-busting evening
Cyur Studios presents
Women Are Crazy
Review by K.D. Hopkins
I had a difficult time getting my mind around Women Are Crazy Because Men Are A**holes. First of all, the current state of relationships and dating as promoted by the many media outlets does not ring very authentic to me. The characters in this play have built relationships around some shallow values. Second, the women are really portrayed as more crazy than the men are portrayed as assholes. With that said, I found the play to be quite funny and in a few instances gut-busting funny.
This production, produced by Los Angeles' Cyur Studios and set to move on to New York after the Chicago run, features some familiar faces from television and film. This is indeed a gifted cast; they don't play the roles trying to be funny, but instead are fully immersed in this aforementioned shallow reality show type world.
The play consists of individual vignettes and group scenes in present day Chicago. The hostess is a young woman named Nicole. She is preparing a party for her "soul mate," a man she met through internet dating. Mandy Henderson, playing Nicole, gives a sweet and unpretentious performance. She and her soul mate Dylan (Kimani Shillingford) have been exchanging emails for about a month that have included Skype sex. (I cringed as Nicole waxed all dreamy about her and Dylan's grandchildren hearing the story of how they met.) She has invited her crew over, including her best friend Mandy. As much as I was annoyed by the actions and motivations of best friend Mandy, I have to admit that JJ Nolan plays her bat shit crazy brilliance. Her opening vignette features her sneaking in on her boyfriend Benny (the wonderfully comic Trevor Morgan) while he sleeps. She goes from tear-streaked hysteria trying to wrest the truth about the woman Benny slept with last night to a siren wielding her sexual power. The premise for the men in this play is that all men are led by their penis and elusive chemistry rather than building relationships on values, and Morgan's portrayal does not disappoint. And since this is a farce about the state of relationships, it works.
Deanna Smith, portraying Nicole's sister Bella, does a great job with a role that has become a bit of a stereotype. Bella is the poster child for a book titled 'Why Men Love Bitches," a gorgeous ball-buster-on-wheels real estate agent who devours men for sport. Her current meal is her boss Reynold, played with cultured cluelessness by Blake Boyd. His character gets the chance to utter a line that many of us women have come to know as true. He plans to propose to Bella because "She is the only woman who made my dick hard for over two years". Ugh.
The couple that is supposed to represent what true love based on principles and connection looks like, is played by Somer Benson and Adam Schulmerich as Phoenix and Tim respectively. I understand the need for some gravity in this farcical confection, but these characters tend to be a drag on the story. Phoenix is leaving because Tim is suppressing her dream of writing children's books. The actors are good, but the whole 'apples and oranges' flight of fancy is kind of a throw away, especially considering that the rest of the cast is all about chemistry and sex.
Also included in the get-together are the rather tiresome, newly-separated couple Hillary and George (Aleksandra August and Baxter Defy respectively, doing a good job as people with their brains in their pants). Though no longer an item, the two of them put this chapter aside to support Nicole and meet her soul mate. They never make it to the party because Hillary is intent on whining and wheedling her way back into George's heart through his pecker. (I had another cringe moment in their car-sex aftermath: Hillary has a smug 'I whipped him' look on her face while George is stunned into a sex haze. Yes, it has the components of farce, but it's so prevalent in the media and society that it left me in the cringe zone.)
Kimani Shillingford, playing long distance soul mate Dylan, is perfect as the poor schmo who walks into a spider web of expectation. His comments to the fourth wall are funny and gave me some hope that Dylan possessed upright principles and a good character. He is honest with Nicole that he doesn't feel any chemistry when they kiss. The comedy actually goes up ten notches at that point because it sets off an avalanche of actions that are hysterically funny,
Though the play is uneven in trying to insert a serious element into the mayhem, I still recommend it. A mostly well-paced sex-farce, Women Are Crazy hits its stride when going for the low laughs and sly raunchiness (and these moments abound).
Rating: ★★★
Cyur Studio's Women Are Crazy Because Men Are A**holes continues through September 25th at the Greenhouse Theater Center's main stage, 2257 N. Lincoln (map), with performances Thursdays and Fridays at 7:30pm, Saturdays at 5:00pm and 8:30pm, and Sundays at 5pm. Tickets are $29-$39, and can be purchased by phone (773.404.7336) or online at GreenhouseTheater.com. More information at Cyur.com. (Running time: One hour 45 minutes, which includes an intermission)
---
artists
cast
Trevor Morgan (Benny); Somer Benson (Phoenix); Adam Schulmerich (Tim); Aleksandra August, Becky Bush, Tunisia Hardison (Hillary); Mandy Henderson, Maria Wilson (Nicole); JJ Nolan (Mandy); Blake Boyd (Reynold); Deanna Smith, Christine Donlon (Bella); Baxter Defy, Daniel McEvilly (George); Devlin Borra, Kimani Shillingford (Dylan);