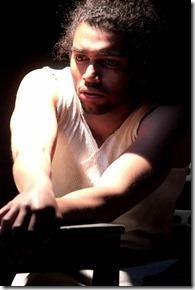 Without Trace
Written by Eric Lockley
Directed by Carla Stillwell
at Greenhouse Theater, 2257 N. Lincoln (map)
thru June 1  |  tickets: $20-$25   |  more info
  
Check for half-price tickets 
  
  
   Read review
  
---
A masterful hour of mystery and suspense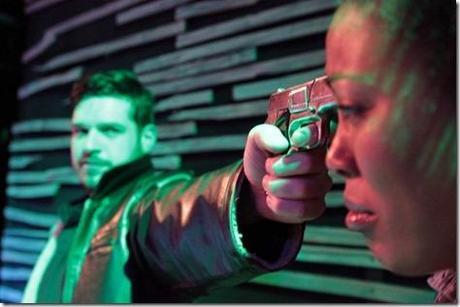 MPAACT presents
Without Trace
Review by Kat Hey
The setting for Without Trace could be any inner city in America. It is unfortunate that the dystopian milieu could be now or any time in Black America. Trace Sullivan (Max Thomas) has been missing from his home for three days. 'Home' is a tenement protected by COBRA (Coalition of Black Revolutionaries and Activists) run by Abe Sullivan (Marc Rogers).  The tenement and entire neighborhood is under martial law after the assassination of the 2nd black president and severe wounding of the vice president. All communications have been intercepted and the neighborhood is surrounded by the sound of sirens. Trace finally shows up, but in a disheveled and amnesiac state. Trace's mother Rose (Marina Dee) is relieved to have her son home but heartbroken that he does not remember her or his own childhood.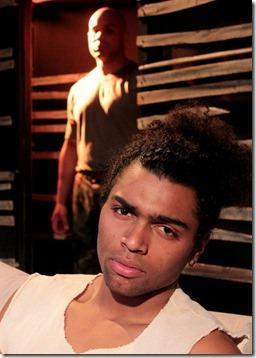 As Abe, Rogers commands the stage as the military trained protector. Abe is a wanted AWOL soldier who may have committed what seems to be a heinous crime in the Middle East. Abe does not seem to be happy to see his son and interrogates him about his whereabouts for the past three days. To Abe, everyone is a suspect of being a possible usurper of the underground power structure. He instantly believes that Trace has been brainwashed and drugged. Rose believes that he is confused because he has not taken his bipolar medication for three days.
In Without Trace, Playwright Eric Lockley weaves a masterful hour of mystery and suspense. Is the interrogator/persuader Will (Joe Giovannetti) a byproduct hallucination of Trace being off of his meds? Or was he really given mind bending drugs with a side of isolation and sleeping in one's own filth? 
Lockley presents 'the great race war' as internal genocide and mayhem. Giovannetti is chilling as the starchy and intimidating Will. He claims to be the good guy and will help Trace get home and then watches coldly as the handcuffed boy urinates on himself. He claims to work for 'the most powerful people in the world' and utters the word 'Nationalism' with an atavistic menace.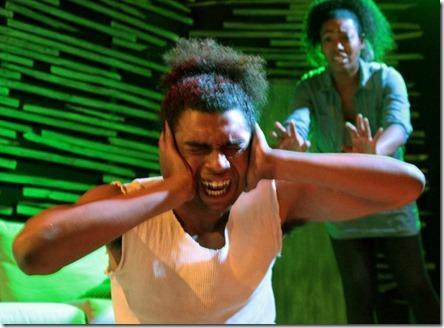 Carla Stillwell directs Without Trace with laser timing and a keen control of the emotionally laden subject matter. Lockley gives us a political thriller for the Millennium. He presents the questions: How far would you go to maintain political power and social freedom? Is Black America creating its own genocide by being sabotaged and brainwashed? The discussions about this show will be very interesting.
Rating: ★★★
Without Impact continues through June 1st at Greenhouse Theater Center, 2257 N. Lincoln (map), with performances Thursdays-Saturdays at 8pm, Sundays 3pm.  Tickets are $20-$25, and are available by phone (773-404-7336) or online through Tix.com (check for half-price tickets at Goldstar.com). More information at MPAACT.org.  (Running time: one hour without intermission)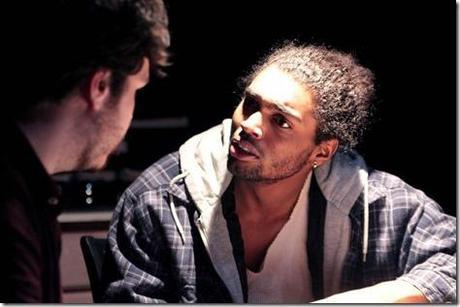 Photos by Shepsu Aakhu
---
artists
cast
Marina Dee (Rose), Joe Giovannetti (Will), Marc Rogers (Abe), Max Thomas (Trace), Benjamin Timothy Jenkins (Understudy)
behind the scenes
Carla Stillwell (director), Lenora Inez Brown (dramaturgy), Lauren Lundy (production stage manager), Danjuma Gaskin (set design), Jared Gooding (lighting design), Asia Williams (costume designer), Desta Sound (sound design), Andre Teamer (property master), Shepsu Aakhu (technical director, photos)
14-0432