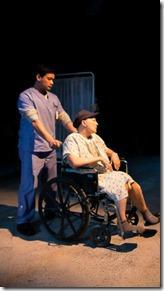 Hypocrites close season with a mesmerizing winner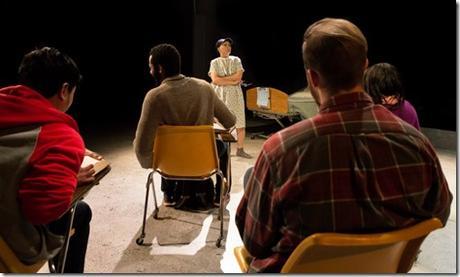 Review by Lauren Whalen
Margaret Edson's Wit is the Hypocrites' season closer - most know by now that this was not originally the plan. Due to low funds, The Hypocrites have been forced to end their 2016-17 season early. Though not ideal, is a fitting end to the season and hopefully a good omen of things to come. Director and Chicago favorite Marti Lyons has assembled a beautiful production, low-key yet epic, of Edson's Pulitzer Prize winner about an academic with cancer and the last two hours of her life. This is wonderfully staged and acted, with a solid, diverse cast and phenomenal production values that don't overwhelm the script's funny brutality.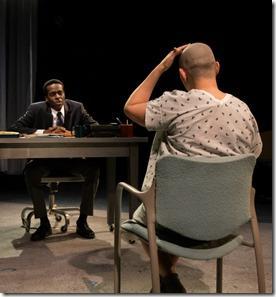 Vivian Bearing (
Lisa Tejero
) is a brilliant professor and poetry scholar who's made a life out of books. When she is diagnosed with ovarian cancer, Vivian succumbs to several months of aggressive treatment. Without family, a partner or close friends, she's going it alone, and while her body disintegrates, her wry humor remains intact. Alternately surrounded by medical staff of varying experience levels, including former student Jason (
Eduardo Xavier Curley-Carrillo
), and alone with her IV drip, Vivian contemplates her life, and what is left of it.
Last year, I reviewed Sideshow's and was struck by Lyons' directing style. She's honest and forthcoming with a healthy dose of sass, and finds the levity in every situation, no matter how dark. These qualities are especially important when directing , which in the hands of a lesser team can become maudlin and corny, Vivian's sharpness lost in a fog of sentimentality. Lyons is a perfect fit for : the sadness is vivid, the gallows humor rock-solid, the actions and emotions organic and honest. In a more practical sense, the blocking is fluid and the actors playing medical staff seem to know exactly what they are doing. Scenic designer Courtney O'Neill places the audience squarely in the middle of the action: the hospital where Vivian will meet her end. Everything from the floors to the curtains, to the sterile whiteness, is exactly correct, and Rasean Davonte Johnson's projection design adds a lovely and nuanced layer. Kevin O'Donnell's ethereal sound design and Michael Stanfill's lighting further supplement the production's immersive experience.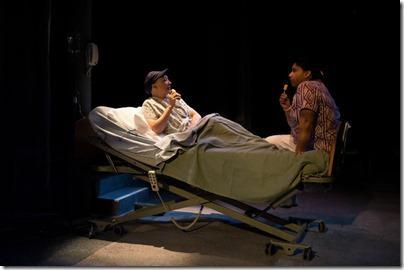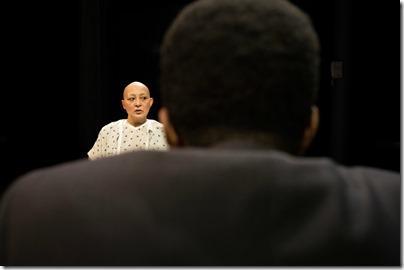 Lavina Jadhwani and the Chicago Inclusion Project have assembled a skilled, mostly non-white cast who inhabit their roles with aplomb. Veteran actor Robert Corneliusshines in the dual role of Vivian's main doctor and her father, and Adithi Chandrashekar gives a breakout performance as Susie, Vivian's compassionate nurse and the closest thing she has to a friend. Millie Hurleyhas a small but memorable turn as Vivian's colleague, and Curley-Carrillo is appropriately bumbling as a nervous new medical resident.
At its core, belongs to the character of Vivian, who is onstage for nearly the full 100 minutes, narrating and enacting the end of her life. Tejero is letter-perfect, with a professorial authority that slowly erodes as she submits to the ravages of her body and brilliant mind. Though all facets of are strong, Tejero's performance alone is worth the price of admission. The Hypocrites will (fingers-crossed) be back next season, and in the meantime, don't miss their unexpected but scrappy and robust 2016-17 finale.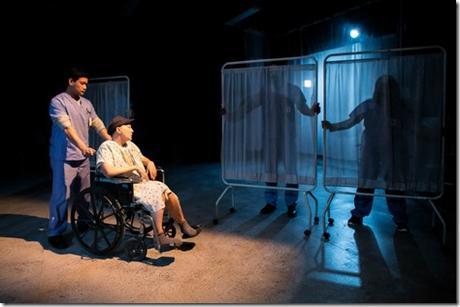 continues through February 19th at The Den Theatre, 1333 N. Milwaukee (map), with performances Thursdays-Saturdays at 8pm, Sundays 3pm. Tickets are $36 (students: $15), and are available by phone (773-697-3830) or online through their website (check for half-price tickets at ). More information at The-Hypocrites.com. (Running time: 100 minutes, no intermission)
Lisa Tejero (Vivian Bearing), Robert Cornelius (Kelekian, Bearing), Eduardo Xavier Curley-Carrillo (Jason), Adithi Chandrashekar (Susie), Millie Hurley (Ashford), Kroydell Galima, India Gurley, Rasell Holt, Colin Morgan (ensemble)
Understudies: Gay Glenn (Vivian), Colin Jones (Kelekian, Bearing), Kroydell Galima (Jason), Phoebe Gonzalez (Susie, Ensemble), Lorraine Freund (Ashford), Michael Turrentine (ensemble)
behind the scenes
Marti Lyons (director), Courtney O'Neill (scenic design), Christine Pascual (costume design), Michael Stanfill (lighting design), Kevin O'Donnell (sound design), Rasean Davonte Johnson (projection design), Jon Beal (violence design), Abhi Shrestha (assistant director), Lucas Garcia (dramaturg), Pornchanok Kanchanbanca (assistant projection designer), Pat Fries (production manager), Daniel Parsons (stage manager), Samantha Dzirko (associate production manager), Sara Beaman (assistant stage manager), Tom Chandler (technical director), Coco Ree Lemery (scenic artist), Ben Zeman (sound engineer), Katherine Goldberg (costume manager), Justine Palmisano (run crew), Satoe Schechner (wardrobe), Collin G. Helou (master electrician), Amanda Herrmann (props master), Chris Owens (projections engineer), (photography), Lavina Jadhwani , Chicago Inclusion Project (casting)
Tags: 17-0139, Abhi Shrestha, Adithi Chandrashekar, Amanda Herrmann, Ben Zeman, Chicago Inclusion Project, Chicago Theater, Chris Owens, Christine Pascual, Coco Ree Lemery, Colin Jones, Colin Morgan, Collin G. Helou, Courtney O'Neill, Daniel Parsons, Eduardo Xavier Curley-Carrillo, Gay Glenn, India Gurley, Joe Mazza, Jon Beal, Justine Palmisano, Katherine Goldberg, Kevin O'Donnell, Kroydell Galima, Lauren Whalen, Lavina Jadhwani, Lisa Tejero, Lorraine Freund, Lucas Garcia, Margaret Edson, Marti Lyons, Michael Stanfill, Michael Turrentine, Millie Hurley, Pat Fries, Phoebe Gonzalez, Pornchanok Kanchanbanca, post, Rasean Davonte Johnson, Rasell Holt, Robert Cornelius, Samantha Dzirko, Sara Beaman, Satoe Schechner, The Den Theatre, The Hypocrites, Tom Chandler
Category: 2017 Reviews, Den Theatre, Hypocrites Theatre, Lauren Whalen