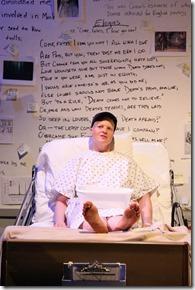 Wit
Written by Margaret Edson  
Directed by Derek Bertelsen 
Raven Theatre West Stage, 6157 N. Clark (map)
thru June 8  |  tickets: $20   |  more info
  
Check for half-price tickets 
  
  
   Read review
  
---
A poignant, smart exploration of mortality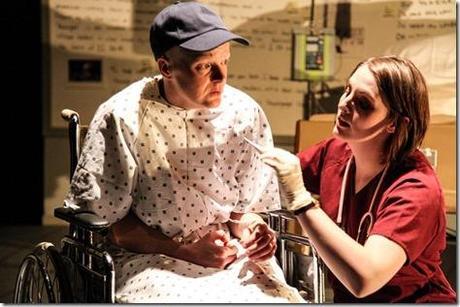 AstonRep Theatre Company presents
Wit
Review by Clint May 
Two hours. Even though the Pulitzer Prize winning Wit is only 90 minutes long, we are informed in the first few moments that the shrewd woman at its center has only that long left to live. As she reflects on an isolated life lived in service to the poet John Donne, she only too late realizes that, true to his injunction, no man is an island. Playwright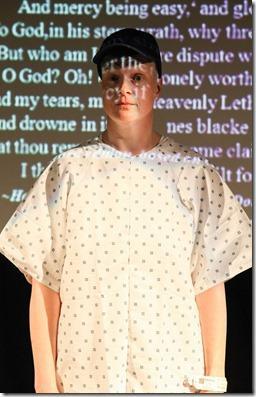 Margaret Edson's one and only play to date was written after her experiences in an AIDS-oncology research center. Combined with her degree in English literature, she distilled these two disparate experiences into an avatar to explore elegiac fears through the high-minded world of metaphysical poetry.
Perhaps in an effort to give meaning to her final months, 50 year old Dr. Vivian Bearing (Alexandra Bennett) has agreed to 8 rounds of the max dose of chemotherapy as part of a research study for her stage 4 ovarian cancer. Tough as nails and acid tongued, she has faith that she can take it. After all, she turned her class on 17th century poetry—specifically the Holy Sonnets of John Donne—into one of the most famously difficult on campus. She's a passionate scholar and a giant in her field, now suddenly finding herself bereft of dignity and achingly alone as she faces her mortality. Through flashbacks we see her early interest in words at her father's feet, stern tutelage from a mentor (Lona Livingston), and her stoicism in the face of ridicule from students who took her class more for transcript bragging rights than poetic passion. Adding to her indignity is a former student turned research fellow (Drew Wieland), who's more interested in data than people. His indifference magnifies her regret at a life lived in pursuit of knowledge over connections. She finds herself creating false alarms just to talk to a less-than-sharp RN (Alison Plott), the only person with whom she can converse as a person.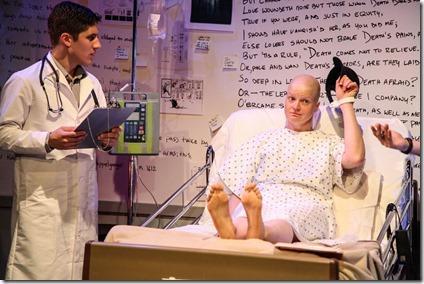 Edson allows Vivian to address us directly and have awareness of her role inside the play, able to foreshadow her death and deliver "lectures" relating Donne's work to her predicament. Livingston delivers a stellar heart-in-throat performance as she realizes that her usual academic approach to complex concepts won't work in the world of the painfully practical.  Though theoretically a humorous show as well, I can't say Director Derek Bertelsen has coaxed the levity out as effectively as the pathos. Something in the cadence and delivery makes it clear what's meant to be funny without landing it with 100% efficacy (see Laura T. Fisher in Seven Mammoths for a study in humor and cancer).
What Edson does perfectly is balance the ethereal with the authentic in a way that is reminiscent of Tony Kushner, always trusting us to follow along. A conceit that sounds as trite as a Hallmark special rises to the sublime. It's a shame she forswore writing anything more after this one hit (though Satisfied may still come to light). An ability to bring this much grace and intelligence to bear on the things that frighten us is a rare gift indeed.
Rating: ★★★
Wit continues through June 8th at Raven Theatre West Stage, 6157 N. Clark (map), with performances Thursdays-Saturdays at 8pm, Sundays 3:30pm.  Tickets are $20, and are available by phone (773-828-9129) or online through BrownPaperTickets.com (check for half-price tickets at Goldstar.com). More information at AstonRep.com.  (Running time: 90 minutes without intermission)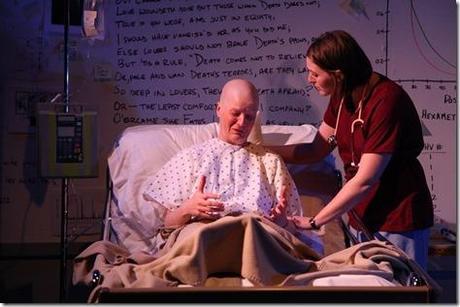 Photos by Emily Schwartz
---
artists
cast
Alexandra Bennett (Vivian Bearing, Ph.D), Robert Tobin (Dr. Harvey Kelekian, Vivian's Father), Lona Livingston (E.M. Ashford), Alison Plott (Susie Monahan), Drew Wieland (Dr. Jason Posner), Krista Gustafson, Matthew Harris, Angela Horn, Bob Skosky (ensemble).
behind the scenes
Derek Bertelsen (director), Jeremiah Barr (set design), kClare Kemock (costume design), Samantha Barr (lighting design), Ray Kasper (sound design), Sara Pavlak (asst. director), Dannie Moore (stage manager), Lea Tobin (graphic design), David Rosenberg (publicity), Emily Schwartz (photos)
14-0529