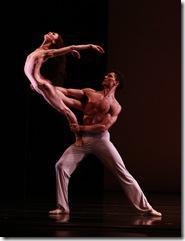 Winter Fire 
Choreographed by William Forsythe,
   Christopher Wheeldon and Wayne McGregor 
Auditorium Theatre, 50 E. Congress (map)
thru March 26  |  tickets: $25-$149   |  more info
  
Check for half-price tickets 
  
  
   Read entire review
  
---
Joffrey on 'fire' with exciting winter program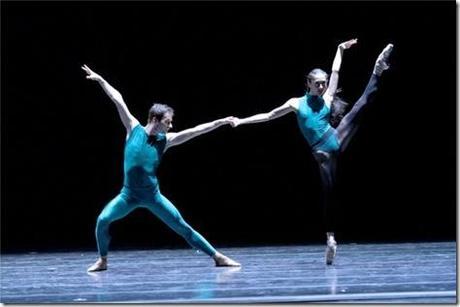 Joffrey Ballet Chicago presents
Winter Fire
Review by Lauren Whalen
Anyone who thinks dancers aren't athletes should see The Joffrey Ballet. Sure, the dancers can twirl on their toes and arrange their bodies in beautiful lines, but they can also jump high, gyrate hard and bend and twist beyond belief. Their bodies are coiled springs, visibly muscled and primed to wow. And in Winter Fire, the Joffrey Ballet goes above and beyond. Consisting of two contemporary ballets and one classical, Winter Fire is a celebration of the extraordinary heights a dancer can reach.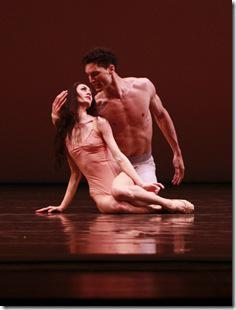 Winter Fire opens with "In the Middle, Somewhat Elevated," the Joffrey premiere of a piece commissioned by the legendary Rudolf Nureyev for the Paris Opera Ballet in 1987. With its angular choreography, skintight green and black costumes and loud electronic score, "In the Middle" does have a 1980's aura, but that doesn't make the piece any less powerful. William Forsythe's steps and patterns are precise and technical, physically demanding and near-impossible for even the most skilled dancers, but the cast pulls it off with aplomb. Joffrey standout Victoria Jaiani nearly steals the show, overextending her legs into jaw-dropping shapes. It's almost as if her hips don't exist. Jaiani's partner, Rory Hohenstein, moves with a magnetic intensity that never subsides: as the season progresses, he is one to watch. And third lead Christine Rocas moves like a black widow spider, forever lurking with a menacing air and threatening physicality despite her tiny frame. In the Middle's shadowy lighting (also designed by Forsythe and directed by Nicole Pearce) adds one more fascinating layer to the dark, compelling ballet.
Next is "After the Rain." Choreographed by Christopher Wheeldon, the piece is a sharp contrast to "In the Middle": it's shorter, more traditional and full of emotion. Three couples execute a series of lifts and turns in lovely patterns, ending in a pas de deux with the female dancer (Rocas) clad only in a pink leotard, the male (Temur Suluashvili) bare chested. While "After the Rain" is pleasant and sweet, it's a bit of a let down after the charged excitement of "In the Middle." However, I had already seen the piece when Joffrey premiered it last year, and this time around Jaiani and Fabrice Calmels display a deeper understanding of the pas de deux. (Jaiani and Calmels perform the pas de deux on alternating evenings.) Overall, "After the Rain" allows the audience a much-needed breather after "In the Middle," and Wheeldon's choreography is most flattering to the dancers, particularly Yumelia Garcia.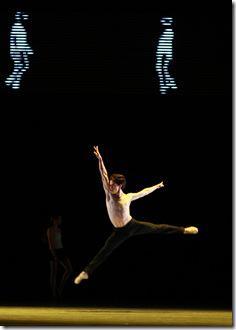 The U.S. premiere of "Infra" closes
Winter Fire
on a strong, hopeful note. Wayne McGregor created the piece in response to the 2008 London bombings, and its theme of connection in an increasingly technological world rings true and relevant nearly four years later.
Julian Opie
's innovative set design features a strip of LED screen spanning the length of the stage and electronic figures strolling across, oblivious to anything and everything except their destination. Below, the dancers pass each other by, occasionally breaking through the isolation to collide and connect. Supplemented by
Max Richter
's haunting industrial and string quartet score, the concept and steps are simple, the effect heartwrenching. Dancers
Anastacia Holden
and
Derrick Agnoletti 
bring their trademark uniqueness and energy, partnering to create an unstoppable force that demands attention.
Amber Neumann
's performance is anguished and utterly human, and Jaiani and Hohenstein once again shine with a final duet. Far and away the program's strongest ballet, "Infra" – the word means "below" – is a moving example of the power of ballet, and why it is essential to preserve this art form and to build upon it.
Though the Joffrey's most popular production is the holiday classic The Nutcracker, the ballet company isn't afraid to be different. Winter Fire is a testament to the open minds of the Joffrey's artistic staff, and their willingness to resist the ever-tempting comfort zone. Tradition is wonderful and safe. The unknown is much more risky, but as Winter Fire deftly illustrates, it's infinitely rewarding.
Rating: ★★★½
Winter Fire continues through February 26th at the Auditorium Theatre, 50 E. Congress Parkway (map), with performances Wednesdays-Fridays at 7:30pm, Satrudays at 2pm and 7:30pm, Sundays at 2pm.  Tickets are $25-$149, and are available by phone (800-982-2787) or online here (check for half-price tickets at Goldstar.com). More information at joffrey.org.  (Running time: 2 hours, which includes one intermission)
All photos by Herbert Migdoll 
---
artists
cast
Victoria Jaiani, Rory Hohenstein, Christine Rocas, Amber Neumann, Graham Maverick, April Daly, Ricardo Santos, Anastacia Holden, Alexis Polito, Temur Suluashvili, Yumelia Garcia, Lucas Segovia, Kara Zimmerman, Jeraldine Mendoza, Derrick Agnoletti, Aaron Rogers, John Mark Giragosian
(Note: Cast varies according to performance.)