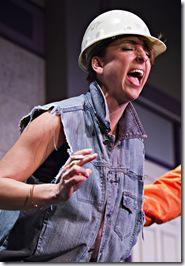 Who Do We Think We Are? 
By Mary Sohn, Katie Rich, Edgar Blackmon, 
   Tim Baltz, Holly Laurent and Steve Waltien
Directed by Matt Hovde  
Second City Mainstage, 1616 N. Wells (map) 
Open run  |  tickets: $23-$28   |  more info
  
Check for half-price tickets 
  
  
   Read entire review
  
---
Virtually guaranteed to make you laugh!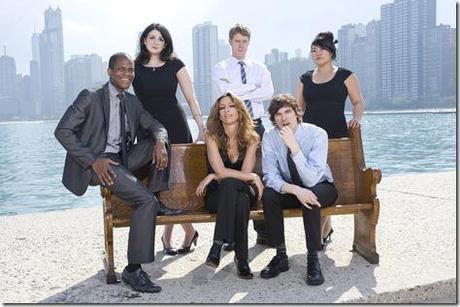 Second City presents
Who Do We Think We Are?
Review by Catey Sullivan 
With Who Do We Think We Are?, the Second City is up to its usual shenanigans, and by "shenanigans" I mean funny business virtually guaranteed to make you laugh. Directed by Matt Hovde, the show isn't as subversively cutting or as some of their earlier reviews, but it nevertheless sets an impressively high bar for both improv and sketch comedy (the latter derived from improv during rehearsals.)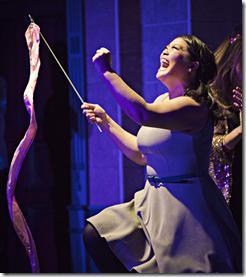 About the former: Rather than simply take shouted out audience suggestions for on-the-spot riffs, the company (Mary Sohn, Katie Rich, Edgar Blackmon, Tim Baltz, Holly Laurent and Steve Waltien) conducts an auction, wherein the audience bids on the topic they want to see in an improv scene. That doesn't sound a quarter as hilarious as it plays out – at a recent performance, $30 bought a slicing satire on Secret Service agents and their, ahem, recreational pursuits. Both the heated auction (Falstaff and Boston University were among the eclectic contenders) and the ensuing performance didn't just provide examples of improv at its highest levels. They were frickin' hilarious as well.
And speaking of gifted comics: The aforementioned Edgar Blackmon definitely qualifies. He's got an impression of Obama that takes irreverence to its satirical limit. As the Commander in Chief, Blackmon doesn't even have to talk to generate paroxysms of laughter, delivering an Obama that's a killer combination super hero, rock star, all-powerful demi-god and ultra-smooth playa. He's also got a bit, with Tim Baltz, wherein he magically turns white – and radically alters the behavior and perceptions of those around him in doing so. Watch for Steve Waltien to show up as a traffic cop whose attitude differs vastly depending on whether he's pulling over a black guy or a white guy. Waltien has a gangly, goofy presence that lights up the stage whether he's playing a racist cop or a vampire who has just been told he has AIDs. (And we have yet to encounter anyone outside of Second City who can successfully make comic fodder from the AIDS pandemic. Poor taste? Perhaps. Wickedly funny? Absolutely.) He's a rising star well worth keeping an eye or two on.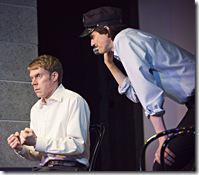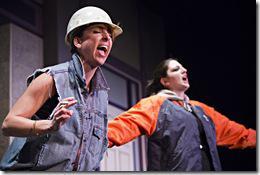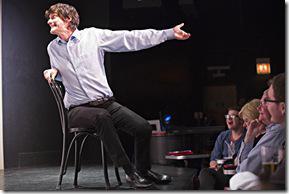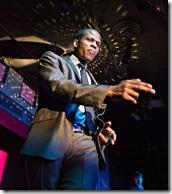 The women are equally strong here, particularly playing ultra-low rent feminists who ride like steamrollers over the comparatively nebbish men they encounter playing pool in a South Side bar. Holly Laurent and Katie Rich are also effective playing Streets and Sanitation Department employees whose use broad Chi-cah-go accents to explain such fundamental elements of the city as patronage.
Arguably the strongest skit of the night comes when Blackmon shows up in drag alongside the women to depict a reunion of Luvabulls. The former dance squad performers/cheerleaders are at least a decade from their last performance, are aging none too gracefully. Watching the crew trying to make it through a dance routine while dealing with no-longer-perky bodies and 20something stamina is a hoot.
The performance's finale comes with a closing song which is one of the most effective we've heard in 20+ years of Second City revues. The tune is a striking mixture of sadness and laughter, with the cast singing of a future where children will be unable to remember a time when the Red Line wasn't under construction or when non-electronic books existed – among other future shock developments.
Who Do We Think We Are? is the 100th revue Second City has staged. If the show is any indication, the next 100 will continue to keep Chicago firmly ensconced as an improv epicenter that's second to none.
Rating: ★★★
Who Do We Think We Are?continues its open run production at Second City Mainstage, 1616 N. Wells (map), with performances Tuesdays-Thursdays at 8pm, Fridays and Saturdays at 8pm & 11pm, Sundays 7pm.  Tickets are $23-$28, and are available by phone (312-337-3992) or online here (check for half-price tickets at Goldstar.com). More information at SecondCity.com.  (Running time: 2 hours, which includes an intermission)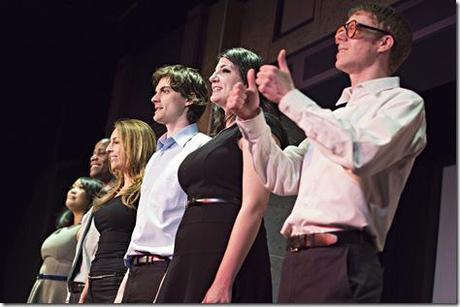 Photos by Michael Brosilow and Clayton Hauck
---
artists