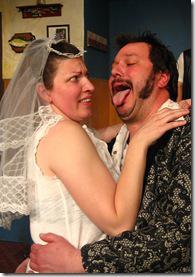 White Trash Wedding
   and a Funeral 
Written by Mike Beyer and Bill Havle
Directed by Scott Oken  
at Prop Thtr, 3502 N. Elston (map)
thru June 2  |  tickets: $20   |  more info
  
Check for half-price tickets 
  
  
   Read entire review
  
---
White trash on Elston Avenue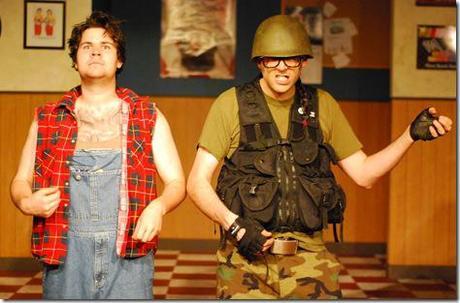 Factory Theater presents
White Trash Wedding and a Funeral
Review by J.H. Palmer
As part of their 20th anniversary celebration, the Factory Theater has remounted one of its earliest and best known pieces: White Trash Wedding and a Funeral, first produced in 1995 and again in 2001. The story is set in an American Legion hall decorated with signs that read, among other things: "Nobody gets in to see the wizard, not nobody, not nohow," a Nascar racing poster, and a Big Mouth Billy Bass. Before the opening scene begins Lynyrd Skynyrd's "Free as a Bird," plays over the PA system, and when the stage lights go up Connie (Shannon O'Neill), a bride-to-be, holds a wedding dress up to her body. She is engaged to marry Earl (Blake Dalzin), who has already fathered three children with Bernice (Ed Jones).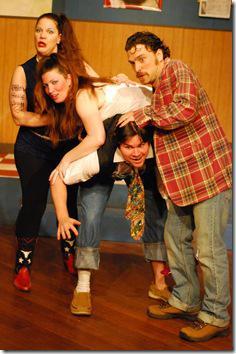 Between Gladys (
Jennifer Pompa
), the pregnant, blue lipstick-wearing woman with a three foot blonde beehive on her head, and Bernice, played by a man dressed in skin tight pants that ride low enough to view the tramp stamp on the small of his back, the tone is unapologetically early John Waters, a feel that is sustained throughout the 60 minute piece. Many characters have blacked out teeth, and Aunt Shirley (
Robyn Coffin
) appears to have gone to her greater reward during a marathon chicken dance while dressed in shiny purple pants, which leads to the main point of the story: with Aunt Shirley out of the way, who will inherit her profitable septic-tank cleaning business? The humor in this piece is train wreck level, with bitch-slapping fights that feature titty twisting and soiled tampon flinging, men who comb their chest hair, and women who walk onstage with artificial semen on their face.
Fine Shakespearean acting this is not, nor is it intended to be. Audible groans can be heard from the audience during key moments, but not for lack of appreciation – the Factory audience knows what it wants, and the Factory delivers on its promise to bring lowbrow theater to life. Choice dialog include lines like: "Some asshole spilled potato salad all over the parking lot," "Don't you ruin the most important day of your sister's fuckin' life," and "This song is too fuckin' long, who wants a beer?"
This play is as sleazy as imagined, and plays out like a mash-up of "Pink Flamingos" and "The Wild and Wonderful Whites of West Virginia". Factory Theater revels in its ability to play to the audience's basest sense of humor, a fact that is remarkably and proudly apparent in WTWAF. This is the third time in the Factory's 20 year history that the piece has been produced, and there's an audience for it. Have a couple drinks before you get to the theater, leave your mind in the gutter, and you'll enjoy the simple pleasures of this 60 minute celebration of toilet humor.
Rating: ★★½
White Trash Wedding and a Funeral continues through June 2nd at Prop Thtr, 3502 N. Elston (map), with performances Fridays and Saturdays at 8pm, Sundays at 3pm.  Tickets are $20, and are available by phone (312-409-3247) or online at OvationTix.com (check for half-price tix at Goldstar.com). More info at TheFactoryTheater.com.  (Running time: 60 minutes without intermission)
Photos by Paul Metreyeon and Carrie Sullivan
---
artists