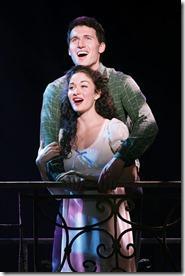 West Side Story  
Arthur Laurents (book), Leonard Bernstein (music)
   and Stephen Sondheim (lyrics)
Directed by David Saint
at Oriental Theatre, 24 W. Randolph (map)
thru June 16  |  tickets: $18-$85   |  more info
  
Check for half-price tickets 
  
  
   Read entire review
  
---
Soaring singing and dancing tempers production flaws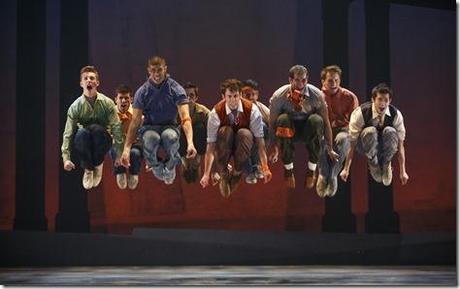 Broadway in Chicago presents
West Side Story
Review by John Olson
We hear how humans have grown bigger and stronger over the years. People are taller and athletes keep breaking records, suggesting the limits of human endurance are expanding. Do you suppose the human race is producing continually better musical theater singers and dancers as well? The cast of this non-Equity tour suggests as much. How else to explain the ability shown by this group whose bios consist mostly of college & university credits? Something is enabling this level of professionalism at such a young age.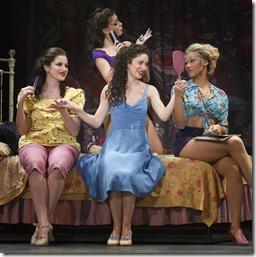 West Side Story is of course, one of the most popular and enduring classics of the golden age of musicals. A chance to see it with a cast that can do justice to the challenges of Leonard Bernstein's score, Stephen Sondheim's intricate lyrics and Jerome Robbins' choreography is always a treat. So it is with this touring company. And with an orchestra of 27 pieces (big by current theater standards) we get the colors if not the complete richness of Bernstein's symphonic orchestrations. (I have to admit, I was spoiled by my last West Side Story – a live performance of the complete film score by the Chicago Symphony Orchestra accompanying a screening of the 1961 feature film.)
This troupe is blessed with four strong leads – beginning (yes, beginning) with Michelle Alves as the fiery Anita. She has as much spunk as most any Anita – with the only criticism being that it's sometimes hard to understand her lyrics. That's partially a criticism of the sound design (probably rushed in its execution for this six-day stay in Chicago) and the late Arthur Laurents' decision to have the Puerto Rican characters speak and sing much of their dialog and lyrics in Spanish for the 2009 Broadway revival which he directed along with its subsequent tours. Andrés Acosta as Bernardo has a nice take on his character as well. Acosta's Bernardo speaks English with a perfect American accent, and projects an air of competence and ability to function in America even as he rails against the prejudice he experiences in the U.S. As his sister Maria, MaryJoanna Grisso is independent and strong – and has the soprano to put over the great numbers she and Tony (Addison Reid Coe) are given. Coe has a distinctive and boyish tenor that's just right for the character. He treads no new ground in his interpretation – his Tony is as romantic and bland as most actors play him. Someday, maybe, I'll see an actor find a way to pull off Tony's backstory as a kid who is trying to break away from the world of street gangs and has some stress because of it. Not this time, though, and it's no slam on Mr. Coe that he was apparently not directed to explore that part of the character.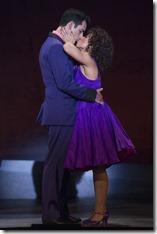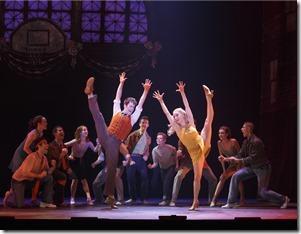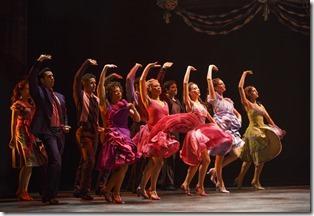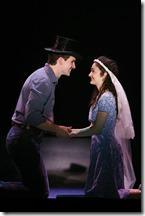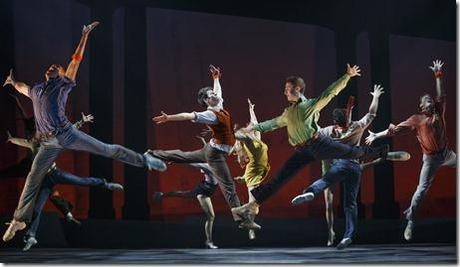 Though Tony and Maria are based on two of the most famous characters of dramatic literature – Shakespeare's Romeo and Juliet – here their main purpose is to deliver those great songs: "Maria" "Tonight," One Hand, One Heart," "I Feel Pretty" and "Something's Coming." In fact, and it's something this production demonstrates inadvertently I presume, West Side Story is way more of an ensemble show than its Romeo and Juliet heritage would suggest. We see this because the acting – not the exuberant singing and dancing – of the secondary characters frequently falls short and fails to establish the stakes of this tragedy. After all, it's the Anglo Jets who, on the prodding of their leader Riff (Theo Lencicki), decide to challenge the Puerto Rican Sharks to a rumble and set in motion the events that cause the tragedies. We should see the tension in these young kids' lives – the pain and fear – that leads them to escalate the violence. Lencicki's line readings fail to do this as do the moments played by individual Jets. They need to create the rising tension that leads to violence. Just as guilty are Greg London as Doc and Todd Fenstermaker as Lt. Schrank. These characters are meant to be our point of reference – a contrast of the desire for peace and normalcy against the violent world of the street gangs, We need these adults to be truly aghast at what they're seeing, and in the flat line readings of these actors they're not. Hence, the stakes are never fully felt, and some of Laurents' dialog sounds silly and the situations preposterous.
We get the sense the company is having much more fun with the musical and dance numbers than the book scenes. Sometimes too much fun – their "Gee Officer Krupke" gets absolutely campy and there was no way I could believe the guys as street toughs in those moments. Even so, the cast and orchestra do such a great job with the dances and the score that this production is still well worth seeing for fans of the show and newbies alike. It's not often you get to see these numbers performed so well by an age-appropriate cast. But maybe, just maybe, while in Chicago they ought to take the opportunity to learn a little about the tragedy of street gang violence today and see if that knowledge might be something they could use to raise the dramatic stakes of this musical.
Rating: ★★★
West Side Story continues through June 16th at the Oriental Theatre, 24 W. Randolph (map), with performances Tuesday-Friday at 7:30pm, Saturdays at 2pm and 8pm, Sundays at 2pm and 7:30pm.  Tickets are $18-$85, and are available by phone (800-775-2000) or online through Ticketmaster.com (check for half-price tickets at Goldstar.com). More information at WestSideStoryonTour.com.  (Running time: 2 hours 30 minutes, includes an intermission)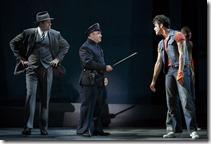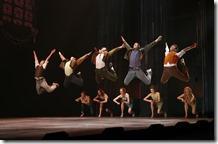 Photos by Carol Rosegg 
---
artists
cast
Andrés Acosta (Bernardo), Michelle Alves (Anita), Lauren Cannon (Graziella), Max Chucker (A-rab), Addison Reid Coe (Tony), Todd Fenstermaker (Lt. Schrank), Mary Joanna Grisso (Maria), Dan Higgins (Diesel), Matthew Krob (Glad Hand), Theo Lencicki (Riff), Greg London (Doc), Guy Mandia, Jr. (Action), Thomas Mothershed (Officer Krupke), Thaddeus Pearson (Shark), Josh Pins (Baby John), J. Nycole Ralph (Consuela), Bridget Riley (Anybodys), Ricardo Rique-Sanchez (Pepe), Carolina Sanchez (Rosalia), Michael Schultz (Big Deal), Jeff M. Smith (Snowboy), Juan Torres-Falcon (Chino), Blue Cervini (Jet), Amber Ardolino, Yesenia Ayala, Mark Deler, Tory Ramirez, Arianna Rosario, Tony Thomas (Sharks), Laura Volpacchio, Anthony Raimondi, Louie Napoleon, Erika Hebron (Swings).
behind the scenes
David Saint (director), James Youmans (scenic design), Howell Binkley (lighting design), Peter McBoyle (sound design), David C. Woolard (costume design), Stephen Sondheim, Patrick Vaccariello, Garth Edwin Sunderland (arrangements), J. Michael Duff (music director), Leonard Bernstein, Sid Ramin, Irwin Kostal (orchestrations), Lin-Manuel Miranda (translations), Jerome Robbins (original Broadway production director and choreographer), Peter Gennaro (original Broadway production co-choreography), Joey McKneely (reproduction of original choreography), Carol Rosegg (photos)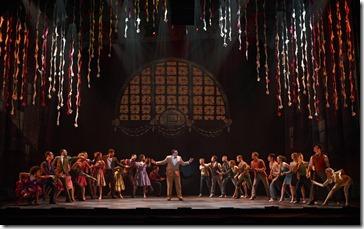 13-0619