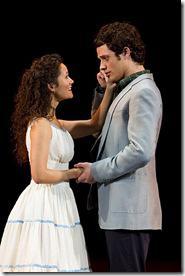 West Side Story
Written by Arthur Laurents, Leonard Bernstein and Stephen Sondheim
Directed by David Saint
at Cadillac Palace Theatre, 151 W. Randolph
thru Aug 14  |  tickets: $32-$95  |  more info
Check for half-price tickets 
   Read entire review
---
Gee, Officer Krupke, don't miss this show!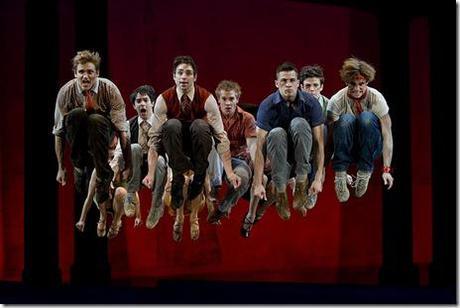 Broadway in Chicago presents
West Side Story
Review by Lawrence Bommer
Though over a half-century old, the Bernstein/Laurents/Sondheim/Robbins dynamo is, like its Shakespearean source, young as first love. You don't revive it, you detonate it. Bernstein packed coiled energy into every song, alternating the testosterone territoriality of these gangs of New York with "Tonight" and "Somewhere," ballads radiant with other-worldly beauty. The musical walks the edge between stinking streets that threaten instant death and the unearthly idealism of Tony and Maria, who enjoy two days of eternity before hate triumphs over love. The extremes are too different not to destroy each other.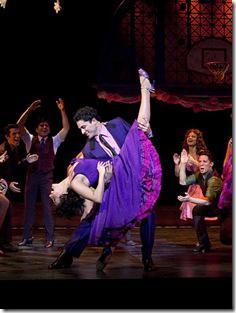 Strangely enough,
West Side Story
feels more dated than
Romeo and Juliet
, its 500-year-old inspiration. Quaint juvenile delinquents compared to today's drive-by gangster-wannabes, the Jets and Sharks request each other's permission to use switchblades at their rumble and their worst epithet is "buggin'." Compared to Shakespeare's dedicated tragedy, the Bernstein-Sondheim musical is also less violent, claiming only three lives to the Bard's five (though, in the second act, Anita barely escapes being raped).
More trenchantly, both works proclaim the power of love to consume and to cure. Powerfully performed, they unleash a ton of energy from their young casts. A touring production of the recent Broadway staging by the late Arthur Laurents, David Saint's sizzling staging plays the heartbreak as if Romeo and Juliet never happened. Everything is here that can make a great musical a new one, most blatantly Laurents' use of copious Spanish in the scenes and songs by the Sharks and their supporters. (This bi-lingual touch sadly reinforced the differences between the clashing communities and, inevitably, between Blancos and Latinos in the audience. I'm just glad I've seen the show enough to know what I was missing in non-translation.)
Focusing the action under a huge highway overpass where the rumbles will erupt, James Youmans' sets concentrate it on a fire-escape balcony or unleash it in the sprawling school gym or vacant lots where the gangs clamber over chain-link fences to rampage seemingly at will.
Faithful to the sexy strutting of Jerome Robbins' original dances, Joey McKneely's choreography reprises the hot jazz in "Cool," sets fire to the menacing mambo in the gym and turns the haunting dream ballet that surrounds "Somewhere" into a redemptive promenade for peace. What a range for these athletic dynamos! The hot, young troupe tear into the kick-ass gang-banging of the Jets anthem, then ease into the lovers' heartbreaking fantasy of a world without hate. The sure-fire storytelling behind every movement in "Cool," "America," and, especially "Gee, Officer Krupke" are matched by the almost scary youthfulness that bursts through their seams.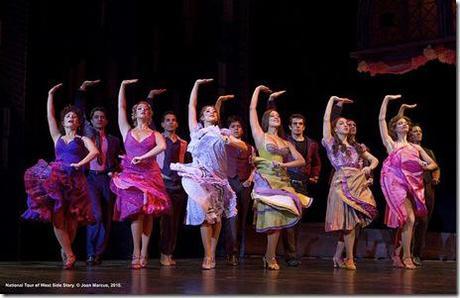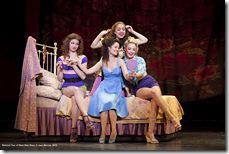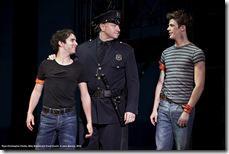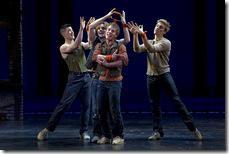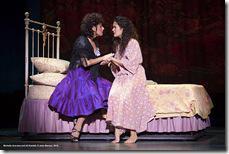 The songs, well coached by Patrick Vaccariello, feel as inevitable as the story. Pole-axed by passion, Kyle Harris as Tony, his tenor a bit thin but looking the part, and Ali Ewoldt, a baby-faced Maria who grows up fast, redefine infatuation in a hundred different ways. Harris brings ardent impetuosity to his gangbanger-next-door, playing Tony as if, yes, "Something's Coming" but he can't tell what: Playing the moment is the only way to do Tony. Ewoldt reconfirms true-believing Maria's awesome hopefulness, bringing an appropriately girlish soprano to this vulnerable survivor. At the musical's end, her rage at losing her lover comes off too easily, like the family feud that fueled it. More than its source, the musical makes it hard to believe that something good can come out of this bloodbath.
Surrounding the lovers with the right–or wrong–hate, Joseph J. Simeone makes a rough and ready Riff and German Santiago's Bernardo exudes a self-defeating machismo. As she struggles to rise above that hate, Michelle Aravena's kinetic Anita nobly captures a strong woman's ambivalence. John O'Creagh turns anguished Doc into the one adult who's truly grown-up. These young folks amply deliver the hate that feeds on itself. In this world it always wins.
Finally, more kudos to the powerhouse behind this perpetual motion: Pile-driving this too-hot-to-handle score, the ensemble honor the musical's many moods, exploding into hormonal turf dances, an equally combative dance competition, the superbly escalating first-act finale, and an elegiac fantasy of the happy ending that this world will not permit. It's not Shakespeare but it's tough enough.
Rating: ★★★½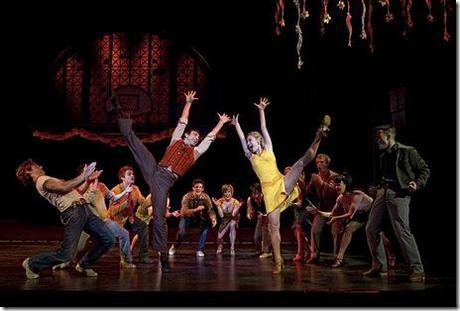 Broadway in Chicago's West Side Story continues through August 14th at the Cadillac Palace Theatre, 141 W. Randolph (map), with performances Tuesdays at 7:30pm, Wednesdays at 2pm and 7:30pm, Thursdays and Fridays at 7:30pm, Saturdays at 2pm and 8pm, and Sundays at 2pm. Tickets are $cost, and can be purchased through Ticketmaster. More information at BroadwayWestSideStory.com.