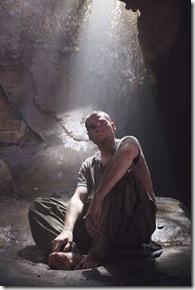 Wasteland 
Written by Susan Felder
Directed by William Brown 
at TimeLine Theatre, 615 W. Wellington (map)
thru Dec 30  |  tickets: $32-$42   |  more info 
  
  
   Read entire review
  
---
An actor's showcase of the highest caliber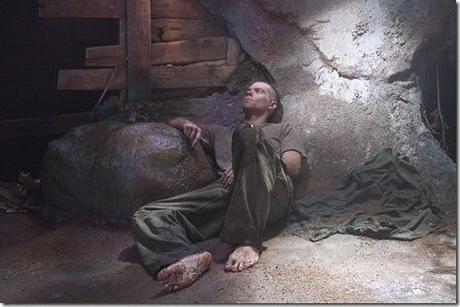 TimeLine Theatre presents
Wasteland
Review by Catey Sullivan
Susan Felder's Wasteland is at once grim, gripping and problematic, a 100-minute rabbit hole that sucks the audience down into its troubled world within its opening moments. The world premiere two-person drama is not without flaws: The dramatic arc is more of a flatline than a well-constructed story. And it ends abruptly, and leaves the audience hanging with a final blackout that doesn't feel thought-provokingly ambiguous so much as unfinished.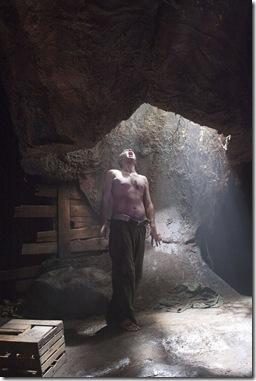 That said, director
William Brown
weaves a taut, intense and compelling drama with his two person cast, creating a world that's as unforgettable as it is inescapable.
The first thing that overwhelms the eyes in Wasteland is set designer Kevin Depinet's masterful rendering of spider hole beneath a fetid jungle morass. Felder sets her entire drama underground, in the damp, murky, bug-infested perpetual twilight of a Viet Cong tunnel system. So realistic is Depinet's work that you can all but feel the suffocating humidity surrounding you. Buried alive in this sweltering tomb is American POW Jim (Nate Burger), filthy and twitchy as he feverishly tries to maintain a scraping of sanity after six months of utter isolation and sunless gloom.
A violent crash from above signals the arrival of an unlikely savior from inevitable madness in the form of Riley (Steve Haggard), newly captured and dumped in the unseen hole adjacent to Jim. Riley and Jim can't see each other. In fact, the audience never sees Riley – Burger is alone for the duration of the piece, with Riley embodied only by a voice. Seen and unseen, both soldiers are intricately drawn characters. Riley is a draftee and a Texas conservative, a Bible-thumping Christian who despises Communism with the same red-blooded fervor that he reveres Jesus, Nixon and the girl he left back home. Jim is a Yankee democrat enlistee, a gay man who has been in-country long enough to believe that the U.S. effort in Vietnam is – to put it in military jargon – FUBAR.
Back home, Jim and Riley would probably revile each other . But in their separate pockets of hell, they are each other's only hope, as they form a bond that transcends sexuality, religion and politics. Of course, the audience knows they will form that life-saving connection from the time Riley lands within earshot of Jim. Felder's skill lies in part in her ability to forge the link in a way that's both surprising and thick with tension. Burger, interacting with only a disembodied off-stage voice for the entire production, turns in a bravura performance that careens through the emotional spectrum. Hope and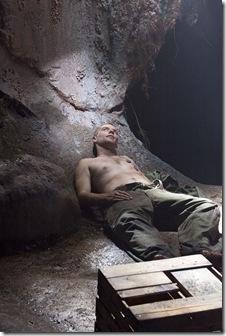 hopelessness, yearning, rage and roiling frustration fill the stage as he and Riley try to keep themselves from plummeting into the black hole of suicidal despair. As for Haggard, he has no easy task, creating a character without the benefit of an actual body. He's nothing but a voice, but he's a strong, memorable one . In Riley, he delivers a performance nuanced, complex and empathetic.
Wasteland would work a bit better if Felder worked more action into the dialogue. The Viet Cong holding the men are rarely heard from, and their overall absence flattens a plot that needs a spike of supreme tension as it winds on. A different ending would also serve the piece well. Although a tidy conclusion isn't needed, some sort of final punctuation is. As it stands, Wasteland doesn't feel finished.
Finally a quibble: More than two years pass over the course of Wasteland, time enough for Jim to develop a serious scruff of beard and a lengthy mane of hair. Yet he's clean shaven throughout, and sports a tidy crew cut. We found ourselves distracted at times, pondering whether his captors were taking him above ground for shearing. That is, as noted, a minor issue. Wasteland overall is an actor's showcase of the highest caliber.
Rating: ★★★½
Wasteland continues through December 30th at TimeLine Theatre, 615 W. Wellington (map), with performances Wednesdays and Thursdays at 7:30, Fridays 8pm, Saturdays 4pm and 8pm, Sundays 2pm.  Tickets are $32-$42, and are available by phone (773-281-8463 x6) or online through OvationTix.com. More information at TimeLineTheatre.com.  (Running time: 1 hour 40 minutes, no intermission)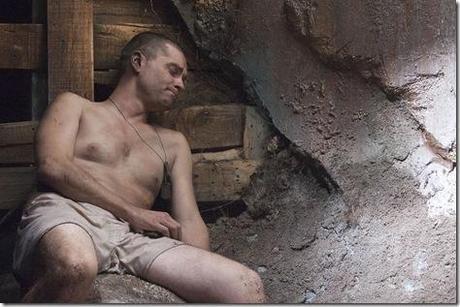 Photos by Lara Goetsch 
---
      ,
artists
cast
Steve Haggard (Riley); Nate Burger (Joe); Michael Hahalyak, Jonathan Helvey (understudies)
behind the scenes
William Brown (director); Kevin Depinet (set); Rachel Anne Healy (costumes); Jesse Klug (lighting); Andrew Hansen (sound); Dina Spoerl (lobby design); Maren Robinson (dramaturg); Jinni Pike (stage manager); John Kearns (production manager); Eric Parks (asst. director); Caleb Charles McAndrew (tech director); Meg Grgurich (scenic painter); Mac Vaughey (master electrician); PJ Powers (artistic director); Elizabeth K. Auman (managing director); Lara Goetsch (photos, marketing)
12-1052