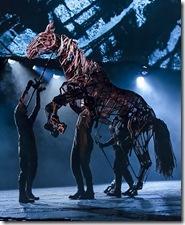 War Horse 
Adapted by Nick Stafford
Directed by Bijan Sheibani 
Cadillac Palace Theatre, 151 W. Randolph (map)
thru Jan 5  |  tickets: $30-$105   |  more info
  
  
---
'War Horse' a rush of searing vision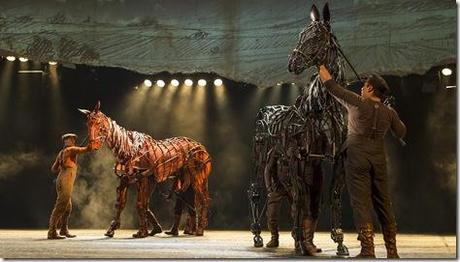 National Theatre of Great Britain and Handspring Puppet Company presents
War Horse
Review by Lawrence Bommer
Imagination feeds on itself: It's not difficult to trace the giant-puppet transformations of five horses and a goose in War Horse, a feat of fancy from the National Theatre of Great Britain. These lyrical creations evolved from the expressive masks of Julie Taymor's The Lion King, the stylized heads of Equus, and the merry misdirection of Avenue Q. Add to that the steps and speed of the actual horses in Cavalia and the sweep of a war epic like Mother Courage—and you still don't approach the dream-quality "degree of difficulty" of England's vivid reenactment of Michael Morpurgo's picaresque novel.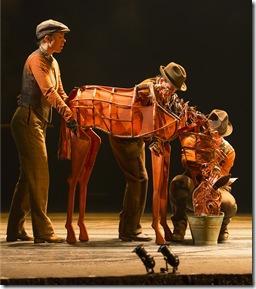 Nick Stafford's adaptation, though less inclusive of incidents than Steven Spielberg's sprawling feature film, hews to the strengths of Morpurgo's arching theme: It's all about how one species transforms another. From 1912 to 1918 a beautiful russet thoroughbred named Joey preserves and inspires the humanity of everyone who encounters him. Whether in Devon, where, despite the love of Arthur Narracott (Brian Keane) who trains and treasures him, the independent-minded animal is reduced to hauling a plow, or in the French front, where he must endure cavalry charges by the British or pulling cannons by the Germans, Joey brings out the best in humans during the worst of times. As much as his love for Arthur, Joey also bonds with a black beauty named Topthorn, an officer's mount who becomes his "mate" just as Joey has his own.
Joey's struggle for survival in the killing fields of Flanders is contrasted with teenage Albert's desperate search to find him. Lying about his age in order to enlist, he embarks on a hero's journey, searching for a life amid piles of death. Joey faces equal adversity: Encounters with a sympathetic German handler and a protective French girl provide the resilient horse with more lives than a cat. But he also earns his luck: Giving new meaning to "no man's land," Joey displays courage no medal could measure as he runs through an enfilade of artillery, only to be caught in the barbed wire. (His rescue, performed by a German and a British soldier carrying white flags of truce, is a rare case of battlefield nobility–but typical of a work that holds out hope in hell.)
Ironically, the discipline behind Bijan Sheibani's staging (based on the Tony-winning 2007 staging by Marianne Elliott and Tom Morris) matches any rigors the British military brought to the trenches of World War I. Though the Cadillac Palace Theatre lacks the thrust stage that worked well in London and New York, stairs let the action spill over into the auditorium and increase the impact. What's on stage, of course, is the stuff of long-term memories. Pulling huge props (including a siege cannon and a monster tank) or smaller stuff like pots and posts, the vast cast set scenes up with wizard skill. Inspiring their work is a supple video canvas draped around the semi-circular stage depicting settings, times and action. Christopher Shutt's spectacular sound design and Paule Constable's all-powerful lighting convey everything from pastoral bliss to the shell shock of "whiz bangs" and "Big Bertha" armament. A soaring symphonic score mixes with Devon folk songs and period recruitment marches and ballads to add tons of texture.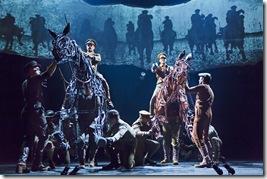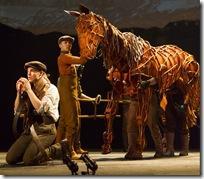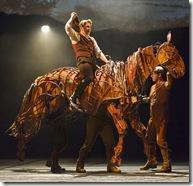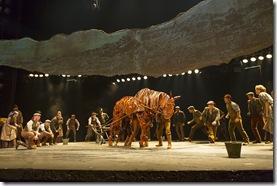 But of course the quantum magic here–the work of the geniuses of the Handspring Puppet Company—comes from these cunning, koken-manipulated horses. Puppeteers at each end perfectly convey the horses' moods through shrugs and ear movements. The horses' breathing is evoked by the movements of the harness that also lets the horse be ridden with contagious freedom. Aided by superbly coordinated interior puppeteers, 20 joints and vertical levers make the knees curl and the hooves lift. The horses trot, canter and, in simulated slow-motion, gallop. (Joey's also shown as a bashful foal, skittish and shy but ultimately as trusting a companion as four legs allow.)
In nearly three spellbinding hours War Horse delivers indelible theater through pictures as much, if not more, than words. The cumulative effect resembles a rush of searing visions. They're loosely tethered to the ugliness of war but firmly tied to an audience's collective wishful thinking. That's a powerful force to enlist as over a thousand people dream with their eyes open.
Rating: ★★★★
War Horse continues through January 5th at the Cadillac Palace Theatre, 151 W. Randolph (map).  Tickets are $30-$105, and are available by phone (800-775-2000) or  online through TicketMaster.com (check for half-price tickets at Goldstar.com). More information at WarHorseOnStage.com.  (Running time: 2 hours 45 minutes, includes an intermission)
Photos by Brinkhoff/Mögenburg
---
artists
cast
The Horses
Laurabeth Breya, Catherine Gowl, Nick LaMedica (Joey as a foal); Christopher Mai, Derek Stratton, Rob Laqui, Jon Riddleberger (Joey); Jon Hoche, Danny Beiruti, Aaron Haskell (Topthorn); Patrick Osteen, Jessica Krueger (Coco); Grayson DeJesus, Jason Loughlin (Heine)
The People
Andrew Veenstra (Albert Narracott); Nathan Koci (Instrumental Song Man); John Milosich (Vocal Song Man); Jason Loughlin (James Nicholls, Doctor Schweyk); Brian Keane (Arthur Naracott); Michael Wyatt Cox (Billy Narracott, Ludwig); Todd Cerveris (Ted Narracott, Colonel Strauss); Chad Jennings (Chapman Carter, Manfred); Michael Stewart Allen (Allan, Private Klausen); Jason Alan Carvell (Thomas Bone, Private Schnabel, Sergeant Fine); Patrick Osteen (John Greig); Angela Reed (Rose Naracott); Andrew May (Priest, Friedrich Muller); Grayson DeJesus (Captain Charles Stewart); Brian Keane (Sergeant Thunder); Alex Morf (Private David Taylor); Megan Loomis (Paulette); Catherine Gowl (Matron Callaghan); Laurabeth Breya (Annie Gilbert); Mat Hostetler (Veterinarian); Jon Hoche (Goose)
behind the scenes
Bijan Sheibani (director); Marianne Elliott, Tom Morris (original co-directors); Rae Smith (sets, costumes, drawings); Adrian Kohler, Basil Jones, Handspring Puppet Company (puppet design, fabrication and direction); Paule Constable, Karen Spahn (lighting); Toby Sedgwick (director of movement and horse choreography); 59 Productions (animation, projections); Samuel Adamson (artistic associate); Mervyn Millar (creative associate); Adrian Sutton (music); John Tams (song maker); Christopher Shutt, John Owens (sound design); Greg Pliska (music director); Seth F. Barker (production stage manager); Paige Grant (stage manager); Cherie B. Tay (assistant stage manager); Darren E. Doutt (company manager); Daniel Swee (casting); Sarna Lapine (associate director); Matthew Acheson (associate puppet director); Adrienne Kapstein (associate director of movement and horse choreography); Tom Schall (fight director); Bob Boyett, Ken Gentry, Chris Harper, Tim Levy, Roger Berlind, Roy Furman, Richard Willis, Daryl Roth, Debbie Bisno, Jane Bergere; Remmel T. Dickinson, Dede Harris Stewart F. Lane, Bonnie Comley, Thomas L. Miller, Carl Moellenberg, Douglas G. Smith (producers); Seth Wenig (executive producer); Michael Morpurgo (book author); Brinkhoff/Mögenburg (photos)
12-1233