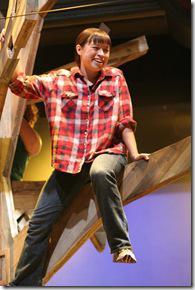 Walk Two Moons 
Adapted by Tom Arvetis
Based on book by Sharon Creech
Directed by Matthew Reeder
at Vittum Theatre, 1012 N. Noble Street (map)
thru Dec 8  |  tickets: $12-$20   |  more info
Check for half-price tickets 
  
  
   Read entire review
  
---
'Walk Two Moons' moves kids and adults alike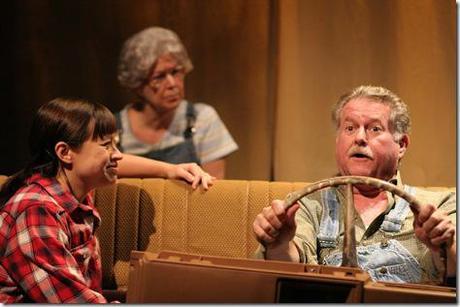 Adventure Stage Chicago presents
Walk Two Moons
Review by Lauren Whalen 
Last year, the NBC sitcom "Community" aired an episode entitled "The Psychology of Letting Go." Walk Two Moons, Adventure Stage Chicago's superb world premiere adaptation of Sharon Creech's acclaimed middle-grade novel, could have this phrase as a subtitle. Young people aren't immune to loss. Arguably, they experience it more acutely; even the most peripheral of losses can permanently alter a child or teen's perception of the world. Though it runs a bit long, Walk Two Moons utilizes sure direction, excellent production elements and devoted actors to illustrate the psychology of letting go with aplomb, and leaves children and adults alike pensive but optimistic.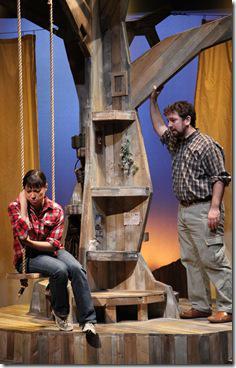 Walk Two Moons tells two stories: the first, of displaced farm girl Sal (Tanya Chu McBride) taking a road trip with her grandparents (Sandy Elias and Millicent Hurley) to visit her mother (Casey Cunningham), who disappeared after a family tragedy. As they ease on down the road, Sal recalls the saga of her best friend Phoebe (Baize Buzan), who uses her wild imagination and conspiracy theories first as entertainment and eventually as a coping mechanism when her own mother walked out leaving only a cryptic note. Desperate to understand their parents' confusing actions and the strange world around them, Sal and Phoebe relentlessly cook up theories and pick apart the past – only to learn that not every question has a concrete answer.
It's difficult to convey the natural elements of the outdoors, whether expansive farmland or small-town backyards, on a stagnant indoor stage. Scenic and lighting designers Simon Lashford and Mike Durst meet the challenge beautifully, using canvas curtains, vivid lights and a gorgeous wooden tree that serves as one of the play's central themes. Laura Kollar's costumes keep it simple while allowing actors to seamlessly transition through multiple characters in a single scene. Though Andrew Wheatley and Mikhail Fiksel's score is at times superfluous, many moments are enhanced with the sweet and somber background music. And Matthew Reeder's innovative blocking transcends two timelines and multiple locations, always keeping the audience squarely in the moment.
Portraying teenagers is often a challenge for adult actors, and often these performances can come off as exaggerated and inauthentic. Not the case in Walk Two Moons. Sal is a relatable, reliable narrator, and McBride alternates beautifully between excitable and wistful. The always enjoyable Elias (last seen in Stage Left's Farragut North – our review) brings a gentle humor to Sal's nurturing grandfather, and Joe Zarrow's beleaguered, Paul Giamatti-esque demeanor serves him well in the dual role of Sal's English teacher and her father. Each character is strong, but the real star of the piece is Baize Buzan. Her interpretation of Sal's best friend Phoebe feels completely real, jumping from dramatic conclusion to paranoid pronouncement with grace, drawing in the audience with every word and gesture.
The best children's theater takes its young audience's experiences seriously. Flawlessly adapted from strong source material, Walk Two Moons doesn't talk down to its viewers. It challenges them to examine their own reactions and emotions, to look outward into a world where everyone suffers but has the immense power to help one another. The show could stand to shave off ten minutes or so: an hour and a half with no intermission and a pre- and post-discussion is a long time for adults and kids to sit still. Despite its length, Walk Two Moons has a poignant, valuable message for audiences of every age. It never preaches. It teaches.
Rating: ★★★½
Walk Two Moons continues through December 8th at the Vittum Theater, 1012 N. Noble (map), with performances Fridays at 7:30 p.m. and Saturdays at 4pm and 7:30pm, along with 10:30am school performances on various dates throughout the run. Tickets are $12-$20, and can be purchased by phone (773-342-4141) or online through their website. More info at adventurestage.org. (Running time: 90 minutes with no intermission)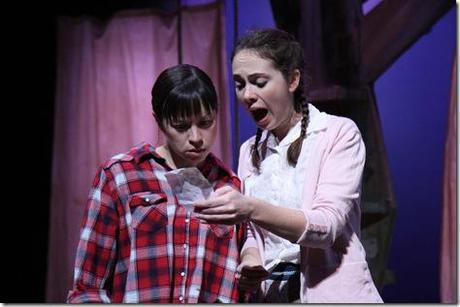 All photos by Johnny Knight 
---
artists