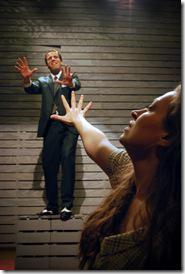 Violet
Written by Brian Crawley (book, lyrics)
and Jeanine Tesori (music)
Directed by Elizabeth Margolius 
at Mercury Theatre, 3745 N. Southport (map)
thru Oct 16  |  tickets: $27-$32  |  more info
Check for half-price tickets
  
  
   Read entire review
---
Beauty is as ugly feels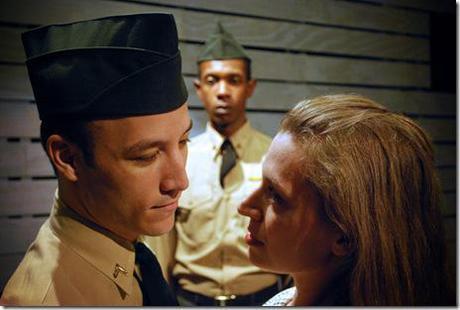 Bailiwick Chicago presents
Violet
Review by Lawrence Bommer
Strong and true, this prize-winning, emotionally textured 1997 musical by composer Jeanine Tesori and lyricist Brian Crawley earns every emotion that fuels its sturdy songs. Based on Doris Betts' The Ugliest Pilgrim, Violet recalls Sondheim's Passion as it paints a downhome-decent portrait of Violet, the disfigured–and sometimes transfigured–girl whose face was accidentally split by an ax wielded by her father. Eight years later, in 1964, the ardently faithful 25-year-old Violet takes a Greyhound bus from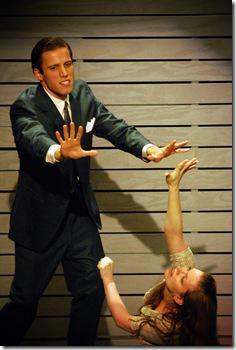 Spruce Pine, North Carolina to Tulsa, Oklahoma to seek a cure from a television evangelist. Bullied at home despite a protective father (excellent
John B. Leen
), Violet fears that she's damaged goods. But if God can't heal his mistakes, who can? Unless, of course, she's no such thing, an answer this pilgrimage will bring one way or the other. Because there's no going back to awful Tar Heel town where she suffered so much.
Violet's westward trip is richly suggested by John Zuiker's wooden wall, subtly suggestive of a Louise Nevelson sculpture filled with found items depicting the trek. It's a journey that greatly outweighs its destination. Violet meets two soldiers–Monty, a feckless lug destined for Vietnam who effortlessly seduces her, and Flick, an African-American sergeant who knows what Violet has endured from life. All the faith healing that Violet could want will come from one of them. But which soldier will redeem Violet and give her the real miracle she seeks? One is black, so their love will face a terrible test in the Jim Crow South. The other is white but bound for Vietnam where Monty faces much greater peril than he can possibly imagine.
The score has to be strong because, unlike other troublesome storylines, Crawley's plot delivers more than it promises. Though Flick's necessarily hidden passion for Violet is suggested strongly in the first act finale, hers for him can only be guessed at: Monty holds her heart throughout. It doesn't look good that she might choose the other one on the rebound (reducing him to "sloppy seconds"). Triumphant as the final gospel anthem "Bring Me To Light" may soar, you fear for the future.
The story has its holes but seldom have songs served a story so strongly. Suiting the style to the singer, Tesori's score offers a rich and unforced mix of blues, soul, country and gospel. With dignity and despair, Evan Tyrone Martin ignites Flick's consolatory "Let It Sing," while Courtney Crouse's tricky Monty spills all the ambiguity in his love ballad "You're Different." Belted out by the disbelieving preacher (a soul-shrunken, broadly smiling, and ultimately enlightening Jim DeSelm) and his heaven-shaking choir, "Raise Me Up" does so indeed. The leather-lunged ensemble (Ryan Gaffney, Nancy Kolton, Danni Smith, Kevin M. Grubb and Elizabeth Gray) treat every part—indeed every note—as an answered prayer. Elizabeth Margolius has the Midas touch times ten!
The understudy in the title role (Harmony France has been much praised in the part but did not perform at my matinee), Sarah Bockel turns her unscarred Violet into a life force, the kind of heart-shaking performance that becomes its own miracle. Apples and oranges aside, she has earned the role whenever she wants it full time.
Rating: ★★★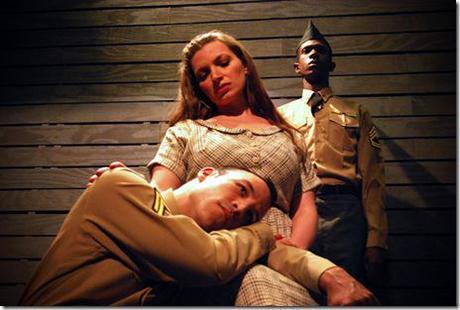 Violet continues through October 16th at the Mercury Theatre, 3745 N. Southport (map), with performances Fridays at 7:30pm, Saturdays at 3pm and 7:30pm, and Sundays at 3pm. Tickets are $27.50-$32.50, and can be purchased by phone (773-325-1700) or online at Vendini.com. More information at BailiwickChicago.com.
---
artists
cast
Courtney Crouse, Jim DeSelm, Harmony France, Ryan Gaffney, Glynis Gilio, Elizabeth Gray, Kevin M. Grubb, Nancy Kolton, John B. Leen, Evan Martin, Danni Smith, Sarah Bockel
behind the scenes
Elizabeth Margolius (direction, movement); Andra Velis Simon (music director); Kate Garassino* (producing director, manager director); Kevin D. Mayes* (co-producer); Christopher Pazdernik* (associate producer); Daren Leonard (asst. director); John Zuiker (sets); Julian Pike (lighting); Bill Borey (costumes); Andrew Waters (choreography); Beau Forbes (fight choreography); Robert Ollis (orchestrations); Charlie Rasmann (stage manager); Rachel Sellers (production manager)
* denotes Bailiwick Collective member