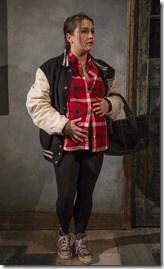 Vices & Virtues
Written by Neil LaBute
Profiles Theatre, 4147 N. Broadway (map)
thru March 6  |  tix: $40  |  more info
  
Check for half-price tickets  
  
---
Lots of LaBute; mixed success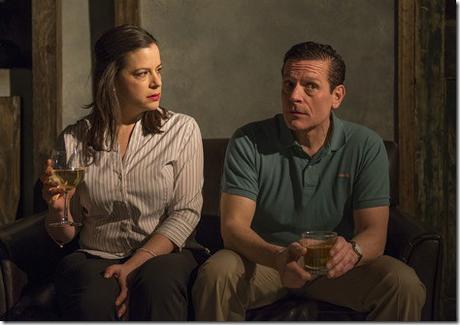 Profiles Theatre presents
Vices & Virtues
Review by Keith Glab
Quickly establishing the details of a scene is one of the most important tenets of improvisational theater. Providing the setting, naming the characters, and revealing the nature of their relationship is paramount for a quick scene to gain traction, so therefore this tenet also applies to sketch comedy and short plays as well. For Vices & Virtues, Profiles Theatre performs 11 short plays from resident playwright Neil LaBute in repertory, and each work's degree of success is heavily influenced by how well it observes this key tenet of scene establishment.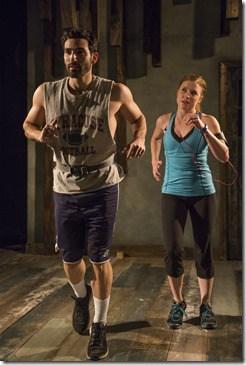 In
Romance
,
Patrick Gannon
and
Nik Kourtis
play a pair of ex-lovers, with Kourtis confronting Gannon regarding grievances from the relationship. But for the first few minutes of the piece, the two characters speak in vague abstractions until this relationship finally gets revealed. The characters aren't even given names. Similarly,
I'm Going to Stop Pretending That I Didn't Break Your Heart
examines the actual act of breaking up, but it isn't until later on that we learn important specifics, including what one of the partners sacrificed in order to make the relationship work. Again, we don't get their names. This setup causes the audience to fail to connect with the characters at the start of the scene and doesn't give the actors enough time to develop any subtlety in the latter portion.
The Great War depicts another breakup event, this time between a married couple. That's established early on, but the unrelenting bickering becomes very one-note across the evening. The more modular pieces work better. Good Luck (in Farsi) focuses on two passive-aggressive actresses sizing each other up at a casting call, switching from girls bonding in solidarity to catty agitation moment to moment. More than just a prostitute visiting a regular John, Lovely Head vacillates between tenderness and adversity, and we understand why once the true nature of their relationship finally gets revealed.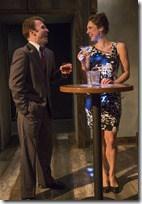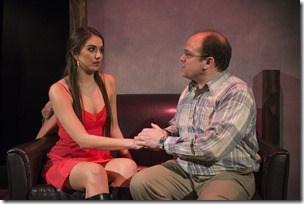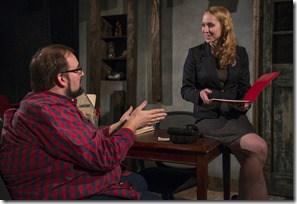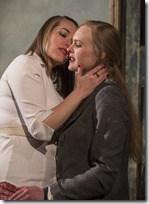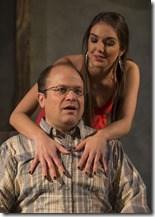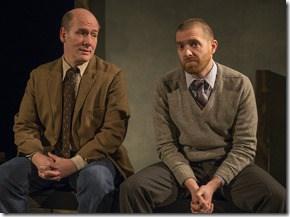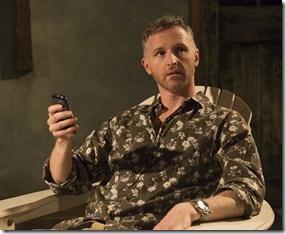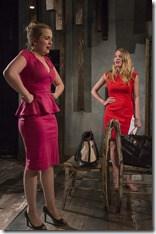 The most successful pieces in the collection are also the simplest concepts, but they work because they establish the situation quickly and allow tension to build between the characters. 10-K features a pair of runners (Betsy Bowman, Tom McGregor) who are less than blissful in each of their respective marriages and flirt with each other during the jog. In Happy Hour, a woman (Eleni Pappageorge) hits on an engaged man (Brennan Roche) at a club. Neither infidelity plot will win an award for its uniqueness, but the actors develop tremendously engaging chemistry due in part to the premise being set up right away.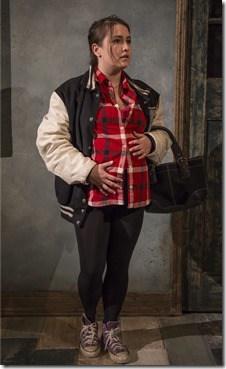 Tamara Chambers provides the strongest performance amidst 20 quality actors. Her solo role in Totally gets directed to an audience on two sides of her, which doesn't make a lick of sense directorially since her character is speaking to a single individual in dramatic monolog. Chambers' verve and utter believability as an energetic knocked-up teen makes the audience want to suspend disbelief regarding the format of the staging. As in Lovely Head, here's another instance of the situation getting set up early on, but with a twist arriving at the end – the perfect format for these 20-minute plays.
Transitions between the scenes are well-handled. The sets are minimal yet functional, allowing for quick and seamless changes. The abrupt music changes between the scenes don't work as successfully, and they contribute to the disunity of this collection of stories lacking a common thread.
I enjoyed Vices slightly more than I did Virtues, but that comes down to personal taste. The two collections are structured very similarly in terms of length and even type of play. For instance, each first act begins with a lighter subject, followed by an angsty/jaded play, and concluding with a solo performance with direct address to the audience. Naturally, some pieces work better than others do, and the overall result is an evening of theater that, while mostly enjoyable, you won't hate yourself for missing.
Rating: ★★½
Vices & Virtues continues through March 6th at Profiles' Alley Stage, 4147 N. Broadway (map), with Vices performing Thursdays 8pm, Saturdays 4pm, Sundays 7pm, and Virtues performing Fridays and Saturdays at 8pm, Sundays 3pm. Tickets are $40, and are available by phone (773-549-1815) or online at PrintTixUSA.com (check for half-price tickets at Goldstar.com). More information at ProfilesTheatre.org.  (Running time: each set runs 2 hours 25 minutes, which includes an intermission)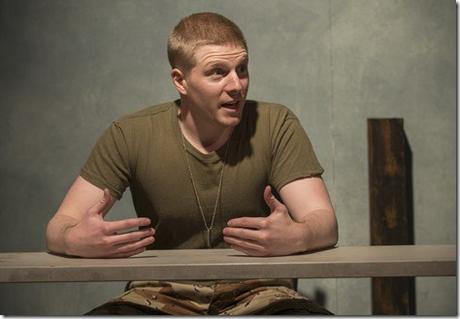 Photos by Michael Brosilow 
---
artists
cast
Marilyn Bass, Elizabeth Birnkrant, Betsy Bowman, Sarah Brooks, Tamara Chambers, Tim Curtis, Patrick Gannon, Brian Goodman, Rob Grabowski, Drew Halliday, Brooke Hebert, Nik Kourtis, Tom McGregor, Eleni Pappageorge, Brennan Roche, Sarah Ruggles, Steve Silver, Adam Soule, Laura Berner Taylor, Marie Weigle
behind the scenes
Bradley Bartolo, Tara Branham, Eric Burgher, Brianne Duncan Fiore, Jeff Gamlin, Joe Jahraus, Miles Mabry, Kay Martinovich, Andy Root Benjamin Thiem and Scott Wolf (directors), Amber R. Dettmers (stage manager), Sapier Weinglass, Ricky Quintana (asst. stage managers), Greg Pinnsoneault (set design), Alec Long (technical director), Michael Rathbun (lighting design), Uriel Gomex (costume design), Brandon Reed (sound design), Michael Brosilow (photos)
16-0139