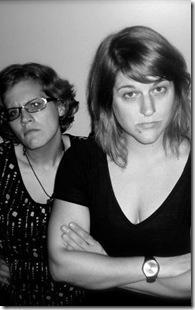 Venus Envy 
Written and Directed by Vincent Truman 
at Charnel House, 3421 W. Fullerton (map)
thru Sept 23  |  tickets: $15   |  more info
  
Check for half-price tickets 
  
  
   Read entire review
  
---
Mercifully short piece takes on concepts that could use more work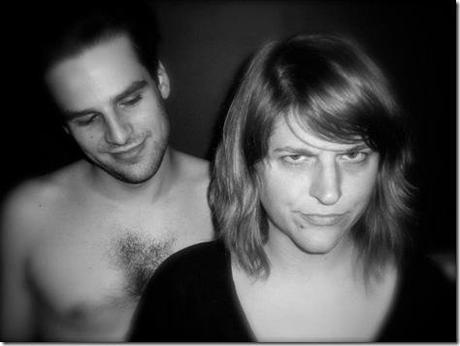 Viable Theatre Company presents
Venus Envy
Review by Jessica Palmer
The Viable Theater Company's Venus Envy comes with the tagline "never trust an animal that doesn't know how to bleed," a takeoff of the usual "never trust anything that that bleeds for a week and doesn't die," meant to denigrate women. There are numerous reversals in this piece, which uses as its premise a world where women are in control and earn more than men. It's an interesting concept, and the landing page of the website states that it was "painstakingly written over three years of research and development."  Hmmmm…
The play opens with the sounds of offstage sex interrupted by a loud cell phone ringtone, which interrupts the offstage action as Madelyn Reiter (Lisa Stran) staggers out of bed and onto the stage to answer it. The call is from Alyx Fizzle (Julie Schlesinger), who has called to ask Madelyn out for drinks with her friend Rebekah Gloam (Miki Byrne). As she speaks to Alyx, a man clad only in women's heels and a towel emerges and tries to distract Madelyn. We learn that his name is Adolfa Dominguez (Nathan Weiland), that he's Ecuadorian, and a male prostitute. For some reason he tries to woo her back into bed rather than taking his leave, like just about every prostitute depicted in film, TV, and theater, and even more perplexingly – insists on driving Madelyn to the bar to meet her friends.
At the bar, it becomes clear that Adolfa's attire is not a kinky fetish; in the world of Venus Envy men are reduced to sex objects, which somehow translates to men wearing women's clothing, and women's powerful status is represented by wearing suits and ties. This is visually and conceptually problematic, and I wish that at some point during the "research and development" someone had bothered to watch some gay porn, or simply opened a mainstream magazine, to see real-life examples of what happens when men are sex objects first and foremost. Here's a hint – they're not made to wear women's clothing, they're simply made to wear less clothing. Indeed, examples of the sexualization of the male body occur in regular everyday art and advertising (see Mark Wahlberg circa 1991, or current day Kellan Lutz.)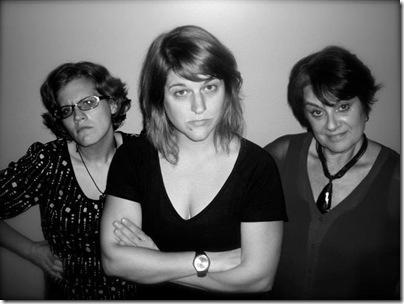 The bar scene drags on for what seems like an eternity, but is probably no more than 20 minutes or so in which the three women ogle their waiter Jans (Steve Ruppel), and discuss everything from having the "eggs" to break up with a man (as opposed to having the balls for it) to religion (the dominant religion has God as a woman), they say things like: "Men are stupid. And they lie," and get drunk enough to harass Jans, who brings it to the attention of his supervisor, Denyel (Vincent Truman, who for some reason gets to wear a suit, possibly because he's also the writer and the director of Venus Envy.)
The heart of the piece is in one of the final scenes, when Madelyn shows her true self to Jans. While interesting conceptually, the dialogue and the action don't go very far. It's as if snippets of stereotypical male conversation, real or imagined, had been written down and the pronouns simply changed to make the speakers women. There is no room for nuance in this play, no discussion of the vagaries of personality and the broad spectrum of human sexuality – women are simply in charge, men are simply not, and as a result women are dickish and corrupt in their handling of power. Nothing is ever that simple, not even in fiction, and this generalized approach to turning the world upside down has the unfortunate side effect of flattening every character into a single dimension.
Rating: ★
Venus Envy continues through September 23rd at The Charnel House, 3421 W. Fullerton (map), with performances Fridays-Sundays at 8pm.  Tickets are $15, and are available by phone (800-838-3006) or online through BrownPaperTickets.com (check for half-price tickets at Goldstar.com). More information at VincentTruman.net.  (Running time: 45 minutes, no intermission)
---
artists
cast
Lisa Stran, Julie Schlesinger, Miki Byrne, Nathan Weiland, Steve Ruppel, Vincent Truman 
behind the scenes
Vincent Truman (director); Erin Casey (lighting, sound design); Kasey O'Brien (asst. director); Lisa Mitchell Parker (special advisor)
12-0914