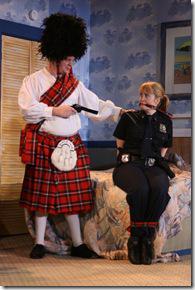 Unnecessary Farce 
Written by Paul Slade Smith
Directed by Alison C. Vesely  
Mayslake Peabody Estate, Oakbrook (map)
thru March 4  |  tickets: $30-$37   |  more info
  
Check for half-price tickets 
  
  
   Read entire review
  
---
A 'Farce' to be reckoned with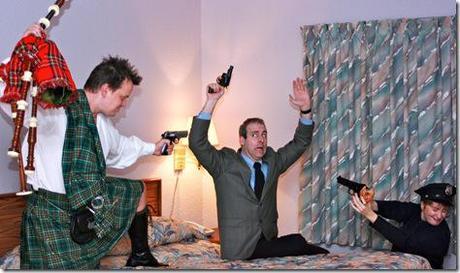 First Folio Theatre presents
Unnecessary Farce
Review by Melody Udell
It's boisterous, rife with slapstick humor and riddled with innuendo — and Unnecessary Farce isn't apologizing for any of it. The show is built around its in-your-face absurdity, and it wouldn't be the same whacky, blundering comedy if it weren't. So if you're up for a night of nonsensical plot devices and zany one-liners, First Folio Theatre's production is perfect for a light-hearted, amusing evening spent with seven no-holds-barred actors and a botched undercover operation.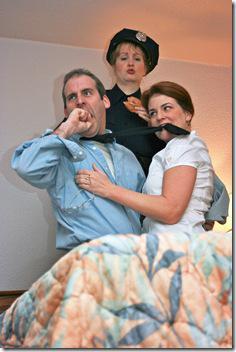 Set in conjoining hotel rooms — styled with perfect motel-chic tackiness by Scenic Designer
Angela Miller
— the show opens with
Kevin McKillip
's affable Officer Eric Sheridan struggling to put on his pants (one of many scenes with hilariously half-dressed actors). Eric and his partner, Officer Billie Dwyer (
Erin Noel Grennan
) have set up a video monitor to catch Mayor Meekly (
Dale Benson
) confessing embezzlement to his new accountant, Karen (
Molly Glynn
). But throw in a neurotic security guard (
Raymond Fox
) and a bumbling Scottish murderer (
Joe Foust
), and things go predictably awry.
Grennan, playing the awkward, gun-fearing cop on her first real assignment, is the show's best asset. In many scenes, she's simply sitting on the hotel bed watching the action unfold in the next room. But with mouth agape, her understated comedic timing is a show-stealer, especially when paired with McKillip's timid, equally inept police officer-in-crime. Foust's bagpipe-playing criminal commands an impressive, booming Scottish accent, and the moments spent lost in translation are some of the funniest in the show.
Written by former Chicagoan Paul Slade Smith, Unnecessary Farce contains a hand-full of sharply written jabs, but the majority of the humor is physical: synchronized door-slamming, rough-and-tumble bedroom romps and one successfully executed Tallahasse Flip. Foust, who also serves as the show's fight choreographer, is in his element; every knockout and lumbering fall is utterly believable, even if the timing isn't spot-on.
If you don't fully appreciate the show's lowbrow comedy and screwball antics, it's worth the trip to Oak Brook just for a slight tour of the Downton Abbey-like venue at Mayslake Peabody Estate. The converted chapel, which houses the stage, is a cozy setting without a bad seat in the house. Although just a small portion of the estate is open to theater-goers, it only takes a glimpse of the ornate fireplaces and towering bookcases to keep audience members coming back, no matter the show.
Unnecessary Farce certainly isn't food for thought, but its unsophisticated charm is a good taste of unabashedly crude comedy done right.
Rating: ★★½
Unnecessary Farce continues through March 4th at First Folio Theatre, 1717 W. 31st St., Oak Brook (map), with performances Wednesdays, Fridays and Saturdays at 8pm, Sundays at 3pm. Tickets are $30-$37, and are available by phone (630-986-8067) or online here (check for half-price tickets at Goldstar.com). More information at FirstFolio.org.  (Running time: 2 hours 15 minutes, which includes one 15-minute intermission)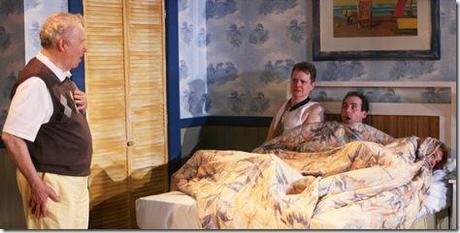 All photos by D. Rice
---