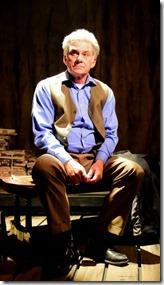 Strong performance not enough to overcome clichéd material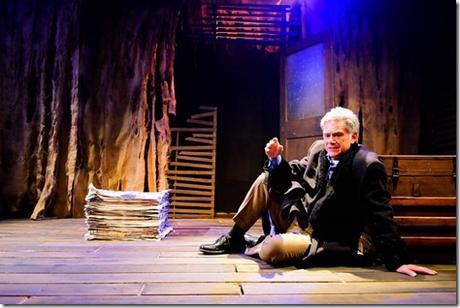 Review by Lauren Whalen
Uncle Philip's Coat is part of the Greenhouse Theater Center's eight-month Solo Celebration! series. Over the past year, Solo Celebration! has brought the Chicago theater community a variety of perspectives, from those of scared working women in Juarez (The Way She Spoke) to a local playwright's family history involving weathermen, matriarchs and Disneyland (The Happiest Place on Earth). Uncle Philip's Coat tries very hard to present a unique perspective, and while many of the lines are humorous and actor Gene Weygandt is very charismatic, the solo show about a Russian Jewish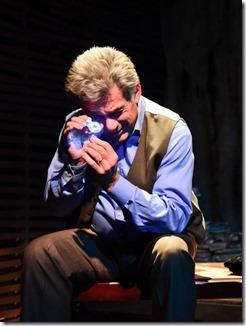 immigrant, his treasured piece of clothing from the old country, and the nephew who inherited it, often borders on indulgent and falls right into the land of cliché.
Playwright Matty Selman, also an actor, wrote Uncle Philip's Coat as an homage to his uncle and father, who immigrated from Russia as young boys. Decades later, Selman's father has a steady if grueling job in New York's diamond district, and a home, marriage and family that - though not perfect - is relatively stable. His brother Philip, however, is a dreamer until the day he dies. Philip never settles on an occupation, a romantic partner or even a real home. Instead, he wanders the shore selling lingerie of indeterminate origin, his entire life in the pockets of his treasured coat, which was supposedly designed by the same person who clothed the Tsar's family. Through Uncle Philip's Coat , Selman seeks to understand not just his uncle, but his father, who went in a completely different direction and discouraged Selman's artistic fantasies while Philip encouraged them.
When reviewing solo memoir shows, I never seek to discount anyone's personal experience. Everyone has a right to their memories, and to analyze them in a creative, public fashion. No one can take away one's past. However, solo shows that are also memoirs are incredibly tough to pen and perform in a way that will appeal to audiences who haven't had those exact experiences. There must be an originality, a universality, a way to make spectators care about people they've never met. In that respect, it's like every other creative endeavor, but even harder because this is about and story. How could anyone not care?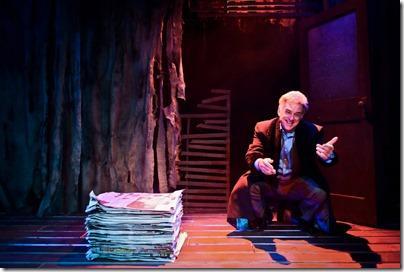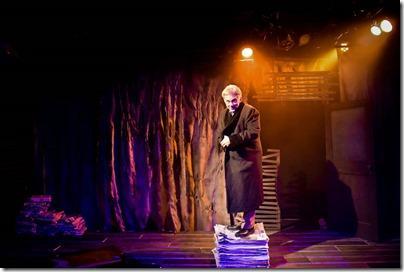 In contrast to Uncle Philip's Coat , the aforementioned Happiest Place on Earth handled personal family history (that of playwright and performer Philip Dawkins) in ways both very original and extremely compelling, while remaining true to Dawkins and his mother's collective memory. Unfortunately, Uncle Philip's Coat never quite gets there. It feels like a tired retread of a Hallmark Channel movie, where the old man has a surprisingly complex backstory. I wish Selman had probed more beyond the surface of Philip's occasional traumatic flashbacks that mar his general joie de vivre, even though objectively the man never amounted to very much. Actor Weygandt gives excellent interpretations of struggling actor Selman, his loving but judgmental father and his eccentric uncle, but it's not enough to overcome the clichés of the source material. With a few rewrites, and a willingness to go deeper, Uncle Philip's Coat could be much more effective. As it stands, it's just one more "strange relative with a heart of gold" narrative.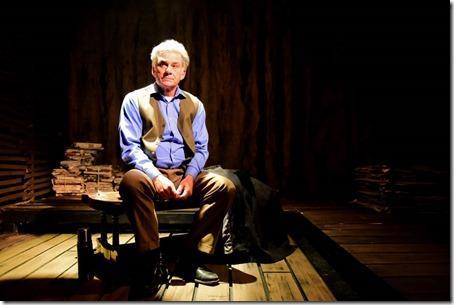 Uncle Philip's Coat continues through December 31st at Greenhouse Theater Center, 2257 N. Lincoon (map), with performances Wednesdays-Fridays at 8pm, Saturdays 2:30pm & 8pm, Sundays 2:30pm. Tickets are $34-$48, and are available by phone (773-404-7336) or online at Vendini.com (check for half-price tickets at Goldstar.com ). More at GreenhouseTheater.org or UnclePhilipsCoat.com. (Running time: 75 minutes, no intermission)
behind the scenes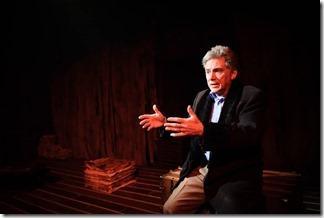 Elizabeth Margolius (director), Daren Leonard (assistant director), Kurtis Boetcher (scenic design, prop design), (lighting design), Mealah Heidenreich (prop design), Kate Setzer Kamphausen (costume design), Lynne Harris (stage manager), Evan Hanover (photos)
Tags: 16-1211, Chicago Theater, Daren Leonard, Elizabeth Margolius, Erik Barry, Evan Hanover, Gene Weygandt, Greenhouse Theater, Greenhouse Theater Center, Kate Setzer Kamphausen, Kurtis Boetcher, Lauren Whalen, Lynne Harris, Matty Selman, Mealah Heidenreich, Philip Dawkings, post, Solo Celebration
Category: 2016 Reviews, Greenhouse Theater, Greenhouse Theater Center, Lauren Whalen, One-Man Show