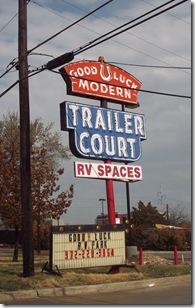 Two from the Trailer Court:
   Dirty Girl and Salome
   Go All the Way! 
Written and Directed by Anthony Whitaker
at The Den Theatre,1333 N. Milwaukee (map)
thru Nov 10  |  tickets: $15   |  more info
  
Check for half-price tickets 
  
  
   Read entire review
  
---
Flashy and fun – in a Vicodin and Tab kind of way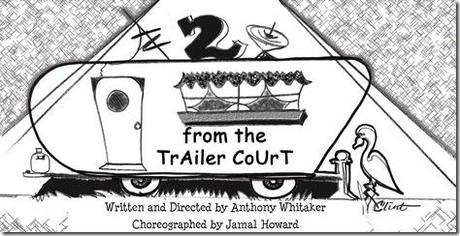 New American Folk Theatre presents
Two from the Trailer Court:
   Dirty Girl and Salome Go All the Way
Review by K.D. Hopkins
There is such a thing as trailer park culture and it is alive and well at the New American Folk Theatre. What is the basis of websites, reality shows, and Jerry Springer is something we all can relate to no matter how high we believe our station in life. It's not just the housing projects that contain all the tragedy, jack legged preachers, and cheap fashion knock offs. Though this production is billed as two one act musicals, I don't believe this to be the case. One is a dramedy and the other is a freaking hysterical musical. In either case it is a fun time at the Azalea Trailer Court in the back roads of Georgia.
Salome Goes All the Way
Salome Goes All the Way is the first one act and is based on the Bible story of Salome and the 7 veils. It is rather uneven in the pacing. Some times it loses the comic bent and other times it leaves me wondering if this is really meant as a moral tale. The play is produced by the "Azalea Players" but it's not clear if the pace is choppy because they are supposed to be regional theater where no region has gone before.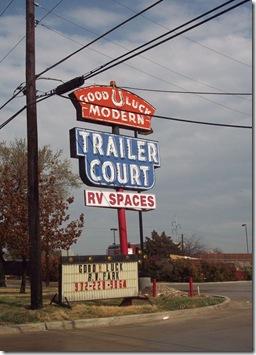 It is a hot night in Georgia and there is a party going on in honor of Red Sea Records founder and CEO Harry (
Anthony Whitaker
, who also wrote and directed this production). On the other side of the woods sits Harry's bodyguard Carla (
Amber Lee Olivier
) and the houseman Wayne (
Jamal Howard
). Carla is hot for Harry's stepdaughter/niece Salome (
Sarah Furniss
). It's Erskine Caldwell gone mad in these woods and also a pretty good representation of the Southern Gothic genre.
Furniss does a disturbing and yet good rendition of a trashy and ripe piece of forbidden fruit. Her body language is appropriately shady like Caldwell's Ellie Mae Lester rutting in the road.
On the side of the trailer is a well where an evangelist named John is being held prisoner. He is claiming to have raised people from the dead and baptized others in the local creek. John (Kirk Jackson) is scary good portraying a sweaty preacher who probably has handled a snake or two. Salome seduces Carla into dragging him out of the well. She is instantly smitten with him and he is instantly repelled by this harlot. Jackson's dialog could be straight out of a clapboard church in the woods. Whitaker's dialog captures all of the nuances of a fire and brimstone preacher who ministers to a superstitious and fearful flock.
Harry and his flashy wife Lois (Caitlin Jackson) join them and bring along a trio of singers: Melody (Emily Bates), Harmony (Katherine Glavin), and Opal (Mara Stewart). Jackson is the standout of this one act. She has the preacher's wife/cable access gospel singer down pat. She does a devilishly good rendition of a song called "The Lord is With Me" that has all of the euphemisms of wax record gospel. As in the Bible story, they all get hammered, ending in equal parts dance and gore.  It is comical and creepy at the same time. A tale of real life Southern religious intrigue or farce?
Rating: ★★½
Dirty Girl
The second one-act is Dirty Girl. This rip-roaring musical is a wonderfully trashy take on the Cinderella story. The wicked stepmother Yolanda (Amber Lee Oliver) is determined to get one of her twins Tammy-"with a 'y'"- (Mara Stewart) and Tammi "with an 'i'" (Anthony Whitaker) voted as prom queen 1987. Oliver does a flashback number "Yolanda's Lament" recalling her loss of the crown to another girl. She is living through the twins, while her stepdaughter Jennifer Katherine Glavin as Dirty Girl gets the brunt of everyone's frustration. Glavin is sweet and charming as Jennifer, who just wants to be asked to the prom but thinks her chances are nonexistent.
Whitaker and Stewart bring down the house as the twins. It's Seventeen magazine and Promzilla all in one with these two. When they finally emerge from the trailer it really feels like 1987 with the claw bangs and shiny fabric. Tammy and Tammi sing a great song "The Crown Duet" where they claim that as long as one of them wins it will be great.
The school crowd is spot on, led by cheerleader Darryl (Jamal Howard) who has some fantastic moves. Howard is possibly the only man I have seen to get away with spandex shorts bearing a flamingo as the mascot. The cast has amazing voices that get their full due in Dirty Girl. Caitlin Jackson appears as Linda the Fairy Godmother…By Marriage. Jackson is endearing and puts a delicious spin on the whole wishes-being-granted thing, telling her 'sugar booger' that she is on her own for a happy ending. Jackson has some great pipes and belts out another great tune called "Magic Song".
Kirk Jackson does double duty as nerdy Troy who is in puppy love with Jennifer and as football meathead Randy who is in love with himself. The other outcast is punker Peggy (Emily Bates). I loved her portrayal of the 80′s punk who wears a garbage bag and pogo dances at the prom and doesn't give a crap. Bates sports a sneer and outrageous spastic dance moves. I would love to see Dirty Girl expanded into two acts – the show and music are really that good. Jamal Howard's choreography is cool and energetic.
There is no ambiguity about this trailer park comedy. It's all flash and fun. Loved it.
Rating: ★★★
Two from the Trailer Court continues through November 10th at The Den Theatre, 1333 N. Milwaukee (map), with performances Fridays and Saturdays at 10:30pm.  Tickets are $15, and are available online through BrownPaperTickets.com (check for half-price tickets at Goldstar.com). More information here  (Running time: 2 hours, includes an intermission)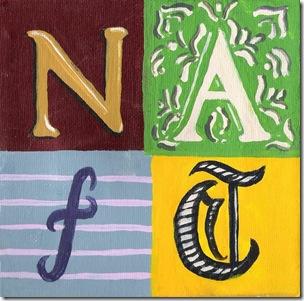 ---
artists
cast
Emily Bates (Melody/Peggy), Sarah Furniss (Salome/Vivian), Katherine Glavin (Harmony/Jennifer), Jamal Howard (Wayne/Darryl), Caitlin Jackson (Lois/Linda), Kirk Jackson (John/Troy/Randy), Amber Lee Olivier (Carla/Yolanda), Mara Stewart (Opal/Tammi), Anthony Whitaker (Harry/Tammy)
behind the scenes
Anthony Whitaker (director, writer, co-founder); Jamal Howard (choreographer, co-founder); Erin Whitney Brown (tech crew); Mara Stewart; (props master), Caitlin Jackson (costumes)
12-1023