Written by Kelvin Roston, Jr.
Athenaeum Theatre, 2936 N. Southport (map)
thru Sept 13 | tix: $17-$37 | more info
  
Check for half-price tickets  
  
---
Explosive, anguished exposé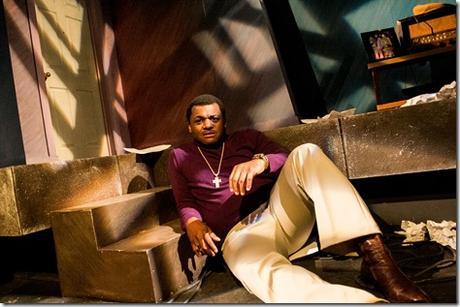 Congo Square Theatre presents
Twisted Melodies
Review by Lawrence Bommer
Here's a tale of what might have been as much as what was. Donny Hathaway (1945-1979) burst with talent, called by Rolling Stone Magazine a major force in soul music after writing "The Ghetto" in early 1970. He worked wonders with Roberta Stack and won a Grammy Award for "Where Is The Love?" He also suffered from paranoid schizophrenia and jumped to his death from the Essex Hotel when he was only 34.
In 100 minutes, writer-performer Kelvin Roston Jr.'s explosive one-person-show explores this troubled composer from the inside out. Twisted Melodies exposes us to the auditory (a terrifying sound design) and visual hallucinations (manic projections) that transformed Hathaway's mind into a monstrous maze. His inner anguish made him fear that a machine was intent on stealing his music and breaking his brain. His mood swings churn him from uplift into free fall. We watch, hapless to intervene in a tailspin that too soon became literal.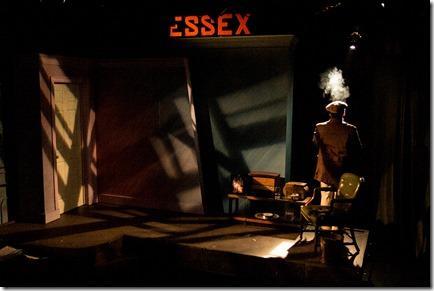 Premiering in May, Congo Square's creation was a huge hit, now in a welcome remount at the Athenaeum Theatre. Samuel Robertson Jr.'s kinetic staging delivers the lucid dreaming, psychotic episodes and driven composing that disrupted and propelled Hathaway's too-short career. For some composers making music means leaping into uncertain unknowns: You're "hearing" melodies that no one else can. This sounds like mental illness but, of course, can be sheer genius, an imagination on fire. Dancing a fine line between method and madness, Hathaway, it seems, couldn't always separate the creativity from the craziness. He was reluctant to take his medications for fear they'd steal his inspiration, a lapse that led to a seeming suicide.
Chronically smoking, wearing a giant cross (reminding him of his sternly religious, tough-loving grandmother – a muse and a threat), Roston's musician plunges himself into fever dreams, recalling a demonic alter ego named Duke and the daughters who couldn't understand his condition. Hathaway remembers love's labors lost as projections (silhouettes danced by Joel Hall's artists) cavort in the background.
Twisted Melodies works hard to connect Hathaway's heartfelt and expressive songs to his mental misery, a causation that sometimes seems forced. (They may well have been an escape rather than evidence of neurosis.) Perhaps a more dissonant jazz style could convey the "progress" of the disorder.
Here the psychotic episodes seem to stop the music in his mind: Was the latter a cure and a consolation at war with his medications and even his mind? We can only guess–and perhaps our ignorance is a kind of sensitive honesty. In any case this one-act opens up supposedly normal audiences to the haunting humanity of one man's psychic nightmare, a horrible price to pay for chart-busting hits.
Rating: ★★★
Twisted Melodies continues through September 13th at Athenaeum Theatre, 2936 N. Southport (map), with performances Thursdays and Fridays at 7:30pm, Saturdays 2pm and 7:30pm, Sundays 2pm.  Tickets are $17-$37, and are available by phone (773-935-6875) or online through OvationTix.com (check for half-price tickets at Goldstar.com). More information at CongoSquareTheatre.org.  (Running time: 1 hour 40 minutes without intermission)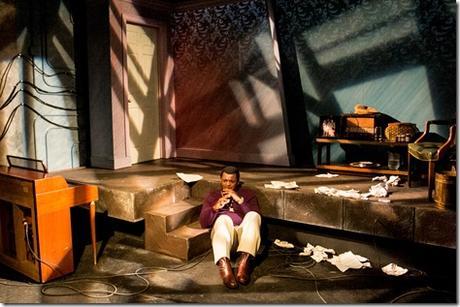 Photos by Samuel G. Robertson, Jr.
---
artists
cast
Kelvin Roston Jr. (Donny)
behind the scenes
Samuel G. Robertson, Jr. (director), Joel Hall (choreography), Andrei Onegin (scenic and props design), Michael Alan Stein (costume design), Paul Deziel (projections design), Rick Sims (sound design), Richard Norwood (lighting design), Michael Weatherspoon (musical consultant), Dre Robinson (video design), Razor Wintercastle (stage manager)
15-0822