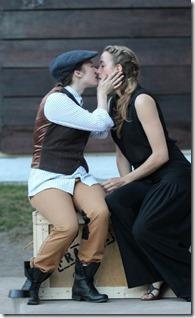 Twelfth Night 
Written by William Shakespeare 
Directed by Mark Boergers
at Ridgeville Park, Evanston (map)
thru Aug 4  |  tickets: FREE   |  more info 
  
  
  
   Read entire review
  
---
Raucously funny Shakespeare in the park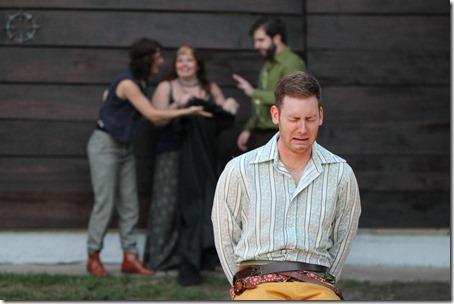 Arc Theatre presents
Twelfth Night
Review by Anuja Vaidya
Girl meets boy. Girl falls in love with boy. Girl dresses up as a boy and befriends her love – Shakespeare's Twelfth Night uses this unusual twist in the tale to great effect. And Arc Theatre's charming production brings the witty script to life in the midst of the serene Ridgeville Park in Evanston.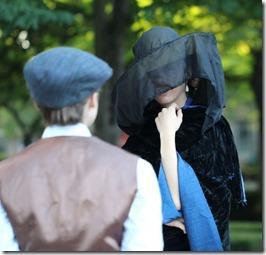 The plot is simple. Or as simple as a comedy of capers involving mistaken identities and misplaced declarations of love can be. Viola, who is shipwrecked and has lost contact with her twin brother Sebastian, disguises herself as a man called Cesario and enters the service of Duke Orsino. She promptly falls in love with the Duke but finds herself in the unfortunate position of being his confidante in his efforts to profess his love for Olivia, a countess. Duke Orsino sends Cesario to speak with Olivia on his behalf. The plan backfires when Olivia falls in love with Cesario. In the meantime, Olivia's drunken uncle and her gentlewoman stir up some trouble by convincing Olivia's steward Malvolio that Olivia is in love with him. Soon, Viola's twin brother Sebastian, is added to the mix. He is very much alive, contrary to what Viola believes, and turns out to be key for a happy ending for all.
Given that Arc Theatre's production is performed in a park, I wasn't expecting it to be a particularly immersive experience. I was pleasantly surprised to find that Mark Boergers's direction ensured that the space is used creatively; Twelfth Night is quite a memorable evening. Actors entered from the sides of the stage, from the aisle and even act out scenes while walking around the audience. A house serves as the backdrop to the stage, which is also used as an exit/entry point. Boergers manages to convey the feeling of wide-open space in the park as well as to keep the audience enveloped in the production.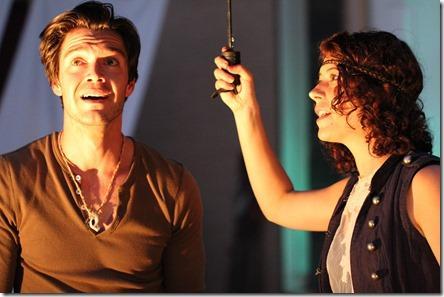 The performances are skillful and energetic overall, with some great comedic acting. Teddy Boone is especially hilarious as the uptight, greedy and vain Malvolio. The scene where he finds the letter, which he mistakenly believes Olivia has written, is priceless. Boone brings both spot-on comic timing and side-splitting physical comedy to his performance. Kudos also to Tyler Meredith, whose portrayal of Viola is sincere and endearing. You can't help but want things to end happily for her.
One particularly enjoyable aspect of all the performances is that every actor manages to say their lines naturally. This is a difficult thing to achieve when speaking dialogues written in the now alien sounding Elizabethan english. As lovely as the language sounds, it certainly doesn't sound natural anymore. Nonetheless, the cast deliver their lines with an ease that helps make the language accessible.
A thoroughly enjoyable show, Arc Theatre's Twelfth Night is a production I highly recommend going to see. This show gives you the chance (for free!) to see wonderful performances, a deft execution of one of the world's most famous comedies, and the chance to pack a picnic and enjoy it with others out on the park's lawn – what more could one ask for?
Rating: ★★★★
Twelfth Night continues through August 4th at Ridgeville Park, 908 Seward Street, Evanston (map), with performances Saturdays and Sundays at 7pm. Guests are encouraged to bring a picnic to enjoy during the performance. Some seating is provided, but guests can feel free to bring blankets and chairs of their own.   Tickets are FREE.  More information at ArcTheatreChicago.org.  (Running time: 1 hour 40 minutes, NO intermission)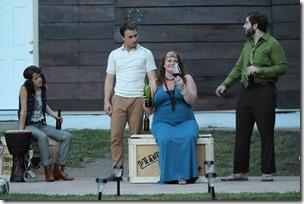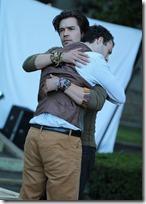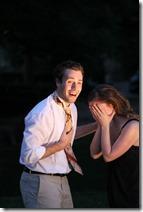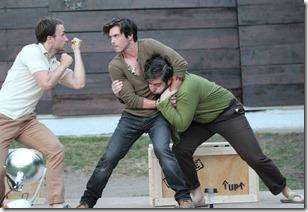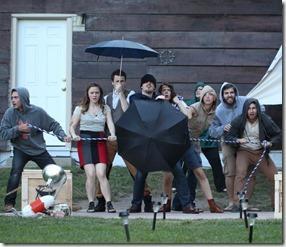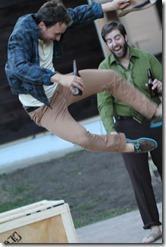 ---
artists
cast
Daniela Colucci (Feste), Tyler Meredith (Viola), Sean Wiberg (Sebastian), Joe Flynn (Duke Orsino), Colin Wasmund (Sir Toby Belch), Natalie Sallee (Maria), Ryan Lempka (Sir Andrew Agucheek), Kate Smith (Olivia), Teddy Boone (Malvolio), Michael Olavson (Antonio)
behind the scenes
Mark Boergers (director), Cailin Short (asst. director, head of design), Belinda Bing (stage manager), Dustyn Martincich (movement director), Chris Rickett (fight director),  Abbie Betts (asst. stage manager), Diego Baez (dramaturg), Matt Reich (sound design); Cathering Young (costume collaborator)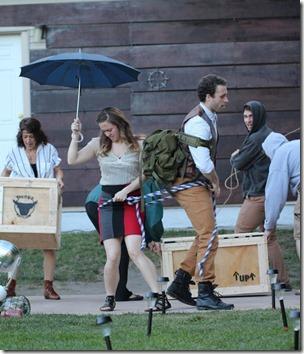 13-0711