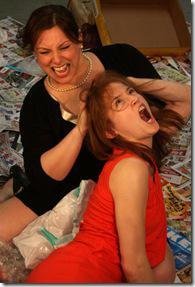 Trash
Written by Arthur M. Jolly  
Directed by Delia Ford
at The Side Project, 1439 W. Jarvis (map)
thru May 5  |  tickets: $12-$20   |  more info
  
Check for half-price tickets 
  
  
   Read entire review
  
---
Sad and scary drudgery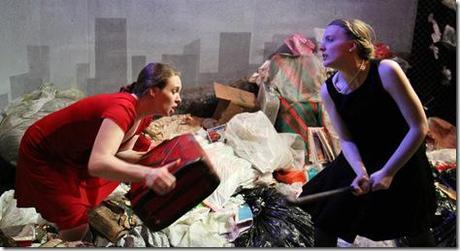 Babes With Blades presents
Trash
Review by Lauren Whalen 
Trash as a thing is disgusting. Whether a discarded teapot or an empty Slurpee cup, there's potential for all sorts of yuck: rust, mold or even the dreaded unidentified runny liquid often found at the bottom of Hefty bags. Trash, Babes With Blades' world premiere of Arthur M. Jolly's play, takes place in the midst of a landfill, where discards go to die or at least to be compacted. There are two estranged sisters. A search. A ticking clock. A well-designed but not always effective portrayal of death, family and what's left behind.
Note: Trash is double cast, and the following review includes the cast I saw.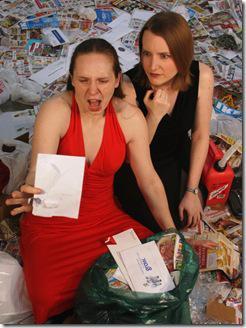 Diane (
Alison Dornheggen
) and Becky (
Megan Schemmel
) have not spoken in several years, since Becky left home to follow drugs and men, and Diane stayed behind to care for their ailing mother. Before succumbing to cancer, the women's mother sent Becky one final letter, which Becky intended to drop into her coffin unopened – and threw away instead. Regretting her decision, Becky goes straight from the funeral to the dump, where she has a very limited time to recover and read her mother's last words. But what were they? Does Diane know? And why, despite her oft-professed resentment and utter hatred of Becky, has Diane tagged along to help?
Babes With Blades are an all-female theater company who use stage combat to "place women and their stories center stage" and "explore the full range of the human experience." Trash's script is the winner of the company's "Joining Sword & Pen" competition, which invites playwrights from around the globe to create a new play with strong roles for women and staged violence as a storytelling tool, using a work of visual art as inspiration. Said work of visual art is the victor in a separate competition, and Victoria Szilagyi's painting "Erinyes" can be viewed in the theater lobby.
Jolly's script does have two strong female characters, and the violence (staged by JKChoreography) is beautifully disturbing and effective. However, the story doesn't always work. Last September I reviewed New Leaf Theatre's Burying Miss America, which had similar subject matter and format: a one-act that involved two siblings, one who went away and one who stayed behind, ruminating on their mother's death just moments after her funeral. Burying Miss America's two characters, while flawed in their own ways, were sympathetic and changed considerably during the course of the play. Though she was never seen, the dead mother almost became a viable character through details and memories recounted by the siblings. It was easy to see how each child was affected by the mother, why one left and why one remained. The production's stunning set conjured a whole new environment and made the audience forget they were in a theater.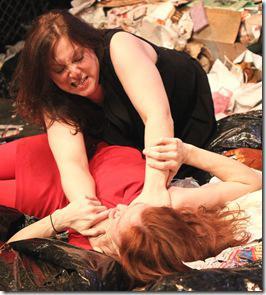 All
Trash
has in common with
Burying Miss America
is an excellent set.
Jennifer Corcoran
's impressive and varied collection of garbage, piled on stage and scattered throughout the studio theatre, doesn't have an odor but otherwise reeks of authenticity. The aforementioned teapots and Slurpee cups are on display, as well as the pervasive runny goo. Corcoran's landfill gives the complete appearance of spontaneous dumping but must have been extremely methodical and tedious to create. No recycled paper bag went unturned.
That said, Trash's script gives very vague hints as to the mother's personality or her relationship with her daughters. It's never clear why Becky left, or whether her addiction surfaced before or after she moved away. And it's incredibly difficult to write and perform a two-character play with nuance and depth, so it doesn't simply descend into screaming at one another. So many times, both Diane and Becky – who despite their personal demons, are at heart two women who just lost their mother – appear so unsympathetic and hateful it's difficult to care for them at all. And this is before one takes a swing at the other.
Dornheggen and Schemmel are skilled actresses, as adept with the verbal as they are the physical. They do their best with what little the script gives them. There's nothing wrong with a tragic story: the saddest tales can be the most cathartic and oddly, uplifting. But with absolutely no light contrasting moments or hint of humanity in either character (especially Diane), Trash is an ordeal. It doesn't have to be.
Rating: ★★
Trash continues through May 5th at the Side Project Theatre, 1439 W. Jarvis (map), with performances Thursdays-Saturdays 8pm, Sundays 7pm.  Tickets are $12-$20, and are available by phone (773-904-0391) or online here (check for half-price tickets at Goldstar.com). More information at BabesWithBlades.org.  (Running time: 90 minutes with no intermission)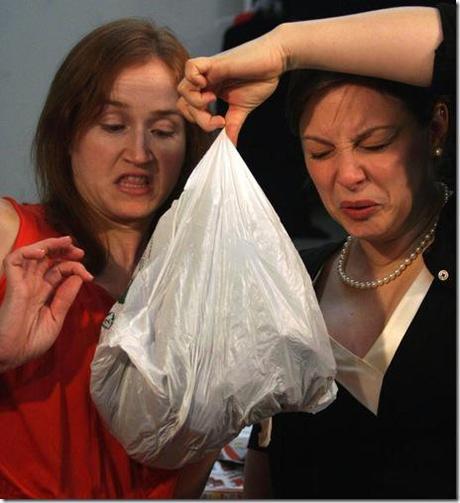 Photos by Johnny Knight, Steven Townshend
---
artists