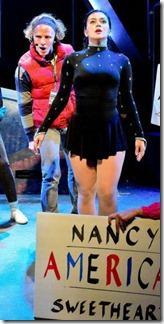 Hilarious and surprisingly savvy and nuanced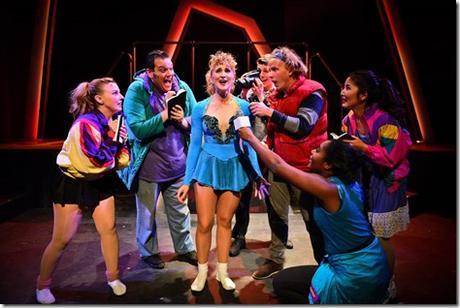 Review by Lauren Whalen
Unless you made your home under a rock in the early 90's (or weren't born yet), you remember Tonya and Nancy. No last names needed here: in 1994, the queen of trash and the ice princess were slated for their second Olympic Games together. Competing figure skaters, their rivalry was more intense than most, thanks to Tonya's scheming ex-husband Jeff Gillooly. But after the Games were over, the media more or less turned on Nancy and eased up on Tonya. What's the real story? No one knows except the two women, who've largely remained mum since then. Tonya and Nancy: A Rock Opera is more satire than "based on a true story," but is hilarious, saucy camp with surprising intelligence.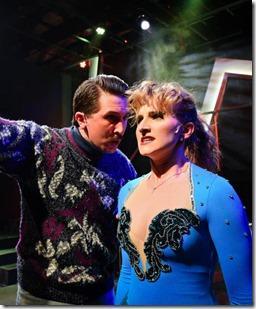 Tonya Harding (
Amanda Horvath
) was the first woman in the world to land a difficult skating trick in competition. She beat the odds to achieve Olympic status: an absentee father, growing up in a trailer park with extremely limited resources and a screeching, alcoholic mother (
Veronica Garza
). On the other side of the country, Nancy Kerrigan (
Courtney Mack
) seems borderline saintly, with beautiful designer costumes and a supportive, visually impaired mother (also
Garza
) who watches all of her competitions on a special screen. At first, Tonya's literally on top of the figure skating world, but when she hooks up with the unfortunately named Gillooly (
Justin Adair
), things take a turn for the violent and crazy.
Narrated by a reporter and Brian Boitano superfan (), Tonya and Nancy is a riff on the media portrayal of "Skate-Gate:" the aftermath of Nancy Kerrigan's assault at the hands of Gillooly, and the ensuing 1994 Olympics. How much did Tonya know about Gillooly's plan beforehand? As they were divorced, did she know about it at all? Don't look to Tonya and Nancy for facts: you won't find them. We know that Nancy Kerrigan wasn't the good girl everyone made her out to be: some snarky comments she made post-Olympics were blown out of proportion, whereas Tonya has virtually faded into obscurity. Tonya and Nancy 's focus is the utter insanity of the incident, and how the press' sensationalism bordered on ridiculous. When it comes to dramatizing this story, which (much like the O.J. Simpson trial, at approximately the exact same point in time) is so bizarre it appears made up, creators Elizabeth Searleand Michael Teolitook the camp approach, which director and choreographer Jon Martinezemphasizes to the hilt in the musical's Chicago premiere. Each of Gillooly's goons (Graham Hawleyand the scenery-chewing Vasily Deris) have song-and-dance numbers, and Gillooly has a crooning ballad of his own. Martinez's innovative choreography skillfully simulates skating tricks, and costume designer Virginia Varland replicates Tonya and Nancy's costumes and hairstyles with a near-obsessive eye. (Trust me. I watched the Winter Olympics that year, with my then-nine-year-old sister and the rest of the world. They're almost horrifyingly accurate.)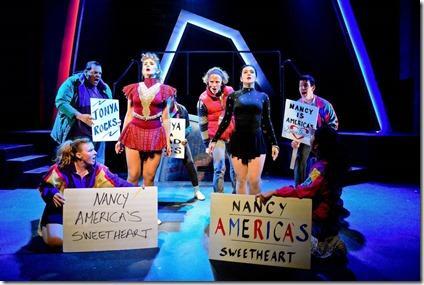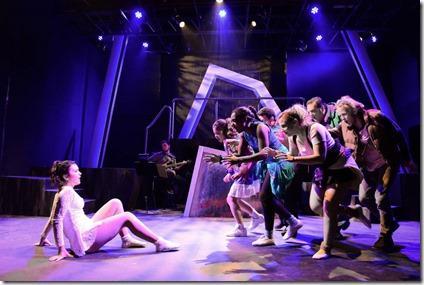 The ensemble, doubling as hungry reporters and various figure skaters (Surya Bonaly, Kristi Yamaguchi and, of course, the weepy Ukranian Oksana Baiul), is a collective ball of frenzied energy. Adair is appropriately sleazy as Gillooly, and Horvath resembles Tonya Harding in physicality (those bangs!), voice and mannerisms. Recent Columbia College grad Mack hits beautiful operatic notes as Nancy laments her fate, and believably changes from America's sweetheart to sore loser in the blink of an eye. But this Tonya and Nancy belongs to Garza, whose dual portrayal of Tonya and Nancy's mothers should make her a shoo-in for a Jeff nomination. One's a martyred stage mom, the other a hard-drinking shrew, and Garza nimbly handles both, often at the same time (the two mothers sing a duet offstage and argue with one another offstage).
Searle and Teoli don't shy away from the darker moments of the story - Gillooly was likely abusive to Tonya, and Nancy endured the horror of a masked man's violent assault - but ultimately portray the 1994 Olympics for exactly what they were: theater of the absurd. (Especially considering who wound up winning the gold.) Tonya Harding could have gone all the way, but self-sabotage and a manipulative lover destroyed her. Nancy was going for the gold, but various road bumps threatened to disrupt her journey, or halt it altogether. Tonya and Nancy is a snarky but ultimately joyful alternative to the plethora of holiday shows, as well as a reminder that everyone, even Tonya's nasty mom, has nuance.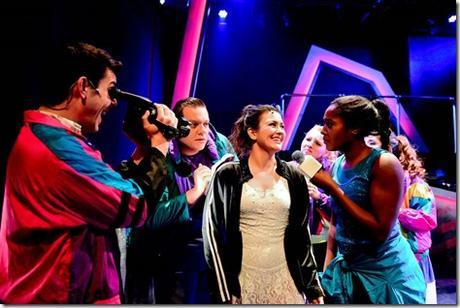 Tonya and Nancy: The Rock Opera continues through December 30th at Theater Wit, 1229 W. Belmont (map), with performances Wednesday-Fridays at 7:30pm, Saturdays 3pm & 7:30pm, Sundays 4pm. Tickets are $22-$30, and are available by phone (773-975-8150) or online through TheaterWit.org (check for half-price tickets at Goldstar.com ). More at UnderscoreTheatre.org or TonyAndNancyTheRockOpera.com (Running time: 95 minutes, no intermission)
Amanda Horvath (Tonya Harding), Courtney Mack (Nancy Kerrigan), Justin Adair (Jeff Gillooly), Veronica Garza (Tonya's Mom, Nancy's Mom), (Ryan, Skater Fan Reporter), Vasily Deris (ensemble, Shawn Eckhardt), Tyler Symonè Franklin (ensemble, Surya Bonaly), Genevieve Perrino (ensemble, Oksana Baiul), Graham Hawley (ensemble, Shane Stant), Mari Uchida (ensemble, Kristi Yamaguchi), Jonas Davidow, Mollyann Nunn (swings)
Aaron Benham (conductor, keyboard), Jon Levitt (percussion), Robert Campbell, Connor Foley (guitars), Matt Ulm (bass)
behind the scenes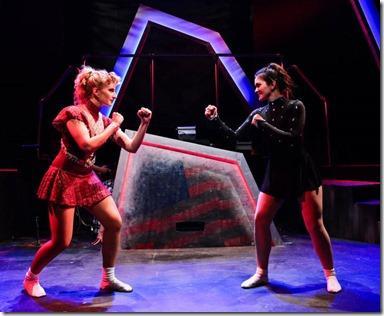 Jon Martinez (director, choreographer), Aaron Benham (music director), Jimmy Jagos (set design), Virginia Varland (costume design), Maya Fein (lighting design), Robert Hornbostel (sound design), Adrian Abel Azevedo (associate director), Joseph Kuchey (associate choreographer), Mike Sanow (technical director), David Trudeau (master electrician), Michael Starcher (stage manager), Beth Weinstock (asst. stage manager), Elizabeth Searle (libretto, concept, book), Michael Teoli (composer, additional lyrics), Evan Hanover (photos)
Tags: 16-1166, Aaron Benham, Adrian Abel Azevedo, Amanda Horvath, Beth Weinstock, Caleb Baze, Chicago musical theater, Chicago Theater, Connor Foley, Courtney Mack, David Trudeau, Elizabeth Searle, Evan Hanover, Genevieve Perrino, Graham Hawley, HarborSide Films, Jimmy Jagos, Jon Levitt, Jon Martinez, Jonas Davidow, Joseph Kuchey, Justin Adair, Lauren Whalen, Mari Uchida, Matt Ulm, Maya Fein, Michael Starcher, Michael Teoli, Mike Sanow, Mollyann Nunn, post, Robert Campbell, Robert Hornbostel, Theater Wit, Tyler Symonè Franklin, Underscore Theatre, Vasily Deris, Veronica Garza, Virginia Varland
Category: 2016 Reviews, Lauren Whalen, Musical, Theater Wit, Underscore Theatre