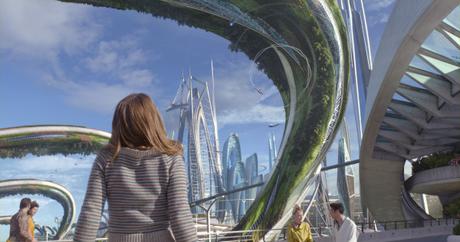 Disney has created movies based on their theme park in the past. Some of them, like Pirates of the Caribbean, became a worldwide success. Others, like Haunted Mansion, Disney would like you to forget. This time they have given the duties of adapting one of their theme parks to director Brad Bird and George Clooney. Tomorrowland looks to capture the original vision Walt Disney might've had for the park, but falters by only giving us a glimpse of that future wonderland.
Tomorrowland is presented as some kind of magical place where only the brightest and imaginative dreamers can live. Those who think about the future usefulness of devices or never surrender. As a boy, Frank Walker (Thomas Robinson), had those aspirations. Bringing his prototype jet pack to the 1964 World's Fair, he hopes to win a contest and prove his worth as a young scientist. His world is turned upside down when he is invited to visit the wonderful future world of Tomorrowland.
That was many years ago as the story takes place in present day and the current climate features much more pessimism than ever before. Casey Newton (Britt Robertson) is an outlier, she sees the positive in everything. She dreams of one day reaching the stars and making new discoveries, but the local airbase is being dismantled and space travel looks to be a thing of the past. She believes with enough determination she can change her fate. Little could she imagine that her world is opened wider than ever before when is receives a pin from Athena (Raffey Cassidy) that allows her access into her wildest dreams.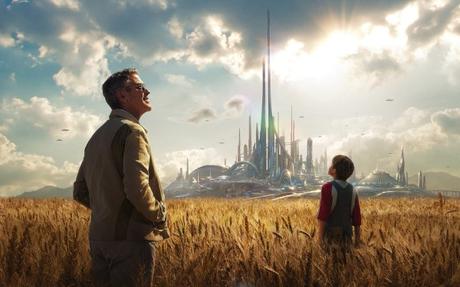 Director Brad Bird has had storied career thus far. The films he has directed include The Iron Giant(1999), The Incredibles (2004), Ratatouille (2007) and Mission: Impossible—Ghost Protocol (2011) and each of those films were monetarily or at least critically acclaimed. If there was ever a director whose hands Tomorrowland would be safe in, it would be Bird's. Then the biggest question is, what happened that makes this film so disappointing?
Whether it is the script writing effort from Damon Lindelof (Lost, Prometheus) or the the brief glimpses of wonder, there's something terribly sad about this world. Tomorrowland, as a movie and attraction, promises to be something outside our widest dreams. When the film opens in 1964 at the World's Fair and a secret entrance to It's a Small World is revealed, the film captured that Disney magic. When Casey visits a glimpse of Tomorrowland and what exactly it offers, that is magical as well. There's a wonderful concept of pools floating above one another and diving through the air that is the stuff of dreams. It's a shame that those most of those moment come early in a film that ends so poorly.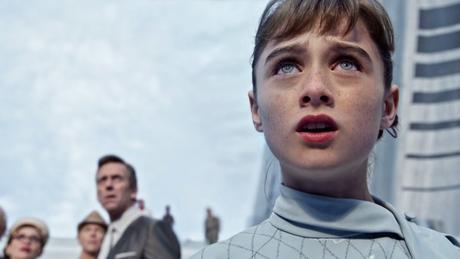 George Clooney plays the older Frank Walker, who has seemingly left Tomorrowland for reasons unknown. He is fine in this picture, although his romantic interest in Athena is creepy and is perhaps the only emotional heartbeat the film has. The real standouts are the two young women, Robertson and Cassidy. Originally, the idea was thrown around that the lead would be a young boy instead of girl. Robertson shows just how badly that would've worked out. Although Roberston is the main character in the movie, she isn't featured on a main piece of promotional materials and does little in the conclusion despite being the one that would change the world. Cassidy, on the other hand, wins over the audience and is a scene stealer in many scenes that she shares with Clooney.
There are some good ideas that are peeking through this muddled picture. While a little on the violent side for a family picture, it has plenty of laughs excitement. It seems inspired by the ideas of Jules Verne (Journey to the Center of the Earth) and is more about trying to get to Tomorrowland as opposed to actually experiencing it. Too bad Tomorrowland itself ends up only being teased, perhaps something that could be better in the future.
65%