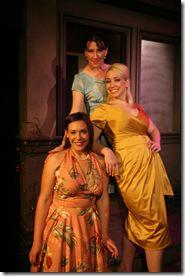 Time After Time:
   The Songs of Jule Styne

Featuring music by Jule Styne  
Directed by David Heimann
Music Direction by Aaron Benham  
at No Exit Café, 6970 N. Glenwood (map)
thru July 29  |  tickets: $25-$29   |  more info
  
Check for half-price tickets 
  
  
   Read entire review
  
---
It's a hot 'Time' in Rogers Park!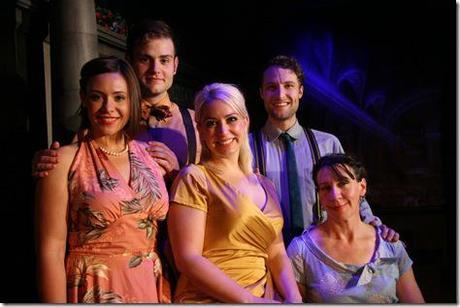 Theo Ubique Cabaret Theatre presents
Time After Time: The Songs of Jule Styne
Review by K.D. Hopkins
Musical revues are not as easy to pull off as one may think. There is a special skill to singing from the great American musicals, and even more so without the entire storyline backing up the songs. Time After Time: The Songs of Jule Styne not only does justice to a great composer but to the art form of the American Song Book.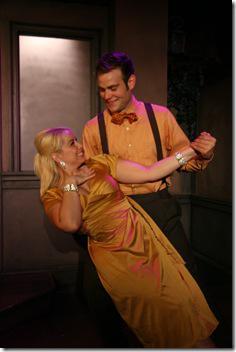 The cast runs the gamut of musical archetypes. There is the ingénue played beautifully by
Khaki Pixley
. She possesses a beautiful and clear voice that soars through "10,432 Sheep", transcending the bizarre setting of Pixley as a homeless person: the song is about a woman counting sheep because she can't stop thinking of the man she loves.
Christopher Logan shines as the archetype of the swain and rogue. His wonderful performance is reminiscent of Gene Kelly and Frank Sinatra. He sings beautifully and dances with a sexy confidence. He has great range and hits high notes effortlessly. "All I Need is the Girl" showcases his voice and charming appeal. Logan dances all over the set, spinning, tapping, and kicking his heels with "Just in Time" and then plays a hilariously animated corpse after taking a bullet from Khaki as he sings "If You Hadn't But You Did".
Stephanie Herman is truly hot as the girlfriend/single girl archetype. She rocks "Diamonds are a Girl's Best Friend" and makes the role of Lorelei her own. She sings the song as a savvy survivor and smart cookie that knows the deal on romance and finance. Herman has a crystal clear soprano and is gorgeously voluptuous.
In the part of the sweet guy that every girl wants to date is Andrew Sickel. His tenor is full and rich with a touch of mischievousness. Time After Time is Sickel's first show with Theo Ubique, and I hope that it is the first of many to come. Sickel has a charming stage presence and looks great in a bowtie and suspenders to boot. His version of "I Fall In Love Too Easily" is at once a heartbreaker and funny as his head is turned by each of the ladies in the cast.
The cast is rounded out by the magnificent Danielle Brothers. I previously experienced Brothers in the Theo Ubique production of Man of La Mancha, where she played Don Quixote. This lady is a star. These songs are made for her gorgeous voice. Brothers' voice has a sexy huskiness when needed and can blow the roof off at will. I grew up on these songs and musicals. Brothers is perfect for the music from Gypsy and Funny Girl, holding her own in the stardust sprinkled path paved by Fanny Brice, Ethel Merman, Rosalind Russell and, yes, Streisand. She belts out "Don't Rain On My Parade" with brass and gusto. Here is a perfect Mama Rose.
The cast sings several medleys together. They reproduce the classic sound of 1940's smooth harmony. This is singing at its very best. No auto tune, outrageous mugging, or emoting to compensate for lesser vocal ability. The ladies do a stellar job on "Three Coins in the Fountain". The gents do an equally emotionally medley on loneliness with I "Don't Want to Walk Without You Baby" and "Saturday Night is the Loneliest Night of the Week".
This show gives me the sweetest nostalgic feelings. I have always loved musicals and know some of these songs by heart and all by melody. Time After Time: The Songs of Jule Styne gives beautiful tribute to a brilliant composer who collaborated with such theater greats as Sondheim, Sammy Cahn, and Bob Merrill to mention a few. Theo Ubique always produces excellence with show selection, luminous casting, and with bringing back the art of cabaret theater. It's a hot time in Rogers Park!
Rating: ★★★½
Time After Time continues through July 29th at No Exit Café, 6970 N. Glenwood (map), runs concurrently with The Light in the Piazza.  Tickets are $25-$29, and are available by phone (773-347-1109 ) or online through Tix.com (check for half-price tickets at Goldstar.com). More information at Theo-U.com.  (Running time: 90 minutes, includes intermission)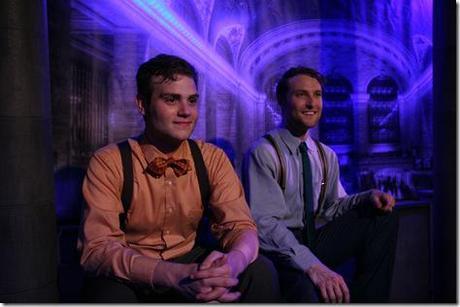 Photos by Adam Webster 
---